Pacific LIFEvest Financial Literacy Residential Program
The Clayton State University College of Business is excited to announce a new partnership with the Paul Merage School of Business at The University of California Irvine.
We have signed an agreement with the Center for Investment and Wealth Management to offer a residential financial literacy program. The school of business at UCI is the parent organization to this program and will guide us on our journey to launching this wonderful initiative. The first two years of funding will be covered by the parent organization as we get this wonderful program in motion. The Pacific Life LIFEvest program mission is to provide financial literacy education and vital life skills to help motivate & inspire high school students from underserved communities to be the first in their families to attend/graduate college (#firstgen).
Below is a call to action from Kara Duckworth, a key stakeholder in the LIFEvest program Initiative. The video highlights some of the key goals of the program an ways that LIFEvest intends to be impactful.
This FREE, week-long summer program aims to strengthen student understanding of financial matters, provide exposure to a college campus, encourage admission to a college or university, explore various career fields, teach social etiquette skills, and inspire confidence and success in all areas of life. The program will alternate between hosting male female participants each summer.
For our summer 2022 cycle, we will begin with female participants ONLY
---
2022 LIFEvest Dates
Sunday June 19 - Saturday June 25
Not sure if this program is right for you?
Still not sure? Reach out to Kate Cotter-Reilly at KateCotter-Reilly@clayton.edu for more information.
Applications are open for the 2022 Pacific Life LIFEvest Program.
---
"How to Build a Meaningful Life Plan by Creating Lasting Financial and Educational Goals"

The Pacific Life LIFEvest Financial Literacy Program, hosted by the Center for Investment and Wealth Management at the UC Irvine Paul Merage School of Business, is extending its reach to the East coast with a weeklong, on-campus program dedicated to helping underserved 9th and 10th grade students from Orange, Los Angeles, and Riverside counties. The program, now in its 9th year, is designed for high school students who have the potential to be first generation college students. The program strives to strengthen an understanding in financial matters, expose students to a college campus, encourage admission to a college or university, explore various career fields, teach social etiquette skills, and inspire confidence and success in all areas of life.
LIFEvest Receives $2 Million Gift from Pacific Life Foundation!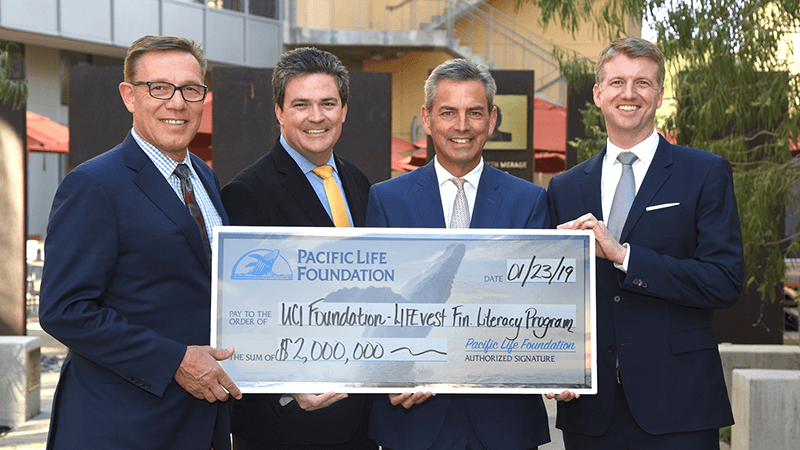 LIFEvest recently received a $2 million gift from the Pacific Life Foundation, the philanthropic arm of the Newport Beach-based insurance company.
"Through the partnership, we aim to instill a lifelong curiosity in personal finance and provide students the necessary financial skills and confidence to pursue a college education." Read more about partnership
Involvement Opportunities
All donations directly support the LIFEvest student scholarships. It is the Center's goal to create an endowment or receive multiple year pledges from donors to provide LIFEvest program scholarships to at least 100 students annually. Together, we can create a brighter future – helping teens build a meaningful life plan by creating lasting financial and educational goals.
---
Program Impact
These testimonials were collected from our parent program, but demonstrate how important this initiative will be to Clayton County and surrounding communities.
Parent Testimonials
My daughter is Raquel Ornelas and she participated in LIFEvest about 4 years ago. Since then Raquel was awarded a 4-year scholarship for high school over 200k! She still remembers the program and will take about it to friends from time to time. I myself believe that this is a great course for teenagers. – Juana O. (Racquel's Mother)
The UCI LIFEvest Financial Literacy "blessed" my daughter Malia with incredible and priceless information and most of all, great insight into the financial industry. We are grateful! – Gale N. (Malia's Mother)
Student Testimonials
Participants were asked "What are the top 3 things you learned from the Financial Literacy Program and how have they helped you?" Their responses were truly phenomenal and can be found below!
"I learned about stocks and bonds and how to handle a business of my own. This program has helped train me to own my own business as well as how to build a strong relationship with the people you work with. You can't just show up to work and not interact with other employees, you have to show up and treat others with respect so that you can still operate your business successfully." - LIFEvest student participant
"I learned to develop better speaking skills during the time that I was there and now I'm able to present in front of groups without being timid. I also learned how to work better in teams. The group project that we worked on helped me get a better understanding of how to manage a group, the time, and share responsibilities to get the job done. All these things that I learned have helped me become a better developed student." - LIFEvest student participant
"I learned many things from the Financial Literacy Program that have currently helped me in many ways. One of the biggest things I learned at this program that will always stay with me is that it doesn't matter what situation you come from, if you have the willpower and put effort into everything you do, you can accomplish almost anything. Hearing other people's stories have really encouraged me and have made me work harder towards my dreams." - LIFEvest student participant
"I learned many things in this program, but three of the things I will never forget is increasing my confidence, learning how to handle money ,and knowing my limits." - LIFEvest student participant
---
Apply
You will be notified when a decision has been made on your application and acceptance into the program. Thank you for your interest!
---