Jim Wood Speaker Series
The Jim Wood Speaker Series is named after James "Jim" Wood, Jr. who financially supported the efforts of the College of Business to seek and obtain guest lecturers who are some of Georgia's most celebrated business personalities. The series is a means of ensuring Clayton State students gain insights into current business trends and corporate strategies.
The Jim Wood Speaker Series is a means to forge bonds between Georgia's business leaders and Clayton State students, while ensuring students gain insights into current business trends and corporate strategies.
The Wood family has a long history with Clayton State University. Jim Wood was a great leader, community advocate, entrepreneur, philanthropist, and mentor. Over his career, he worked as a news reporter, trade industry reporter, feature writer, medical science writer, editor and publisher. He founded the News Daily in Jonesboro, GA, and ATL, the Atlanta airport newspaper, which he owned and operated for more than 30 years.
Politics and public service milestones abound: a member of the Georgia House of Representatives from 1976 to 1982, and a charter member of the Board of Trustees of Clayton State University. His last honor from the Georgia Press Association was his induction into the industry's "Gold" society of newspaper professionals with 50 or more years of experience. Jim Wood passed away in April 2018; the College of Business is grateful for his ongoing legacy.
Our first Jim Wood speaker for the fall 2022 semester will be Mr.
Richard J. Sylvia, Jr.
The lecture is scheduled for Tuesday, September 13, 2022
Time: 6:00 p.m. until 7:00 pm, with a light reception to follow.
Location: Arbor Hall Auditorium, Clayton State East.
If you'd like you attend in person, the event will take place in the Arbor Hall auditorium located on the Clayton State east campus. The east campus is located at:
5823 Trammell Road Morrow, GA 30260
If you'd prefer to attend virtually, a link will be provided upon registration for the event.
Have any questions, please contact us at 678-466-4517 or email at cob@clayton.edu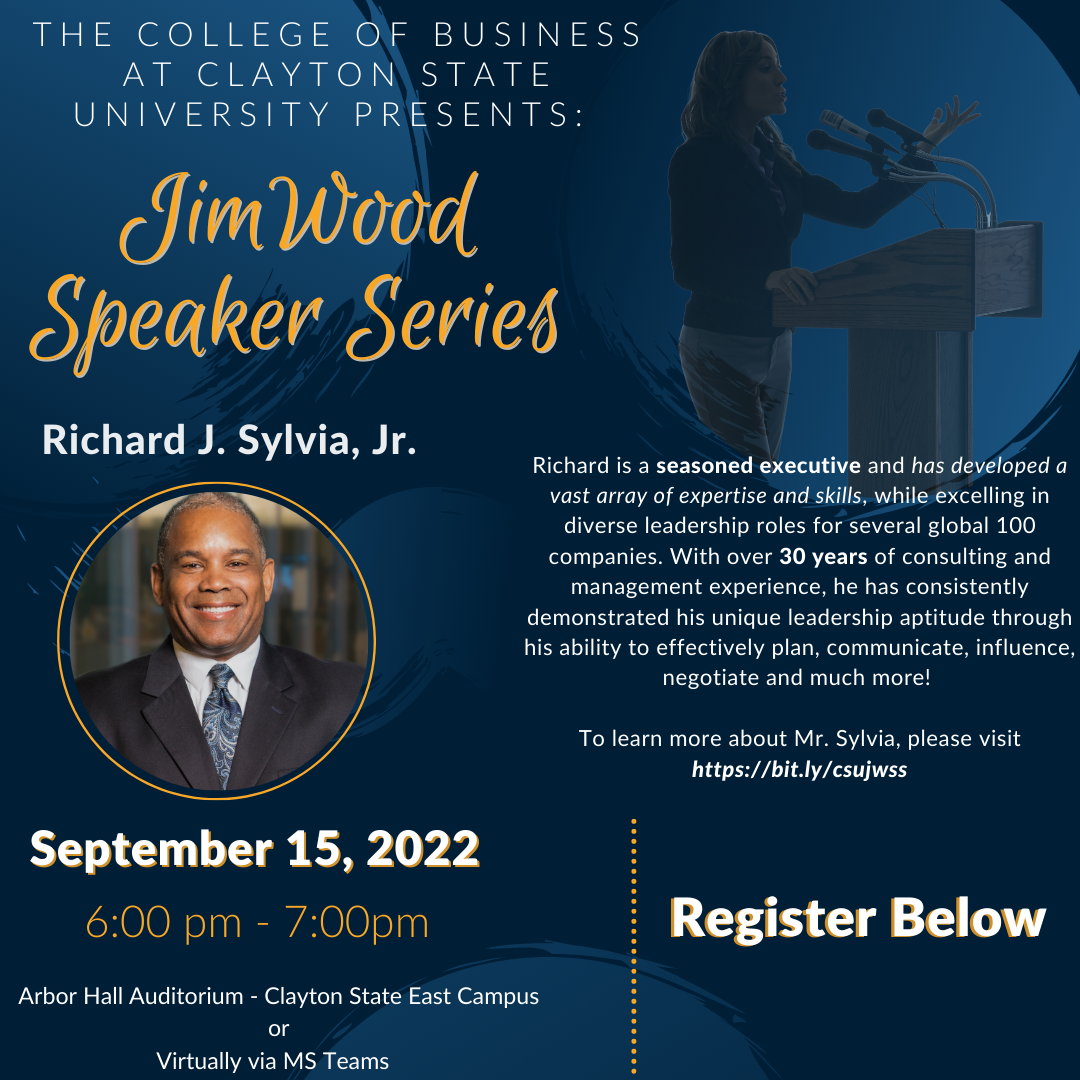 See below an archive of our Spring 2022 speakers!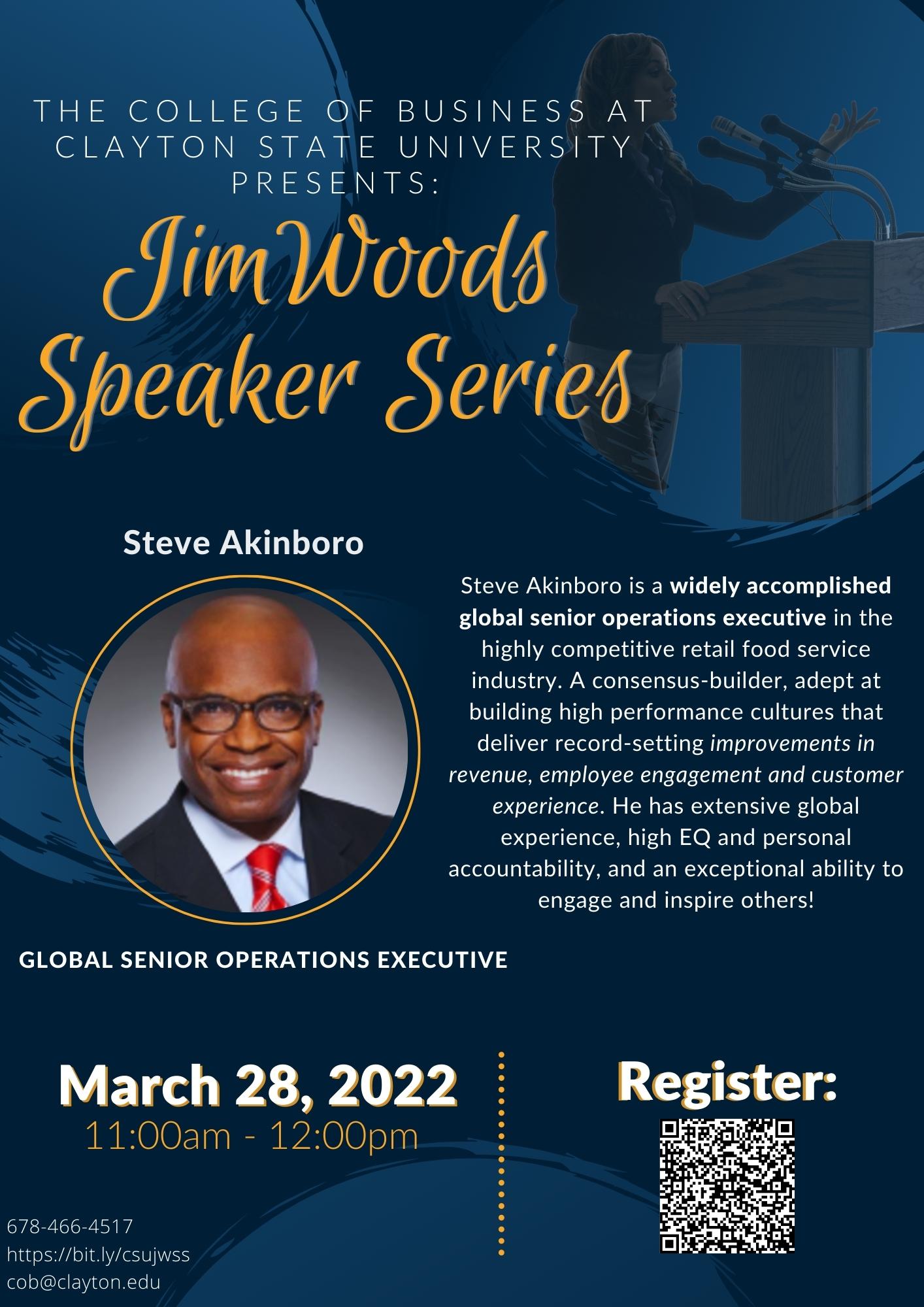 View Recording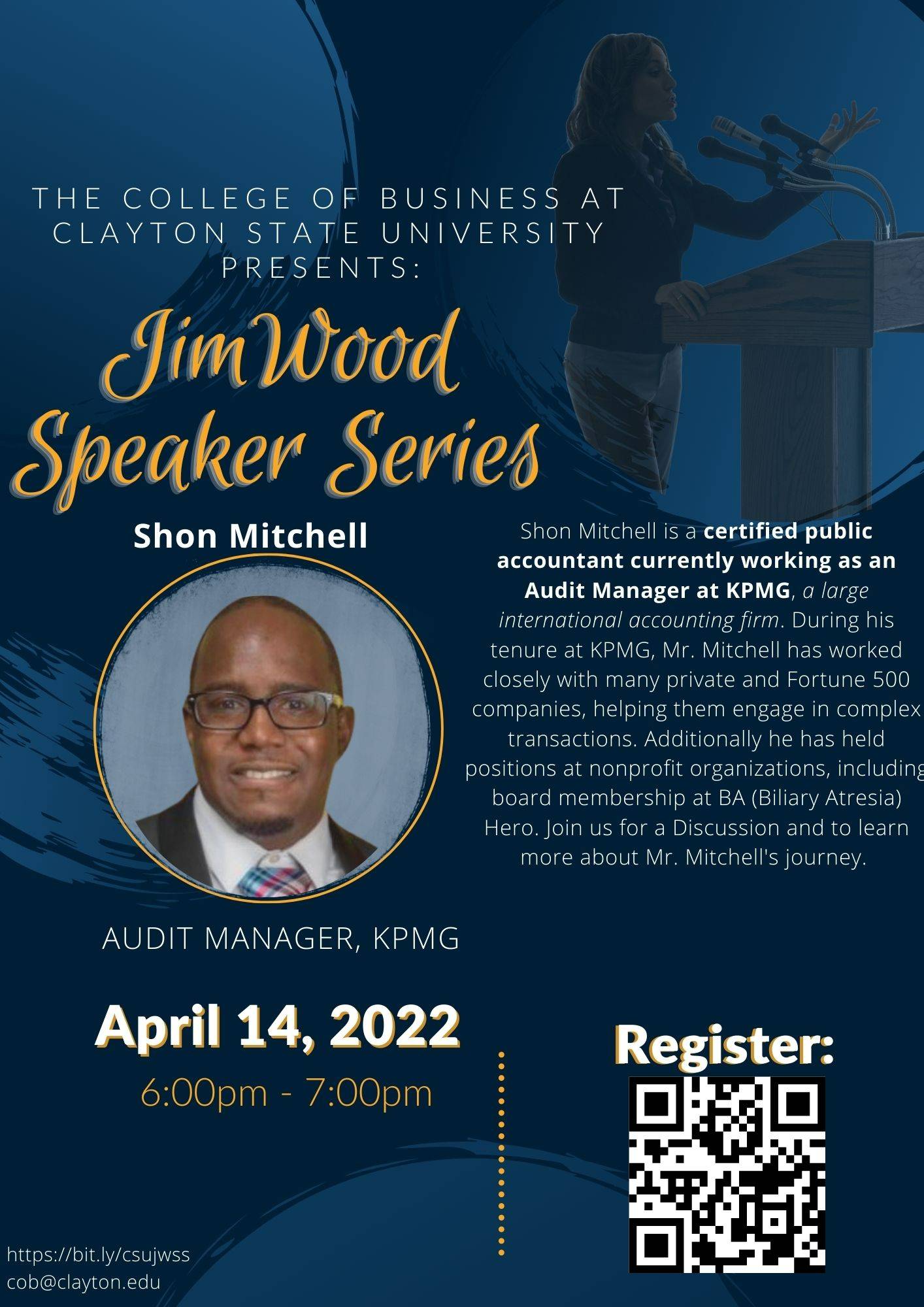 View Recording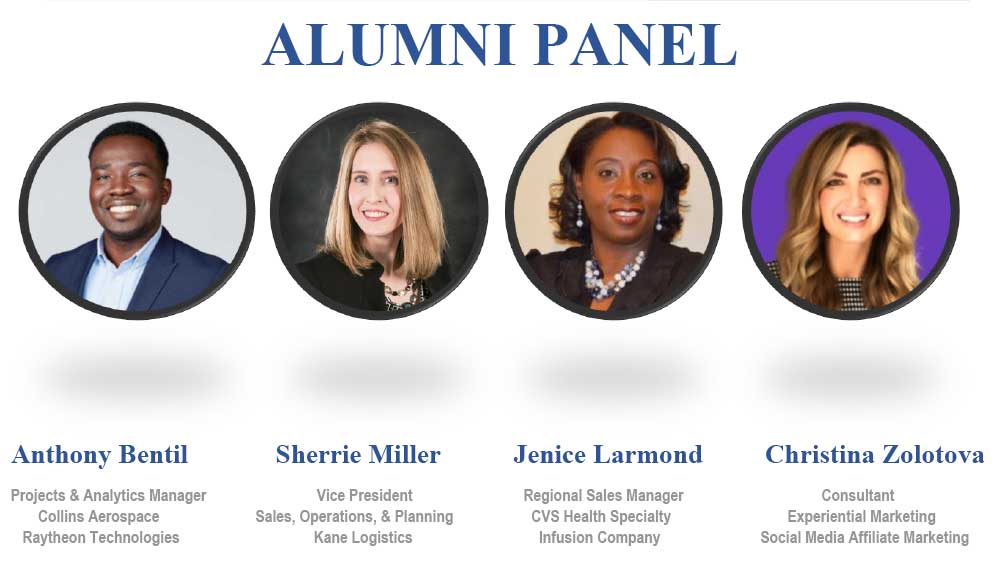 ---
Topic
Speaker
Date
Knowledge of Finance is Important
Stantisha Kemp, CPA, CEO Kemp Accounting
Spring 2018
Gender Equality in the Workplace
Elba Pareja-Gallagher, Founder, ShowMe50.org and Director of Financial Global Retail and e-Commerce Strategy, UPS
Spring 2018
Autonomous Automobiles Are Coming
Suzanne Murtha, Project Director, Atkins
Fall 2017
Value of procurement and networking
Ken Baker, Director of Procurement Operations, Georgia Pacific.
Fall 2017
Operational Excellence: Outperforming Yourself
Dr. Normal L. Firchau, President and Chief Executive Officer, Porsche Consulting
Spring 2016
Branding Yourself
Nakita Pope, Founder and Chief Chick, Designing Chicks
Spring 2016
COB Alumni Panel
Lydia Hall, GP; Marcia Greer, Delta; Kim Boozman and Grady McQuade, Kuehne & Nagel
Fall 2015
Building Confidence in Meeting People
Lon Langston, President & CEO, Significance Ideation
Fall 2015

Lessons Learned in Building a Family Own Business

Marcia G. Taylor, Bennett International Group, LLC
Spring 2015
Technology and Your Future
Henrik Christensen, Georgia Institute of Technology
Spring 2015
How To Build A Career On A Global Scale
Juergen Gentzke, Kuehne & Nagel
Spring 2015
How To Be An Effective Employee
Joyclan Sumpter, Turner Broadcasting Systems
Fall 2014
Lessons Learned When Starting Your Career: CSU Alumni Panel
Sherrie Miller, Jacobson Industries, Corey Wagner, Samuel Shapiro, and Glenda McCool, Eaton Cooper Lighting
Fall 2014
Be Confident in Yourself when Building a Career
Walter W. Jackson II, Vice President of Finance, Operation Hope
Spring 2014
The Dangers of Social Media
Roosevelt Giles, Founder, EndPoint Consulting Group, LLC
Spring 2014
Networking to Your Advantage
John Mascaritolo, Director Supply Chain Management, Clayton State University
Spring 2014
Life Is What Happens When You Are Not Ready
Ann Wilson Cramer, Senior Consultant, Coxe Curry & Associates
Spring 2014
Lessons Learned in Starting Our Careers: CSU Alumni Panel
Jeffery Martin, RockTenn, Marcia Greer, Delta Air Lines, Dominique Grant, Caduceus Occupational Medicine, Martin Sanz, Griffin-Spalding Airport
Fall 2013
Starting a business unprepared is hard
Lisa Williams, Founder, On-Site Computer Training, LLC.
Fall 2013
Performance Leadership
Erica Qualls, General Manager, Atlanta Marriott Marquis
Spring 2013
How To Approach Running A Business
Tom Money, Executive Vice President & COO, Kauffman Tire Company
Spring 2013
Lessons Life Throws At Us
George Andrews, President and Chief Executive Officer, Capitol City Bank & Trust
Spring 2013
Things Someone Should Have Told Me in My 20s (Not That I'd Have Listened)
Ed Riggins, Senior Vice President, Cresa
Spring 2013
The State of U.S. and Global Economy: Where Do We Go From Here?
Peter deSilva, President and Chief Operating Officer, UMB Financial Corporation, President, UMB Bank, n.a.
Dean's Lecture Series
Fall 2012
How to position yourself for getting a job in today's market
Kim Wallace, Executive Vice President, Hire Dynamics

Fall 2012

Career Strategies for Non-Profit Companies
Alicia Philipp, President, The Community Foundation for Greater Atlanta
Fall 2012
Entrepreneurism: Restaurants are businesses too
Chef Alain Bouzoubaa, 5 Star Chef and Owner, Seven Gables Restaurant
Spring 2012
Overview of the Healthcare Industry
John Quinn, CEO, Spalding Regional Medical Center
Spring 2012
What's new at the Atlanta Airport
Louis Miller, General Manager, Atlanta Hartsfield-Jackson International Airport
Spring 2012
Entrepreneurial Dream
Kathy Betty, Former Owner & CEO, Atlanta Dream
Spring 2012
Delta: Building a better air line
Hank Halter, CFO, Delta Air Lines
Fall 2011
Changing of an Icon - NCR
William (Bill) Nuti, Chairman, CEO, and President, NCR Corporation

Dean's Lecture Series
Fall 2011
Managing Brand YOU
Jerry S. Wilson, Senior Vice President, Chief Customer and Commercial Officer, The Coca-Cola Company
Fall 2011
The Coca-Cola North American Network - DO&IP Overview
Rob Haddock, Director of Planning, Coca-Cola Company
Spring 2011
Entrepreneurship Insights from the Decades
Ann Elliott, CEO and Founder Solertis Logistics Solutions
Spring 2011
The Atlantic Capital Story
Doug Williams, CEO Atlantic Capital
Spring 2011
The Rise of Entrepreneurialism - The bubble that will not burst

W. Cliff Oxford, CEO Entrepreneur Advisors
Dean's Lecture Series

Spring 2011
Positioning Brazil to be Strategic Global Economy
Ambassador Adalnio Senna Ganem

Consul General of Brazil

Spring 2011
Building Business Software Solutions - What You Should know
Ruth Menter President & COO

Blytheco LLC

Fall 2010
Are You Hungary: Eat International
Mr. John E. Parkerson Jr. Director International Programs, Clayton State University
Fall 2010
Thinking Strategically About Your Life and Business
Mr. Chuck Lewis, CEO, One Georgia Bank
Spring 2010
Assessing the Strategic Developments at Delta Air Lines: A Case Study
Mr. Hank Halter, CFO, Delta Air Lines
Spring

2010

Tackling Healthcare Reform
Mr. Michael Cotton, President, Wellcare
Fall 2009
Understanding How the Media Industry is Changing Business
Mr. Jim McCaffrey, CSO, Turner Broadcasting Systems
Fall 2009
Effective Leadership and Management in a "Difficult World"
Mr. Frank McCloskey, VP, Georgia Power
Fall 2009
Discussing Business in the New
Ms. Crystal Edmonson, Broadcast Editor, ABC
Spring 2009
Building Businesses to Last
Mr. Dan Cathy, President, Chick-fil-A
Spring 2009
Ethics in Today's Banking Industry
Mr. James Young, CEO, Citizens Trust Bank
Spring 2009
Five Fundamentals of Small Business
Mr. Joe Ruggles, President, Eleven Realty
Fall 2008
The American Financial Crisis and Today's College Student
Mr. Milton Jones, President, Bank Of America, Georgia
Fall 2008
Learning the Lesson of Entrepreneurship
Mr. Frank A. Argenbright, Chairman, AirServ
Fall 2008
Blue Ocean Strategy
Mr. Jim Messina, VP,
Spring 2008
Personal Branding for Today's College Grads
Mr. Ercell Charles, VP, Dale Carnegie
Spring 2008
The Pulse of American Business
Mr. Ed Baker, Publisher, ABC
Spring 2008
Customs Trade Partnership Against Terrorism
Mr. Lee Hardeman and Mr. Harold Hagans
Fall 2007
Globalization Comes to Georgia
Mr. Dan Chapman
Fall 2007
Behind the Scenes Look at the 1996 Olympic Games Through the Use of Logistics Management
John Mascaritolo, Professor Supply Chain Management and Logistics Practices

Clayton State University
Fall 2007