Personal Elevator Pitch Competition
This competition is open to Clayton State University undergraduate and graduate business students.
The Elevator Pitch is scheduled for Tuesday, September 13, 2022.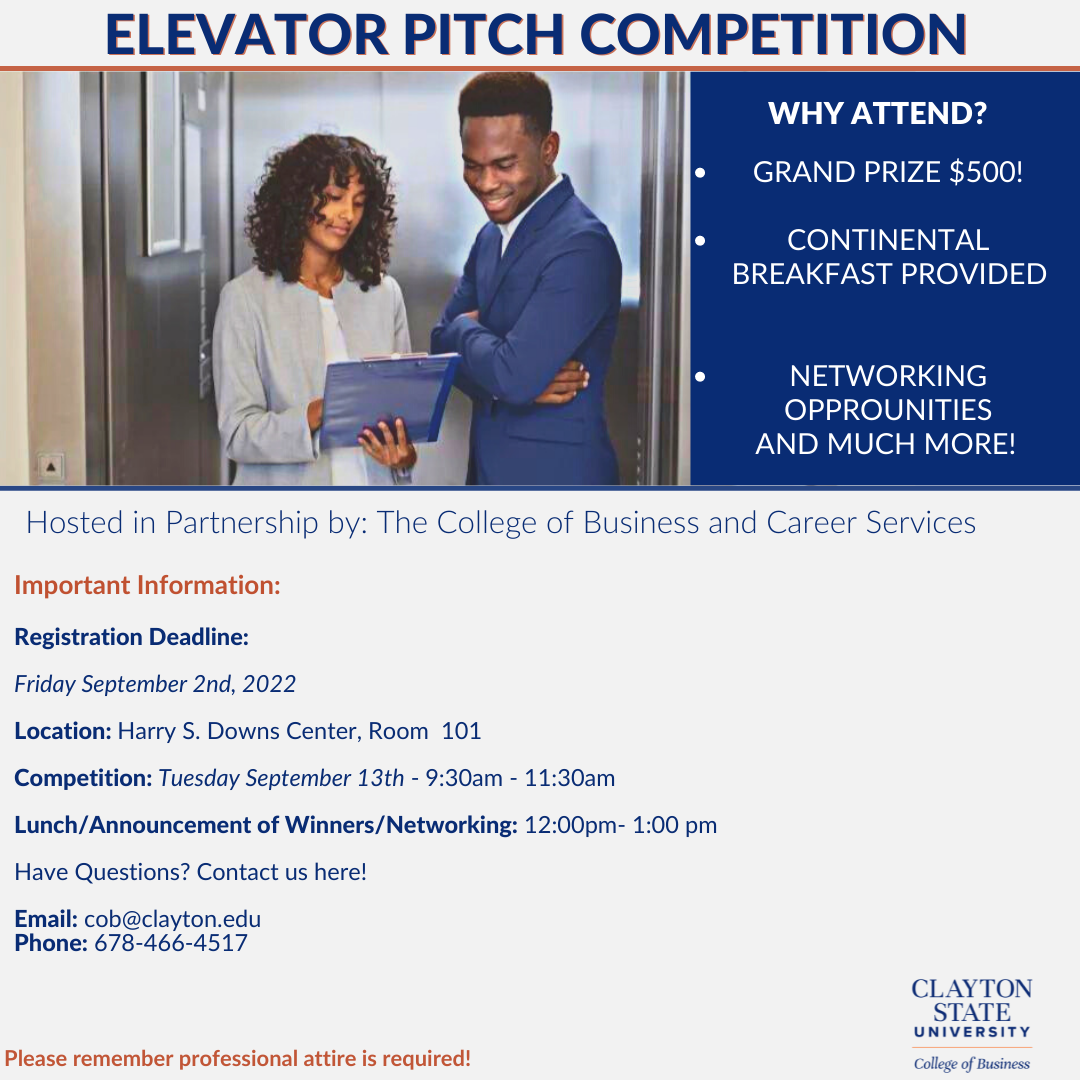 What is a personal elevator pitch?
A personal elevator pitch is a brief explanation of how you can benefit the potential employer, why you should be hired or considered further by persuasively explaining your unique traits, experiences, skills, and accomplishments that are important to the employer. It is typically given to someone that you unexpectedly meet in an elevator, at a party, or any short interaction.
POSITION SOUGHT: Did you indicate what job or type of job you are seeking?
BENEFIT(S) TO COMPANY: What will be the benefit(s) to the company if they were to hire you?
WHY YOU'RE BETTER?: Why are you better than others applying for the same job?
CALL TO ACTION: What is the next step that you want to take? What you are asking from the listener/potential employer?
CONFIDENCE: How well you exhibited confidence.
OVERALL PRESENTATION STYLE: (good tone of voice [not flat] and body language; eye contact with judges; no fillers like "uh", "um"; pitch clear and organized)
QUESTIONING: How well you answered judges' questions.
The maximum time allowed for the personal elevator pitch is 90 seconds. After the pitch, judges will then be given the opportunity to offer feedback to the "pitchers" during a short follow-up period.
First Place:
Second Place:
Third Place:
Fourth Place:
---
Preparing for Your Personal Pitch
Congratulations 2019 Winners!
1st place: Rebecca McConico, Clayton State University 2nd place: Tian Ding, Clayton State University 3rd place: Aiereonna Wheeler, Clayton State University 4th place: Sophia Nguyen, Clayton State University
Congratulations 2018 Winners!
1st place: Dean Brooks, Clayton State University 2nd place: April Cooper, Clayton State University 3rd place: Sharron Taylor, Clayton State University 4th place: Sophia Nguyen, Clayton State University