Butterfly Garden
In July 2012, as part of its 10th anniversary celebration, the Clayton State Retirees Association decided to establish a butterfly garden on campus. The goal of this project was to create a lasting legacy to be enjoyed by Clayton State retirees, faculty, staff, and students for decades to come. In order for this project to be successful, we solicited the support of two important groups: the Master Gardeners among our retirees (Helen Brown, Sandy Golden, and Carol Hatfield (our President's wife) and Clayton State Facilities Management. We contacted Harun Biswas, and he generously offered the services of the Landscape Management Department to help us with this project.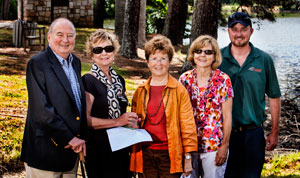 Pictured, left to right: Gene Hatfield, CSRA President, Carol Hatfield, Sandy Golden, CSRA Member & Master Gardner, Martha Wicker, CSRA Vice President, and Justin Brooks, Clayton State Assistant Landscape Management Director
A few weeks later, a small group of our retirees met with Justin Brooks, a Certified Arborist and the Assistant Landscape Management Director to select a location for the garden. Based on Justin's recommendation, this beautiful sunny, lakeside strip was selected. After considerable research, the planning committee decided to include a variety of host and nectar plants that attract butterflies at all stages of development. In addition to native perennials and annuals, Gene Hatfield, our CSRA President, suggested that we pay particular attention to choosing the hardscape elements for the garden. We decided to incorporate the wooden bench (which was coincidentally donated to the University by Benita Moore, one of our retirees). We also decided to add a solar-powered natural stone fountain, a copper-capped red cedar trellis, and two landscape boulders.
In late September 2012, after the Landscape Management Department prepared the soil, we planted most of the perennials. In April 2013, we added some annuals to the garden, which we plan to do every spring. Based on Helen Brown's advice, we decided to place markers identifying each plant in the garden. Sandy Golden has faithfully assumed the responsibility of ensuring that the plants are properly labeled, including both the common and botanical names.
The garden we see today is a result of the collaboration between the retirees and the Landscape Management Department. Justin's staff provides irrigation, maintains the garden by regular trimming and weeding, and assists in planting. The retirees maintain the plant labels and provide assistance in planting. We are committed to working collaboratively with Justin and his staff to ensure that this garden flourishes for many years to come.
GIS Mapping for the Butterfly Garden