Stationary
Email Communication
All faculty and staff members should consider electronic mail an extension of University letterhead. Messages sent from a Clayton State University email account by a faculty or staff member are on behalf of the University. Graphics, quotes, and other personalization should be avoided.
There is no "electronic letterhead." If an electronic copy is desired, correspondence should be placed on official letterhead and scanned into a digital format.
The following basic template for an email signature is suggested:
Name
Title (Title can follow name if desired)
Office/Department and/or School
Clayton State University
2000 Clayton State Boulevard
Morrow, GA 30260
Individual/Department Phone number (678) 466-XXXX
Optional Fax number (678) 466-XXXX
Department/faculty specific web address or www.clayton.edu
---
Letterhead
Clayton State University letterhead is available through Printing Services. Faculty and staff should not order letterhead from any off-campus vendor. To order letterhead, complete a letterhead order form on the Printing website.
All letterhead is customized with a department's name. All letterhead is printed on 24# Strathmore – soft white paper. The two-color is printed in PMS 165 official orange and PMS 288 official blue. One color is printed in PMS 288 official blue. Note cards are printed on cardstock.
Only official letterhead as described above (either 2-color or 1-color blue) should be used by all departments for communications purposes. Click on the thumbnail to view letterhead at a larger size.
Letterhead Examples
---
Business Cards
Business Cards for Faculty and Staff
Official University business cards should be ordered from Printing Services. Faculty and staff should not order business cards from any off-campus vendor.
To order business cards, submit a Business Card Request Form available on the Printing website along with the information to be printed on the card.
The cards are three-color (orange & blue logo with black text) on 80# Strathmore – soft white - card stock, Helvetica is the official font. Your card order normally takes approximately three weeks to be filled. Call Ext. 4377 for more information.
Business Cards for Students
Student assistants, although they are employees, should not have official business cards. Students who are officers or members of recognized student clubs and organizations who wish to represent Clayton State University may consult with the Office of Marketing and Communications, Campus Life, and Printing Services to submit a design.
Business Cards Example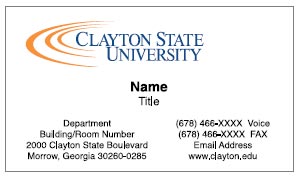 ---
Name Badges
Faculty and Staff Name Badges
Orders for official Clayton State University faculty and staff name badges are placed with Printing Services. The name tags are a gold finished metal with black lettering and a magnetic back. Placing a title or department on the name badge is optional.
Student Name Badges
Name badges for students and/or student assistants who work in University departments should be distinguished from those for University faculty and staff. Student name badges are silver and will state on the badge that the individual is a student. All student name badges will be ordered through Printing Services.
Name Badge Example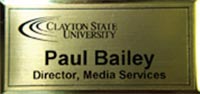 CAUTION: The name tag is a magnetic device. If you have a pacemaker or other medical device, do not use the name tag. Please note you need an alternate pin type when purchasing your name tag.