Masterworks Chorus
The Masterworks Chorus at Spivey Hall provides an opportunity for all university students, faculty, staff, and community members to sing and perform a variety of choral music.
The schedule of the Masterworks Chorus is designed to help ensemble members develop vocal and musical skills in an enjoyable environment with minimal constraints on time outside of rehearsal. The Masterworks Chorus combines high musical standards with an emphasis on building community and enriching the lives of chorus members and audiences alike.
Masterworks Chorus Rehearsals
Rehearsals are from 6-8 p.m. on Sunday evenings.
Rehearsals are held in the choir room at Clayton State University in the Music Education Building, Room 157.
Concert Dates
Registration
The registration fee for the Masterworks Chorus is $50.00 per semester ($25.00 for current CSU students). This payment must be received by the third Thursday in the semester. Payment can be made online via the Music Preparatory School website below. Checks will also be accepted in the dropbox at Clayton State University with accompanying registration form.
Some need-based scholarships are available for those with a demonstrated financial need. Please see the conductor for more information and a scholarship application.
If you have questions about joining the ensemble, please contact Dr. Sean Vogt at seanvogt@clayton.edu.
About the Conductor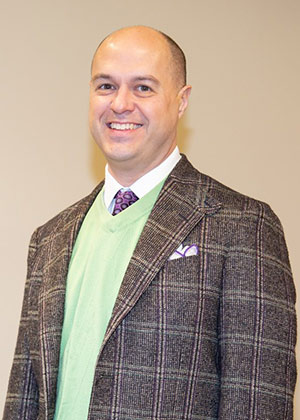 Dr. Sean Vogt
Dr. Sean Vogt serves as Clayton State University's Director of Choral Activities and Conductor of the Spivey Hall Masterworks Chorus. He holds a DMA in choral conducting from Michigan State University and an MM in choral conducting from the Meadows School of the Arts at Southern Methodist University.
Prior to CSU, he served as Choirmaster at the Cathedral of Saint Paul, Mother church for the Archdiocese of Saint Paul & Minneapolis, overseeing a program that sang a wide variety of the finest sacred music. With twenty years of orchestral conducting experience, he also served as Artistic Director and Principal Conductor of the Minnetonka Symphony Orchestra. Dr. Vogt has also prepared choirs for orchestral performances for several national and international conductors.
Prior to his appointments in Minnesota, Dr. Vogt was Director of Choral Activities and Department Chair at Mount Marty College. Here, the choral program grew from including 7% of the student body to 20%, received multiple orchestral invitations, and was a national semi-finalist for the American Prize in Music. As an administrator, Dr. Vogt successfully grew scholarships, in quantity and dollars, and was regularly sent by the Office of Advancement for fundraising. Sean also has ten years of administrative and artistic experience with non-profit/501c3 organizations.
As an organist, Dr. Vogt has performed at national conventions of the OHS (Organ Historical Society), NCCO (National Collegiate Choral Organization), ACDA (American Choral Directors Association), as well as solo performances at The National Cathedral (D.C.), St. Philip's Cathedral (Atlanta), and several other national and international venues. With decades of experience vocal coaching and accompanying voice studios, he is often hired as a collaborative keyboardist for vocalists, choirs, and instrumentalists.
He is near completion of a doctorate in organ performance at the University of Iowa. He holds a MM in organ performance from Southern Methodist University, a BA in music from Central College, and a Diploma in organ performance from Haarlem Internationale Zomeracademie voor Organisten (The Netherlands).