Travels Through Turkey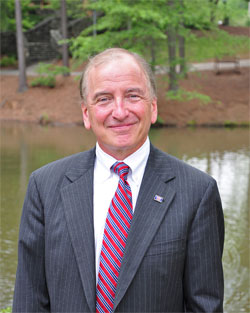 Clayton State University President Dr. Thomas J. "Tim" Hynes is currently furthering the University's existing ties with the nation of Turkey in person as part of an exchange group sponsored by the University's educational partner, The Istanbul Center of Atlanta.
Hynes arrived in Istanbul on Friday, June 24 and will be visiting various locations in Turkey until Sunday, July 3 as part of the Istanbul Center's annual summer trip. During his 10 days abroad, Hynes will be blogging on his observations on Turkey.
Hynes was invited by The Istanbul Center earlier this spring to participate in the trip. Not only have The Istanbul Center and Clayton State forged an educational partnership over the past two-and-a-half years, but the University continues to pursue further educational relationships with the western Asian nation.
Clayton State's immediate involvement with Turkey dates back more than two years. Congressman Cuneyt Yuksel of the Turkish National Assembly visited Clayton State on Monday, Feb. 2, 2009, to lead a seminar on "The State of Turkish-US relations and Turkey's Current Role within Europe and the Middle East." That was followed by an exhibition of Turkish art in the Clayton State Library, and a visit to Clayton State in the summer of 2009 by the presidents of five Turkish universities; Fatih University, Atilim University, TOBB University of Economics and Technology, Bahcesehir University, and Istanbul Commerce University, all located in Istanbul and Ankara. That visit was also sponsored by The Istanbul Center of Atlanta, a Turkish non-profit organization that promotes educational and cultural ties between the U.S. and Turkey (http://www.istanbulcenter.org/).
On Clayton State's part, Director of the Office of International Programs John E. Parkerson, Jr., joined The Istanbul Center's annual trip in 2009, in part setting up the visit by the five presidents. In addition to initiating Clayton State's relationship with the Istanbul Center, Parkerson now also serves on its advisory board.
"Our ultimate goal has been to find suitable Turkish university partners with which we may to establish Clayton State-Turkey student and faculty exchanges, study abroad opportunities, and Turkish student enrollments at Clayton State," he said at that time.
Last summer, Dean of the College of Health Dr. Lisa Eichelberger traveled to Turkey with The Istanbul Center hosts. Another Clayton State academic unit, the College of Business, has since received numerous Turkish students who are pursuing their MBAs at Clayton State through its collaboration with the Center. And, earlier this year, Dr. Diane Prince, associate dean of the College of Business, and Michelle Terrell of the Clayton State MBA program¸ led the second annual group of Clayton State MBA students to Turkey for Maymester 2011 international business credits.
---
Tuesday, July 5
I am happy to report that I have returned to campus after nine days in Turkey. (After only a few hours sleep yesterday, the Peachtree Road Race seemed longer and certainly hotter this year.)
We closed the visit with trips to cultural locations near the city of Cappadocia, considerably to the east of Istanbul, and the location of people dating to the Bronze Age. It was governed from Rome, by the Christian Byzantine Empire, by the Islamic Ottoman Empire, and of course is currently part of the Turkish Republic. The location is home to remains of early Christian monasteries carved into the rock formations of that part of Turkey. (http://www.cappadociaturkey.net/)
Like so much of Turkey, its future will be influenced by many of the same influences of the past -- it lies at the connection point between Europe and Asia. Its location makes it an important trade and economic center. And for Clayton State, Turkey's growing emphasis on education and partnerships with other countries and universities offer possibilities to grow our work beyond the current great start established by the College of Business and its programs in Turkey. Our visits to Gediz University, where we signed a memorandum of cooperation with Clayton State University, and Mevlana University are examples of new universities where great possibilities may be found. By the way, colleagues at Mevlana University had already read about Clayton State at our web site -- a very pleasant surprise, and a reminder of how important our web site is in communicating about our university to people around the world.
I am grateful for the invitation from the Atlanta Istanbul Center to participate in this cultural visit, and look forward to seeing that visit create the conditions for benefits to our students and faculty in the future.
---
Friday, July 1
Today's post may be relatively brief, as we have an early start today from Capadoccia. This lovely city in eastern Turkey overlooks beautiful mountains, and historically was the site of St. Paul's first church in the first century.
Yesterday found us in a four-hour car ride from the city of Konya. Among other activities, we had a chance to visit Mevlana University, yet another new institution contributing to Turkey's drive to expand higher education in the country. It is located in a new and recently renovated shopping center. It has already begun offerings in education and engineering, and has plans for expansion over the next several years in programs in nursing, medicine, business, law, among several others.
Mevlana University labels itself as a site of heartfelt education, and I must say that we were made to feel welcome during our visit. We left with the promise to explore opportunities for cooperation in the near future. It was also interesting to note that our hosts had read of our progress through Turkey from the Clayton State web site -- clearly we have entered a flat world indeed!
After a day in Capadoccia, we return to Istanbul this evening. While this has been a wonderful and productive visit, I look forward to our return late Sunday (just in time to run the Peachtree Road Race).
---
Thursday, June 30
Yesterday in Ankara was a busy, but a highly informative day. It began with a visit to the Journalists and Writers foundation. That foundation is closely associated with the work of Fethullah Gulen, identified a few years ago in Foreign Policy magazine as one of the 100 leading public intellectuals in the world.
Visited by former secretaries of state Albright and Baker in the past, he is seen by some American decision-makers as the source of hope for moderate Islamic leadership. His work is not without strong critics; for some, his positions are seen as making radicalism more likely by allowing greater religious influence in Turkish government, and, from another perspective, being unfaithful to Islam by accepting western influences. Regardless of the perspective, many of his writings will likely influence the upcoming debates on changes in the Turkish constitution in coming months, and thus influence future relations with the United States.
Our meeting at a new private high school (with approximately 1000 students) indicated the growing awareness here of the value of investments in education. We would learn more about growth in Turkish education investment at the Ministry of Education.
At the Ministry of Education, we met with the deputy undersecretary, Dr. Salih Celik, who will hopefully be able to visit our campus in the coming years. His message was one of the need to invest in K-12 and higher education in Turkey in coming years. In the last eight years, the number of universities in Turkey has grown from 52 to 164. The need for faculty has led the government to support 1000 graduates to travel overseas (70 percent to the U.S.) to receive masters and doctoral degrees to serve as future faculty.
Now, the country has begun to focus on the need to increase student participation and success rates in both K-12 and higher education. Much of this push in Turkey relates to a need to increase educational participation and success to match European Union standards. It is interesting to see the ways in which other nations look to the U.S. for leadership in education, even as we in the United States continue to should search to improve upon our past successes to maintain our learning advantages over other parts of the world.
We visit another university today here in Konya in the central Anatolia region of Turkey. As they said in the "Wizard of Oz," we're not in Kansas anymore.
---
Wednesday, June 29
We are at the mercy of the quality of Internet connections here, and today the connections are a bit limited.
As I had hoped yesterday, our visit to Gediz University in Izmir was both enjoyable and valuable. Izmir is south and east of Istanbul; a city of about three million, and the second largest port in Turkey. Gediz is a new university (even by our standards), and has a new and engaging faculty with a growing program in the social sciences, in addition to science and technology. Vice Chancellor Akdis and I signed a preliminary agreement of understanding that will allow us to explore later opportunities for exchanges of Clayton State and Gediz faculty and students alike, as well as an interest in exploring the possibility for selected shared on line opportunities.
Earlier parts of the day provided a reminder of the incredible historical and religious significance of this part of the world. Our hosts brought us first the Ephesus, which served as the site for Greek, Roman, Christian, and Muslim communities over the centuries. St. Paul's epistle to the Ephesians was sent to early first century members of an emerging Christian community. These same areas experienced political changes in Roman and Greek control of the region, followed by Christian Byzantium and Muslim Ottoman political influence.
Following our visit to Ephesus, we visited the site claimed to be the final home of Mary the mother of Jesus. And while historic records vary, the site did bring visits from two Roman Catholic popes, including the current pope Benedict.
Today will be spent visiting government agencies in Ankara, the capital of Turkey. Assuming the Internet connects later, more details will follow.
---
Tuesday, June 28
As the itinerary suggests, yesterday (Monday, June 27) was a very busy day. Add to that a flight delay leaving Istanbul, and it made for a long, although very productive day.
Two particular parts of yesterday's activities were most interesting. The first was a briefing by a senior project director of the investment support and promotion agency of Turkey, whose office reports directly to the Turkish Prime Minister. This session provided detail of the growing economic and political changes in Turkey over the recent decade; as evidenced by the June election here and how that election (that led to the return to leadership by the current prime minister) provided further evidence of Turkey's position as an important world partner. We began to discuss the role of education in that growth, and connections to the United States. There will be more of that discussion after a visit to the Turkish Education Ministry later this week.
The second visit yesterday was with Mr. Emrah Ulker, foreign news editor of Zaman, Turkey's largest newspaper (with circulation of more than one million). You can see the English language version of Zaman at http://www.todayszaman.com.
It was interesting to hear of the role of a Turkish newspaper (at least from the editorial perspective) in the improvement of government. Even thousands of miles from home, it is refreshing to hear someone support Thomas Jefferson's claims about the pessimism and the preservation of democracy. (I could only imagine what a great chance this would be for an internship for a Clayton State student.)
We are currently in Izmir, a large Turkish port city, and leave for Ephesus shortly. Later today we will meet with leadership of Gediz University, once again to explore possible connections with our university.
---
Monday, June 27
I arrived on Friday, June 24 in Istanbul, Turkey as a part of an exchange sponsored by The Istanbul Center of Atlanta. As The Istanbul Center notes on its web site, "The Istanbul Center is a unit to Global Spectrum Foundation, and is a 501 c3 non-profit, non-partisan and non-governmental organization. The Istanbul Center endeavors to promote dialogue through education." As some may know, one of the recent hires by The Istanbul Center is a graduate of the Clayton State MBA program.
In earlier visits to Turkey, our university was represented by Professor John Parkerson, director of international programs, Dean Lisa Eichelberger, of the School of Health, and Associate Dean Diane Prince of the College of Business, among others.
There are several other Atlanta area residents in the group of which I am a member, including a Buckhead investment advisor, the director of international programs from Southern Polytechnic State University, and a member of a local Georgia board of education. One of the Clayton County Senate members, and a Clayton State alumna, Senator Gail Davenport, participated in an earlier visit sponsored by The Istanbul Center.
To accommodate our varied interests, we will be visiting over the next several days with several universities, an Istanbul public relations firm, staff from the largest news daily in Istanbul, and representatives of the Turkish Department of Education in Ankara (Turkey's capital), among other activities.
Turkey has the fastest growing economy among NATO countries presently. It is among the top 10 trading partners with the U.S., as it seeks to become more engaged both culturally and economically with the United States. Sitting as it does at the point of connection between Europe and Asia, and having a Muslim population practiced in democratic government (it concluded new elections and a change in leadership several weeks ago), we and our students have much to learn from interactions with Turkey.