Biography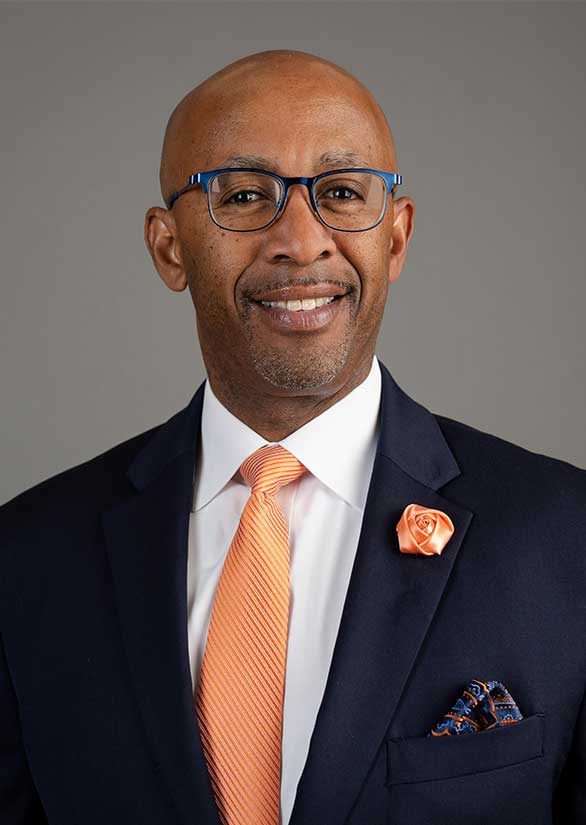 Dr. Georj L. Lewis joined Clayton State University as its seventh president on February 1, 2023.
In his 28th year in the higher education sector, Lewis started his post-secondary education career in admissions and enrollment, coordinating minority recruitment efforts. After five years, he moved into mid-level management positions in the functional area of multicultural affairs and led the student diversity efforts at Edinboro University of Pennsylvania and then transitioned to leading the same efforts at Georgia Southern University.
After serving as a diversity professional for approximately three years, Dr. Lewis went on to serve in senior-level administrative positions for the next sixteen years as the dean of students at Georgia Southern University, the vice chancellor for Student Affairs at Indiana University Northwest, the vice president for Student Affairs at Armstrong State University and as the vice president for Student Affairs at Georgia Southern University.
In May 2019, Dr. Lewis was tapped to serve as interim president of Atlanta Metropolitan State College, before officially being named the college's fourth president in November of that year.
Dr. Lewis' passion for professional development is evidenced by his participation in the Millennium Leadership Initiative (MLI) through the American Association of State Colleges and Universities (AASCU), the Executive Leadership Institute and the Advanced Leadership Academy through the University System of Georgia. Additionally, he has contributed to the professional development of others by serving as a faculty member for the American Academic Leadership Institute (AALI) and AASCU's Becoming a Provost Academy (BAPA), and creating the Student Affairs LEAP initiative at Armstrong State University as well as serving as a faculty member and director of the Region III SACSA/NASPA Mid-Managers Institute.
Dr. Lewis has received several awards, most recently recognized as a 2021 Pillar of the Profession by the National Association of Student Personnel Administrators (NASPA). He is also a recipient of the Paragon Award for New Presidents by Phi Theta Kappa Honor Society. He has also taught graduate courses on student services in higher education, undergraduate first-year experience courses and has recently collaborated on a book chapter in the Handbook of Research on Black Males and regularly serves on dissertation committees.
President Lewis is active in the metro Atlanta community. He is a member of the Board of Directors of the ATL Airport Chamber, a member of the Georgia Chamber of Commerce, a member of the Board of Directors for the Metropolitan Regional Educational Service Agency (Metro RESA), a sub-committee member of the Aerotropolis Atlanta Alliance, Inc., and a Metro Atlanta Industry Partnerships (MAIP) partner.
Additional points of pride for Dr. Lewis include but are not limited to: the Georgia Southern University Essence Awards Staff Member of the Year; induction into the Edinboro University Hall of Fame as a football player; Honorary Membership in the Delta Epsilon Iota and Golden Key Honor Societies; Deen Day Smith Service to Mankind Award; and a scholarship named in his honor, the Georj Lewis Leadership Scholarship, at Georgia Southern University. Dr. Lewis is a member of Alpha Phi Alpha Fraternity, Incorporated and is active in the Eta Lambda Chapter in Atlanta, Georgia, the 100 Black Men of Atlanta and is also a member of Impact Church in East Point, Georgia.
A native of southwestern Pennsylvania, Dr. Georj L. Lewis earned a Bachelor's of Science in Business/Accounting, an Master's of Arts in Counseling/Student Personnel, both from Edinboro University of Pennsylvania, and a Doctorate in Educational Leadership from Georgia Southern University.
President Lewis' life has been inspired by his grandparents, James and Evelyn Lowe (both deceased); Ms. Emma Brown, his 101-year-old grandmother; his first-generation college graduate parents Robert and Faye Lewis (both deceased) and a host of family members, coaches, friends and colleagues.
Dr. Lewis is blessed to be the husband of Mrs. Anchelle Lewis, and proud to be the father of Miles, Georj II, and Jazmyn and the grandfather of Taylor, Taliya, Miles Jr. and Tres.