Programs
Classroom Technology Support Line
(678) 466-4362
We've heard your request for faster assistance with technology challenges that disrupt teaching in the classroom. The Classroom Technology Support Line is dedicated in-class service.
You should call the Classroom Technology Support line only when you are experiencing in-class problems such as:

Projector Issues

Network Connectivity

S.W.A.N. or D2l Outages
The HUB's original phone service, (678) 466-4357, should be used for all other requests. Calls for non-classroom specific requests will be re-routed to the HUB's main number.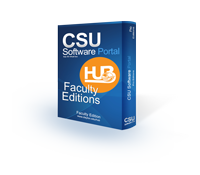 Available Software
Most software is available through Workspace. It comes preinstalled CSU computers in the Landesk folder.
Microsoft Office
Adobe CS6 Master Collection
Microsoft Office
Adobe Acrobat X Pro
ArcGis Desktop 10
Qoppa PDF Studio 8
And many more
Faculty Appointments
Save your time for your other ADVENTURES! Get seen at the HUB immediately by making an appointment. Make an appointment
Make an appointment by logging into the SWAN and clicking the HUB's tab.