Central Chiller Plant
Project Architect: GSB Architects, Inc.
Contractor: Project Cost: $5,000,000
Construction Dates: Completed in 2002
Cooling Tower Construction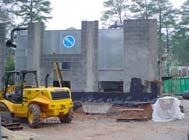 Completed Cooling Tower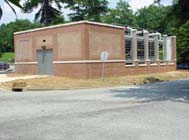 Project involved replacement of two existing Central Plant Chillers and Cooling Towers and expansion of Central Plant Facility to accommodate new equipment. This major renovation to the campus chiller plant provided an adequate chilled water supply to all campus buildings in the East loop with increased efficiency. This enabled a significant improvement to the heating and air conditioning capacity of the campus system.