Message from the President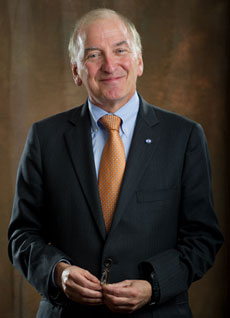 A Message From Tim Hynes
Dear Friends of Clayton State:
"Good actions give strength to ourselves and inspire good actions in others." - Plato
I write to thank you for your good actions found in your support of the Clayton State University Annual Fund. Your generosity provided assistance for the work of the campus community that could not be done through state funds alone.
Your gift may have been one of scholarship support, which made the difference between a student being able to stay or leave our institution. It may have even helped a student become the first of his or her family to receive a degree. Your gift may have provided needed academic support for a college or department, which may have allowed students to attend an academic conference they would have otherwise missed. Your gift may have been matched with other gifts that together brought a new generation of presidential scholars to campus. Their collective presence contributed to a supportive learning environment for students across a wide range of academic majors. Your gift may have permitted some students to participate in international programs that prepare them for entry into the interconnected world described by author Thomas Friedman as Flat. In sum, your gift makes a difference.
This past year indicates how your generosity has been an investment in student success and institutional achievement. But as importantly, it provides investments that will bring more success and achievement to come. Warren Buffett's words seem particularly important to a campus whose tree covered grounds provide an ideal location for faculty, student, staff and community success: "Someone's sitting in the shade today because someone planted a tree a long time ago."
With gratitude, Thomas J. Hynes, Jr.