Welcome Back, Lakers
(August 7, 2023) - Whether you're a transfer student, a dual-enrollment student, or a brand-new freshman Laker … we are so excited that you are a part of Laker Nation and cannot wait to see the great accomplishments you'll make here at your new home in Morrow.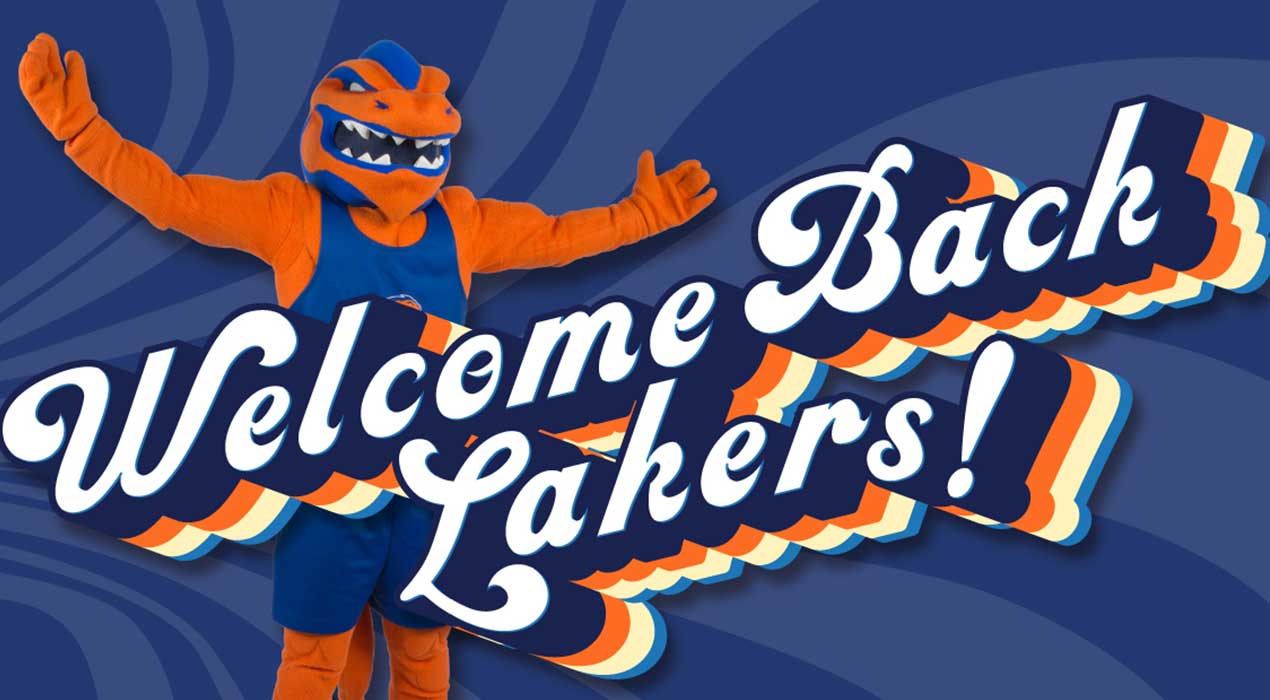 But, before all the big things happen, let's make sure the little ones are handled properly first.
Listed below are the top Laker Essentials for all new students.
From getting your parking pass to getting involved on campus
Laker Essentials
Show Your Laker Pride

Put on your best Laker Blue and Georgia Clay spirit wear and cheer on our student-athletes! Is it time for a new Clayton State shirt, coffee mug or hat? Get all your gear at the Loch Shop! Whether you want to rep the Lakers on the sidelines, at home, or in the classroom, the Loch Shop has all you'll need in stock to show your Laker pride throughout South Metro Atlanta. Do you have your books? The Shop is also your one-stop destination to stock up on notebooks, pens, pencils and all the digital wares you need to make studying a cinch.

Get Involved

Being a Laker is not limited to just what you achieve in the classroom – it's also about what you do to support your campus and the community! Check out the student involvement fair during Weeks of Welcome to learn all about our student organizations & leadership opportunities, and find a group that fits your passions. Are you living on campus? Check out the Weeks of Welcome activities created especially for you for more!

Be Career Savvy

It's time to perfect that resume, find a mentor or practice your interview skills! Whether you're actively job hunting or ready for an internship, it's never too early to meet with our Office of Career Services for professional help. Also, be sure to attend the Part-time Job Fair on Tuesday, August 15.

Get Active

Whether they're established or brand new, it's important to keep achieving your fitness and wellness goals! Stop by the Student Activities Center for access to cardio machines, free weights, basketball, volleyball and more in Recreation and Wellness. Fitness classes also return on August 14. Be on the lookout for Zumba, Martial Arts and Mixxed Fit, among other fitness classes, as well.

Be a Financial Warrior

Make sure you've got the funds you need for classes and course materials. Contact Financial Aid staff in three ways to answer any of your questions regarding your loans, grants, and scholarships to cover tuition and fees. Call (678) 466-4185, email financialaid@clayton.edu, or use Microsoft Teams and enter FinancialAidQue in the Chat Filter to contact a representative for further assistance.

Dining is Open

DineCSU will be open this fall and is ready to serve you. Purchase a meal plan online, then stop by the Lakeside Dining Hall for a meal with friends and colleagues. Our online menu will show you what we're cooking and help you build a nutritious meal. If you're on the run, use our to-go option! The Grind, Sub Stand, and Lakeside Wild Wings will all be open, along with a new concept in Laker Hall called The Bent Tree Market. The BTM will offer hot-off-the-grill burgers, sandwiches, snacks, fruits, beverages, and more. Visit DineCSU online for more information.

Tag Your Car

A parking ticket on your car is something neither our campus police nor you want to see. To spare everyone that pain, don't forget to head over to Clayton State's Public Safety office to receive your parking decal, which will safely register your car for the academic year.

Live Like a Laker

All first year Lakers are required to live on campus at Laker Hall! Make sure you check out move-in information to stock up on all of your linen and essentials prior to move-in day on August 10th! Upperclassmen, Laker Village apartments have everything for you, including your own bedroom and bathroom, a full kitchen, washer and dryer, and shared living room. We can't wait to see you on move-in day, August 11th!

Manage Your Stress

College is exciting and rewarding, but it can also be stressful. Our licensed counseling professionals can help you manage your stress or any other personal issues that arise during your time at Clayton State. In addition to providing counseling, Counseling and Psychological Services has a massage chair in our Relaxation Room for students to use, which helps them to relax during a stressful day. Check out our website for more information about our services and take a free and confidential mental health screening.

Monitor Your Health

Good health is crucial for success in the classroom. Should you ever find yourself in need of clinic services for an injury, illness, vaccines or routine care, please contact Clayton State's University Health Services (UHS) for assistance. UHS is located in Laker Village Apartments in Building 1000 on the street level. Additionally, if you're concerned about your dental hygiene, feel free to schedule an appointment with our Dental Hygiene Clinic located on the bottom floor of Edgewater Hall.

Remember, You Can Do This

Here at Clayton State, you may be new, challenges may seem overwhelming, and you may feel alone in your pursuit of your degree. We just want to let you know that we as a faculty and staff are here to help you succeed and will do all we can to help you achieve your goals here in Laker Nation. Whether it's Day 1 as a new student or Day 1 as an alum, you're part of our family now. Should you ever need help – just ask! You can do this and we're excited to help you see it through.
Once again, welcome to Morrow.
Welcome to Laker Nation.
And, of course, welcome to Clayton State University.
Welcome Home.