Constitution Week
Constitution Week Events 2021
Constitution Day
September 17, 2021
"Hands Up, Don't Shoot: Why the Protests in Ferguson and Baltimore Matter, and How They Changed America"
12:00 p.m.
The American Democracy Project and the University of Maryland, Baltimore County are hosting a Constitution Day talk at 12:00 pm on September 17, 2021. The speaker(s) will explore the impact of racial justice protests and how they help to shape America.
"State of the Union: Civics"
12:00 p.m.
At 12:00 PM on September 17, 2021 there will be a webinar on civics and civic education in the United States. Constitution Center President and CEO Jeffrey Rosen will be joined by leaders from government, education, and cultural institutions, including Dr. William R. Hite, superintendent of the School District of Philadelphia, Louise Dubé, executive director of iCivics, and Sal Khan, founder and CEO of Khan Academy, to discuss the state of civics education in the United States. We will explore the essential skills needed for a robust republic and the tools necessary to promote active and healthy civil discourse in our country today. Panelists will share what their organizations are doing at every level to build guardrails of democracy and support students nationwide.
"Saying What the Law Is: A Panel Discussion on the Courts and the Constitution"
1:00 p.m.
Clayton State University's Dr. Momayezi, Dr. Meddaugh, and Prof. Case join us for a discussion on the role of the judiciary in understanding and interpreting the constitution. This event will take place in UC 272 at 1pm Friday September 17, 2021. Seating is limited. A live stream of the event will also be available.
ADP Presents: A National Constitution Day Conversation
1:00 p.m.
From 1:00 pm to 2:00 pm, the American Democracy Project will host a discussion designed to reach across differences. This hour-long event, hosted by AASCU's American Democracy Project and the New York Times, creates a space for open discussion of the U.S. Constitution. This national facilitated dialogue is based on the fundamental value of the pursuit of knowledge for the public good. We will provide access to information about the U.S. Constitution, but you need not be an expert to enjoy this event and to share in the lively conversation.
"The Legacy of America's Founding Fathers"
6:30 p.m.
The National Constitution Center will be exploring how to understand the legacy of the American Revolution and the founders in the 21st century on September 17, 2021, from 6:30pm to 7:45pm, Best-selling historian Gordon Wood will be joined at the National Constitution Center in person by fellow historian Edward Larson and virtually by author Emily Pears and scholar Lucas Morel to discuss Wood's newest book Power and Liberty: Constitutionalism in the American Revolution. Jeffrey Rosen, president and CEO of the National Constitution Center, moderates.
---
National Voter Registration Day
September 28, 2021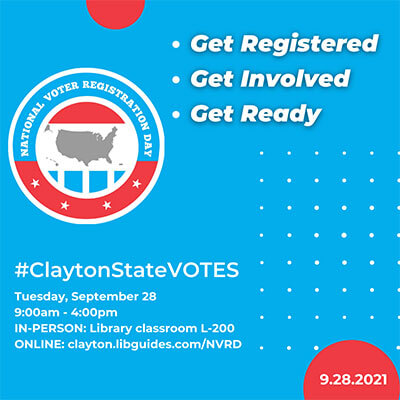 Cohosted by the Clayton State Political Science Program and the Clayton State University Library, this virtual voter registration event will offer a self-guided tutorial to walk voters through the registration process and an online meeting space for live help from trained volunteers.