RAVE Guardian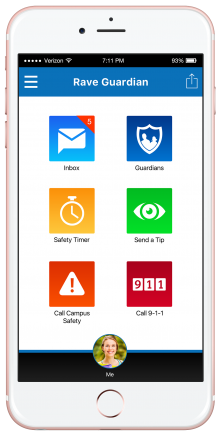 New Personal Safety APP for the Campus Community
Clayton State University is excited to announce its acquisition of a new personal safety tool available for the campus community. In addition to the Rave Alert system which is our new emergency communication network, we have acquired the Rave Guardian Mobile Application. Rave Guardian is a mobile phone app that enhances the safety of the campus community through real time interactive features that creates a virtual safety network.
Rave Guardian's primary features are:
Panic Button. Activation will connect directly with Public Safety with GPS location and personal profile information as provided by user.
Call 911. Activation link will connect to nearest 911 center.
Tip Texting. Enables two way crime tip reporting directly to Public Safety with anonymous source reporting if requested.
Personal Guardian and Safety Timer. It can be used as a personal safety tool that links with Public Safety to track your current location. After entering a personal safety profile, to include personal photo, email address, telephone contacts and other emergency contact information, users can activate a timer if there is a personal safety concern as you leave a location (e.g. leaving classroom alone late at night). Timer should be set with estimated time to reach destination (e.g. vehicle in remote parking lot). Upon safe arrival at destination, user should then deactivate timer. If timer is not deactivated before timer expiration, Public Safety is notified and will contact user in attempt to determine if timer should have been deactivated. If no response, an officer will be dispatched to try and locate the user by tracking his/her path.
Safety profile data is provided through Rave's secure web portal and is stored privately and securely within Rave Guardian's geo-redundant database. Profile information is only shared when the user places a panic call to Public Safety or allows a previously set Safety Timer to expire without deactivation. Caller identity is then immediately known to Public Safety so appropriate action can be taken.
Any member of the campus community can download the Rave Guardian mobile app from the Applications link on your cell phone. The service is free to all students, faculty, and staff.
Getting Started
Download the Rave Guardian app on your cell phone.
Follow the prompts to enter your email address and set up a password.
Follow next prompts to set up a four digit pin.
Now you can set up a personal safety profile, to include as much personal information as you want to provide. At minimum, a personal photo (a self photo taken with your cell phone works), cell phone number, personal description, and emergency contact information should be included.
This is a new personal safety tool for the campus that has been vetted through Public Safety as well as through Information Technology Services. It is recommended that everyone download the app and set up your personal profiles as soon as possible. You may never need to activate Rave Guardian, but if you do, you will be prepared.