Tutoring
How to Book a Tutoring Appointment
Go to the Swan
Click on SSC Navigate "Student Services Appointments"
Click on the "Get Assistance" Button on the left-hand side of your student home.
Select "Academic Tutoring & Support" from the first drop-down menu
Select "I need tutoring" from the second drop-down menu
Select whether you'd like to meet in-person or online
The next screens will ask you where you want to meet and what subject you need tutoring for.
Follow the steps on the screen to schedule a tutoring appointment and to view the walk-in times for that subject.
Tutortoring Blitz
At Tutoring Blitz, students drop-in and work with CAS and Writers' Studio tutors and faculty to prepare for their final exams.
Learn more about Tutoring Blitz
What to bring to tutoring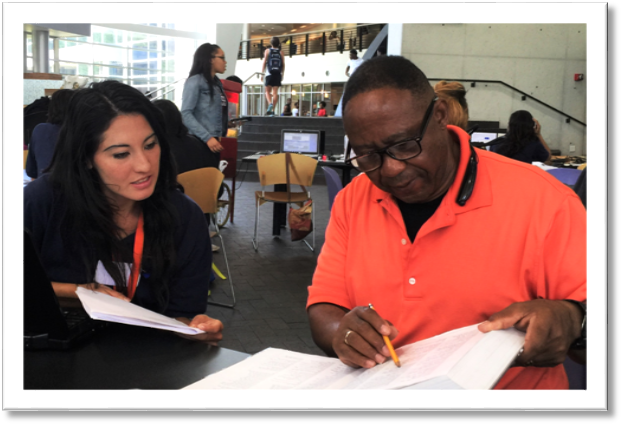 The textbook
Class syllabus
Class notes
Any completed quizzes and tests you've taken in the course.
A positive attitude and a willingness to put your brain to work.
What tutors can not do
Help you cram right before a test. (Even the best tutor cannot help you absorb a month's work in one session.)
Do your work for you. If you don't do the work yourself, you won't learn.
Help you with a take-home test, quiz, or a graded homework assignment.
If you try to have a tutor help you with a graded assignment, this is considered cheating and will be handled according to University policy.
What you can do to become an active learner
From day one in your class, you should be preparing for finals. I know it's tough to plan for something five months in advance, but studying this way will help you when it comes time to finals. Keeping up with your coursework ensures that during finals week, you will be reviewing concepts instead of cramming information.
Make sure you read your course syllabus for assignments, exam dates, and other helpful information.
Be an active learner during class (take notes, ask questions, form a study group).
Preparing for Final Exams
Going to tutoring right before finals is just like cramming for a test. It won't benefit you, especially if the exam is cumulative. With that in mind, make sure you incorporate tutoring into your regular study time to have the most positive effect.
Please remember that during finals week, our tutors are studying and preparing for their finals and will have less availability to hold individual appointments or study sessions.