LakerCard Photo Upload is now available

Your LakerCard...
it's your student ID
it's your library card
it's an on-campus debit card
it's an access card
...it's the card you need on campus
Manage your LakerCard online!
Make deposits, check an account balance, review transaction histories, and report your card lost/stolen. You can even have a friend or relative deposit money to your LakerBucks through the Guest Access. Log in today using your Clayton State network login credentials. Click the LakerCard Online button below to begin!
Additional Services
The LakerCard Center also provides the following services:
BankMobile and Clayton State OneCard support
Meal Plan sales and support
Fax services

Local - $.49*/page
Long distance – $1.29*/page
International - $3.99*/page
* plus sales tax

SmartPrint refunds and support
Vending refunds and support
Marta Breeze Pass sales
LakerCard Center Hours for Winter Break 2020
Wednesday, Dec. 16: 9am - 3pm

Thursday, Dec. 17: 9am - 5pm

Friday, Dec. 18: 9am - 3pm

Monday, Dec. 21: 9am - 3pm

Tuesday, Dec. 22: 9am - 5pm

Wednesday, Dec. 23: 9am - 3pm

Thursday, Dec. 24: 9am - 2pm*
*Office will be closed, but service will be available by phone and email:
- Phone: 678.466.4215
- Email: lakercard@clayton.edu

Self-service options available 24 hours a day at LakerCard Online!
To make a LakerBucks deposit, check a LakerBucks or Bookstore Bucks balance, or submit a photo for your LakerCard, go to www.LakerCard.com and select LakerCard Online.
LakerCard Center Start-up Schedule for Spring 2021​
Date

LCC Hours

Monday, Jan. 4
8am - 7pm
Tuesday, Jan. 5
8am - 7pm
Wednesday, Jan. 6
8am - 7pm
Thursday, Jan. 7
8am - 7pm
Friday, Jan. 8
8am - 3:30pm
Saturday, Jan. 9
9am - 3pm
Sunday, Jan. 10
CLOSED
Monday, Jan. 11
8am - 7pm
Tuesday, Jan. 12
8am - 7pm
Wednesday, Jan. 13
8am - 7pm
Thursday, Jan. 14
8am - 7pm
Friday, Jan. 15
8am - 3:30pm
Saturday, Jan. 16
10am - 2pm
Sunday, Jan. 17
CLOSED
Monday, Jan. 18
CLOSED for MLK Day
Tuesday, Jan. 19
8am -

5pm

Resume Normal Hours
Wednesday, Jan. 20
8am -

5pm

Thursday, Jan. 21
8am -

5pm

Friday, Jan. 22
8am - 3:30

pm

Saturday, Jan. 23

CLOSED

Sunday, Jan. 24
CLOSED
Monday, Jan. 25
8am - 5pm
Tuesday, Jan. 26
8am - 5pm
Wednesday, Jan. 27
8am - 5pm
Thursday, Jan. 28
8am - 5pm
Friday, Jan. 29
8am - 3:30pm
Saturday, Jan. 30
CLOSED
Sunday, Jan. 31
CLOSED
Monday, Feb. 1
8am - 5pm
Tuesday, Feb. 2
8am - 5pm
Bookstore Bucks End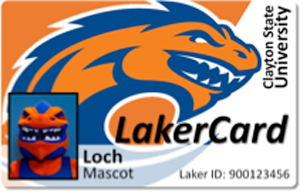 ---
Location: University Center, 1st Floor Adjacent to Lakeside Dining Hall
---
Contact Us (678) 466-4215
Auxiliary Services Information