"You are the change you want to see"
(December 11, 2018) - Hundreds of master's degree candidates and their families gathered Friday night to celebrate an exciting chapter in their academic and professional journeys as the fall 2018 commencement exercises for Clayton State University kicked off Dec. 7.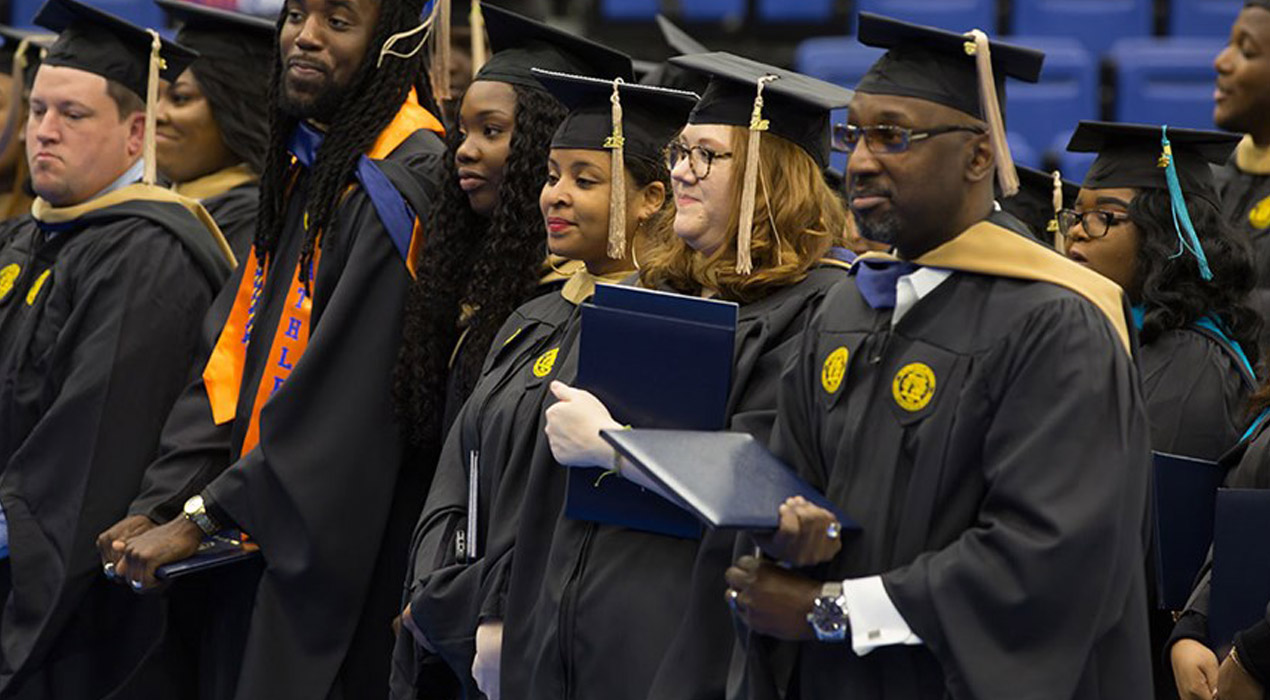 "This is indeed an evening for celebration," Dr. Tim Hynes, president of Clayton State University. "As you continue to prosper, as you continue to accomplish great things, so too will the reputation of Clayton State University be enhanced."
Graduate students from the College of Arts and Sciences, College of Business, College of Health, and the College of Information and Mathematical Sciences received their diploma and hood in recognition of their academic achievement and the completion of their master's degree program.
The orange and blue on the hood represented the Clayton State's school colors. The collar is fashioned with a color representing the field of study in which the degree was earned––Arts, white; Business, tan; Education, blue; Psychology, gold; Nursing, peach; and Healthcare pink or green.
Dr. Celeste Walley-Jean, dean of the School of Graduate Studies, served as this year's commencement speaker for the fall program.
Dr. Walley-Jean reflected on the definition of the word commencement, highlighting that not only does it signify an official ceremony held by many academic institutions, but that it also represents the beginning or start of something.
"This definition resonated with me," Dr. Walley Jean said. "You made it, you did it, you're done. You finally will get to begin your career, your life."
Dr. Walley-Jean challenged the graduates to use their newly acquired knowledge and skills to be a difference-maker in solving the world's problems that impacts all citizens.
"This evening of your commencement, this beginning of your new phase of your life, I challenge you to see yourself as agents of change," Walley-Jean said. "You are educated, you are dedicated, you are the change you want to see."