Clayton State officially welcomes Class of 2027 to Laker Nation
(August 15, 2023) - Every story has a beginning.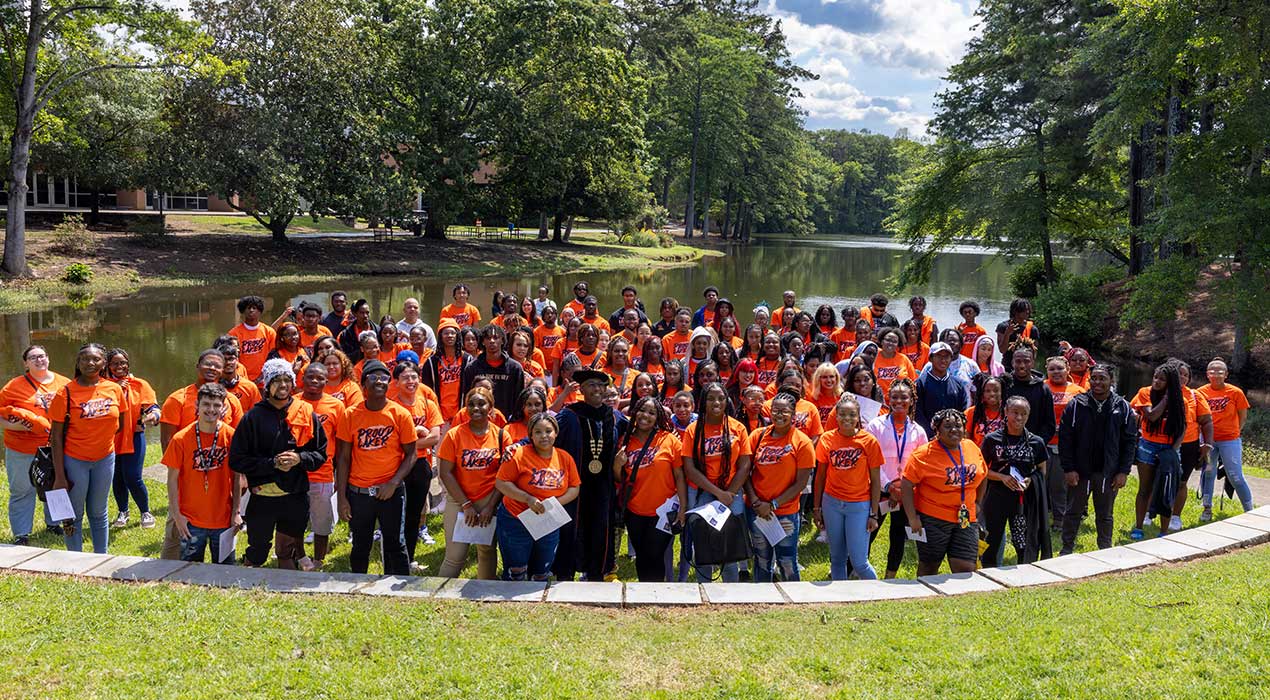 And for the incoming Class of 2027, it began on Friday, August 11, at New Student Convocation at Spivey Hall.
Dr. Kimberly McLeod, the university's new provost and vice president for academic affairs, enthusiastically greeted Clayton State's newest students as someone new to campus, herself.
"You are at the right place at the right time," McLeod said. "Whatever you do from this point forward, your fate, your future is in your hands. You have the power to give any dream you have life, and you have the power just to quit and give up. We are here with you as a united community to help give life to every dream you have ... but it is in your hands."
Clayton State President, Dr. Georj L. Lewis, also addressed the newest members of Laker Nation, calling it an honor and a privilege to be able to speak with them right before the next chapter of their lives began.
He told them that while they may be overwhelmed by all the new changes taking place in their lives, he is "confident" that this year's freshman class will soon view campus as their new home.
"Convocation is truly a time of celebration for each and every one of you," Lewis said. "It marks the beginning of your academic journey – the first step on a path that will lead you to graduation in four years. Commencement will be the next time we gather together to celebrate another milestone – one that will culminate with you joining the ranks of nearly 30,000 alumni from Clayton State University."
Lewis said each student's choice to join Clayton State was "the right decision" as he spoke about the institution's commitment and determination to help each new Laker surpass "everything [they] thought was even possible."
"For each of you, this is the beginning of what will be some of the greatest years of your lives," Lewis. "In years and decades to come, you will look back on the great memories and fondness of your time here on campus. As you settle into your classes, the campus, and our community, you will begin to realize exactly how much you are capable of achieving here. You'll begin to see your aspirational growth evolve and take shape into tangible, attainable goals."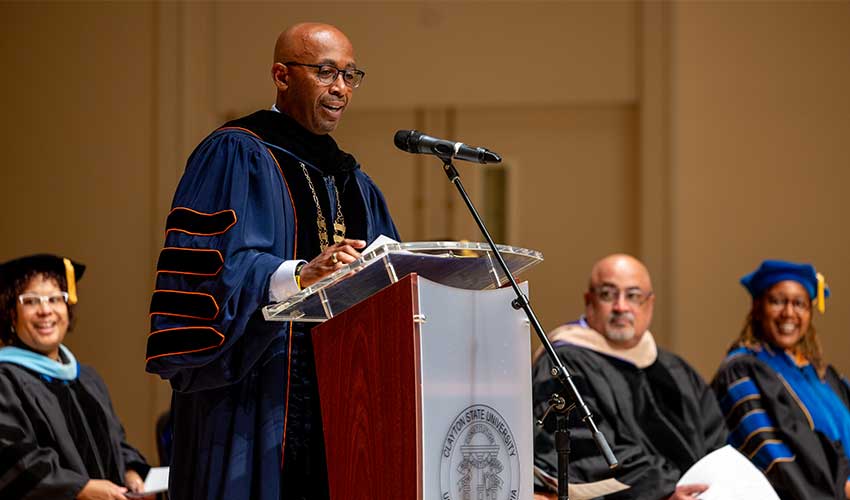 President Lewis
Lewis further encouraged the freshman class to "lean in" to this time of potential growth and development, saying he'd like to see the students try to step out of their comfort zones to set new goals and try new things while excelling in rooted interests.
"I look forward to seeing the numerous ways that each of you will make your mark in this community and in the world," Lewis said. "I know that [with] the skills and knowledge that you will gain at Clayton State ... the sky's the limit."
Following the convocation, students filed out of Spivey Hall to the applause of university faculty and staff before making their way to a celebratory lunch at the James M. Baker University Center.
For some freshmen, like general business major Caleb Meridy, their first semester couldn't start soon enough.
Meridy said that over the course of his time at Clayton State, he wants to inspire fellow students at Clayton State to "keep pushing" and to "just have fun" during their time in college.
"I'm pumped," Meridy said. "I really like this environment. I'm looking forward to having a great, successful year meeting new people and having new friends."
While speaking in Spivey, Dr. McLeod said that the incoming Class of 2027 was composed of 49% traditional freshmen and 51% non-traditional.
For freshman Emily Phillips, her path to starting class at Clayton State was about as non-traditional as they come.
With 25 years under her belt working for Aflac at their company headquarters in Columbus, she decided to come to Clayton State University to earn her bachelor's degree – a degree that will finally help her advance further with the company all on the way to retirement.
"I am already in management and leadership at the company," Phillips said. "To get where I want to be when I retire in 10-to-12 years, I need a degree. 30 years later, here I am!"
While she is "basically starting from scratch" with her academics, Phillips is ecstatic to be a freshman Laker and said that when she first discovered Clayton State, she knew it was only a matter of time until she began signing up for classes.
"When I came to the campus open house, the atmosphere, the charge, and meeting some of the professors and deans ... they made you feel like this is where you were supposed to be," Phillips said. "I really had no other option but to be here."
The Class of 2027 is motivated and ready to go, and Pres. Lewis is excited to watch their achievements in the years to come.
After all, just like each new student here on campus, it will be his first full year at Clayton State, as well.
And he hopes everyone feels just as welcomed onto campus as he was this past winter.
"Whether you're brand new to college or joining us from another institution, I know you will find exactly what you are looking for in a university right here at Clayton State," Lewis said.