Welcome Home: Veterans Resource Center provides community for Laker student veterans
(November 8, 2023) - The United States Armed Forces is composed of some of the most qualified, specialized, and hard-working men and women our country has to offer.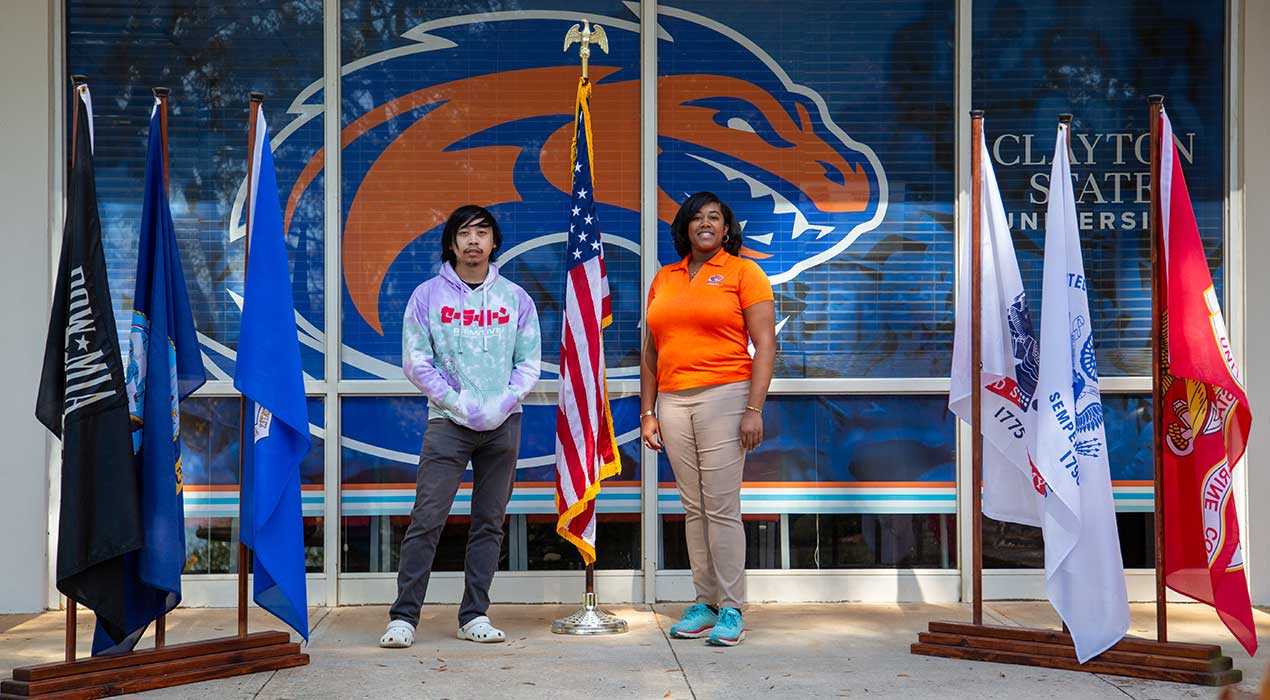 While so many sign their contracts to officially serve even before graduating high school, there are many veterans who find themselves wondering what their next step should be when returning to civilian life after being discharged.
This was a personal Q&A that Clayton State alumna and Army Veteran Janei Smiley remembered asking herself back in 2016.
"The goal was a college degree," Smiley said. "I didn't take the decision on where I decided to go to school lightly at all. When I went to different campuses, I didn't lead that I was a veteran. I honestly just wanted to see how the process went."
Smiley said that, surprisingly, other schools she toured did not provide "an inviting or welcoming experience," saying that she was treated "like a number" rather than as a person.
But that all changed when came to Morrow and first stepped foot on Clayton State's campus.
"When I arrived at Clayton, I got this instant feeling of 'this is where you should be; this is where you belong,'" Smiley said. "Everything from the size, the people I encountered, how orientation went ... I just felt confident that I was going to be able to graduate here and that this was a great place to spend my hard-earned G.I. Bill."
And now, nearly three years after graduating in December 2020 with her bachelor's degree in communication and media studies, Smiley currently serves all student veterans at Clayton State as the coordinator of the university's Veterans Resource Center – a space for all Laker student veterans and students enrolled in active duty to meet and relax with fellow military students.
But for many, the Veterans Resource Center also serves as a place to make the transition from a military lifestyle to a civilian one – something Smiley has personally gone through and has seen for years at Clayton State as both a student and VRC coordinator.
"I watch the transition from service member – a very profound, poised person in society," Smiley said. "I want them to relax into this space of scholar – a person who, in my opinion, can bring what they offer to the table as well as take something from the table that they didn't previously have."
The former Army paralegal specialist said that, no question, watching this transition happen is one of the many reasons she loves her job working with student veterans.
Another reason, she said, is finding out who some of Clayton State's student veterans become once they're out of uniform.
"Yes, you were Colonel so-and-so in the military, but nobody knows that you really like to cook," Smiley said. "You were a Private in the service, but over here, you have background knowledge in accounting. It's just so interesting to see how when you take the uniform off, take the rank off, who is this person?"
Smiley added that, for all student veterans, her goal is to help the university be a place where student vets can be "exactly who they are and succeed."
And for two new Lakers, they're both appreciative for Smiley's services and their new home away from home at the Vets Center.
U.S. Navy Veteran Sanja Walker and Air Force Veteran Aaron Phachomphom both recently began attending classes at Clayton State University and are enjoying their transitions into student life as full-time Lakers.
Walker, a Master Chief in the Navy with 24 years of service, retired from the military in 2022 and is now a sophomore studying information technology.
While she is still adapting to living outside of the Navy, she said that the university's veterans center has been instrumental in helping her adjust to life in both school and student organizations.
"I joined the National Council for Negro Women to try to help me, because I'm used to being a part of something," Walker said. "Just hanging out with them, whether it be volunteer events or attending meetings, that helps."
For seven years, Phachomphom worked with logistics in the Air Force and was stationed in both South Carolina and Alaska during his military career.
While he had a job lined up after his time in the military ended, both his desires to return home to Clayton County and to earn a college degree led him to become a Laker this past summer.
Like Walker, he too is grateful for everything the university's Veterans Center has provided him.
"It gives me the option to relax and de-stress mid-class," Phachomphom said. "I like it. It helps me relate to people, compared to just talking to civilians, because I don't know how to relate to normal civilian life. You get so used to [military life] as the norm that you're trying to function as a 'normal civilian' now."
But as Veterans Day 2023 approaches, the Veterans Resource Center is inviting both "normal civilians" as well as all Clayton State veteran students, faculty, and staff to a special Veterans Day Celebration on Thursday, November 9.
The event will be held at the University Center Plaza, beginning at 12 p.m., and will feature a guest speaker and refreshments for all who attend.
Thinking fondly on both her military experience, as well as the new student veterans who recently joined Clayton State, Smiley believes the event will create a perfect environment for all to celebrate our nation's veterans ... including the ones they didn't know were already a part of Laker Nation!
"It's such a good opportunity because you don't know that your professor was in the service," Smiley said. "You don't know that this student was a service member! So, for me, it's kind of like this 'a-ha' moment that I don't want people to forget as we move into the next semester or even next year."