Public Safety, Student Affairs launch Ticket to Give food drive
(November 8, 2023) - Clayton State's Dept. of Public Safety is teaming up with the university's Division of Student Affairs to bring holiday relief to all on campus this Thanksgiving.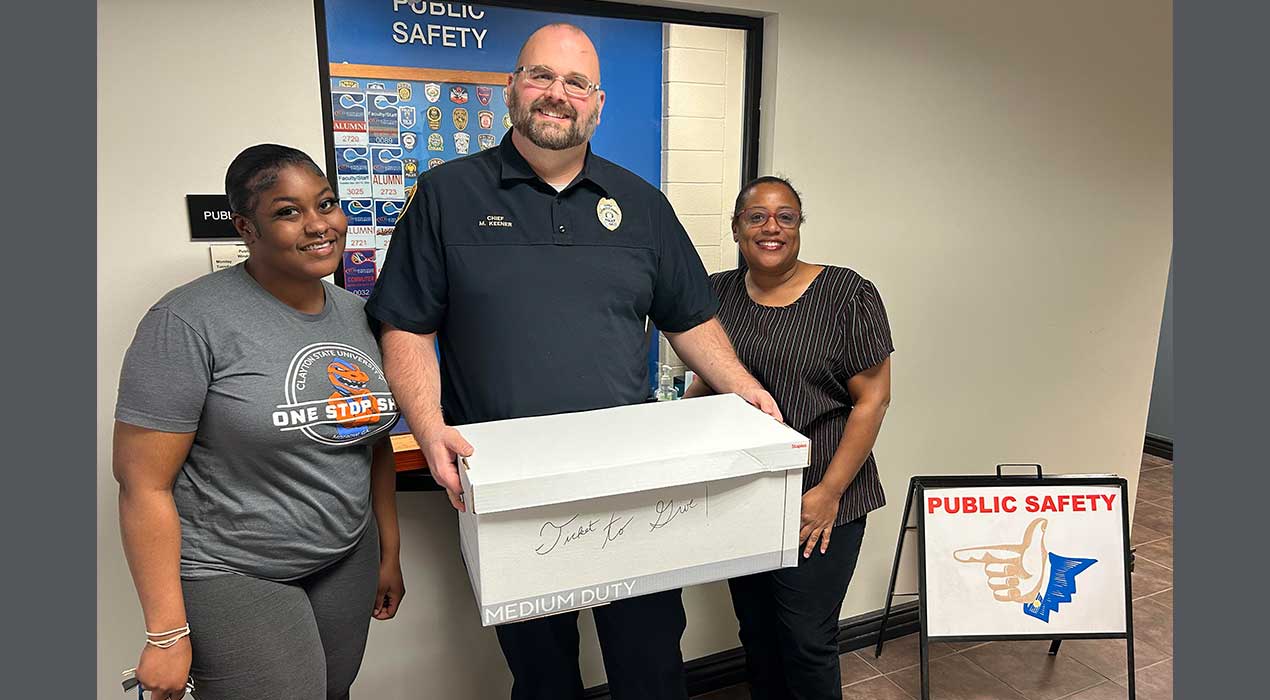 Chief John Keener, Clayton State's director of Public Safety, is proudly inviting everyone in Laker Nation to contribute to the university's first-ever "Ticket to Give" food drive – a month-long food donation forgiveness program that will run through Thursday, November 30.
For those on campus who may have still-unpaid parking tickets or other similar fines, the drive permits Lakers to donate up to 200 oz. in non-perishable foods to receive up to one cool Benjamin Franklin in forgiveness funds.
"For every two ounces of non-perishable food – rice, beans, peanut butter, canned vegetables and fruits, cereals – you get one dollar off your outstanding fines up to a maximum of $100," Keener said. "The food goes to our Clayton State University Food Pantry Project."
Dr. Don Stansberry, vice president of Student Affairs, shares in Keener's enthusiasm and is thrilled to see both those who donate and those who receive donated goods benefit.
"I am excited for Student Affairs to partner with the CSU Police Department on this initiative for our pantry," Stansberry said. "Programs like this are creative ways to benefit students by helping to address debts they may have and stocking the pantry for students in need. It is a win-win."
Keener said that all dry goods and canned foods are acceptable and can be donated on weekdays from 8 a.m. to 5 p.m. at the Public Safety Office, which is located on the second floor of Edgewater Hall.
"Bring [donations] to the window," Keener said. "That way, we can process who'd donating it and how many ounces so we can give you the appropriate credit."
The police chief also added that while ticket forgiveness will cap out to all who donate at $100, giving has no cap, meaning Lakers can donate as much food as they want to the pantry.
He further said that when bringing donations to the Public Safety Office, everyone will be required to pay all of their remaining outstanding fines at that time.
Like Stansberry, Keener is really excited to provide this opportunity to all on campus in Laker Nation.
"Dr. Stansberry approached me, brought the idea up, and I was instantly hooked," Keener said. "I loved it. It's benefiting our university community, it's giving people an opportunity to get some ticket forgiveness, and it's also huge for the campus in general to be seeing us doing something that benefits potentially so many people – especially during the holidays."