Theatre students prep for regional theatre festival to showcase 'Antigone'
(February 5, 2019) - The Clayton County Performing Arts Center was bustling last Friday and Saturday. Theatre students from Clayton State University's visual and performing arts department the weekend rehearsing lines, going through production cues, and packing up costumes and rigging equipment. The nerves and excitement was on high as the group prepared to perform during the Kennedy Center American College Region IV Festival.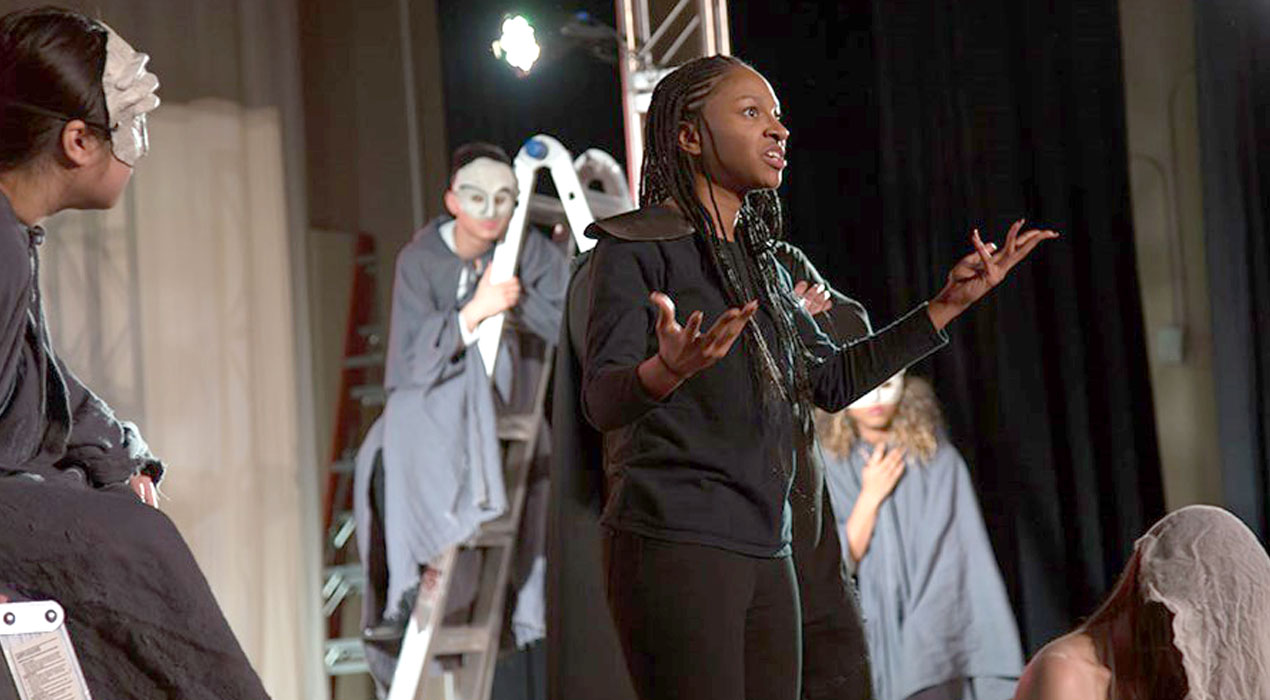 "This festival, as part of the prestigious Kennedy Center in DC, is for celebrating excellence in University theatre," says Prof. Derrick Vanmeter, assistant professor of Theatre Design. "Students will also be competing in the Irene Ryan Acting competition (named after the renowned actor who played Granny on The Beverly Hillbillies) for scholarships, bragging rights, and the opportunity to advance to the National Irene Ryan competition."
The Antigone production was entered last fall into the Kennedy Center American College Theatre Festival. Vanmeter said the judges were so impressed that his students were invited to perform this Thursday in the regional festival in Spartanburg, SC and to compete for a spot at the National Festival in Washington, DC.
"This invitation gives us the chance to show the excellent work we're doing in theatre at Clayton State," Vanmeter says. "We are especially thankful to the heirs of Bertolt Brecht for their kindness and generosity in granting the rights to perform this work."
Clayton State Theatre's production of Brecht's Antigone allowed the students and their audience to encounter the tragedy, rendered through Brecht and Malina's words, and view it through the lens of a contemporary vision, Vanmeter noted in his submission statement.
Vanmeter noted that during the rehearsal process for the production, actors noticed lines or moments that stood out as particularly relevant to the current political situation in the US and integrated those resonances into their performance.
"The actors synthesized classical conventions, viewpoints, epic theatre, and Stanislavskian techniques to create their characters," he wrote. "They worked diligently to rise to the obstacles presented by the poetic and sometimes awkward language of the play."
The students, who have been working both together and individually for the last few weeks preparing, are excited about the prospect to represent Clayton State positively and showcase their talent.
"I feel blessed to be performing as the festival, this being my first time at a theatre festival. It's truly an honor and I cannot wait to shake the stage with this performance," says Tony Fernandez, an actor and mask designer/artisan.
Other students hope that this opportunity, and a chance to perform in DC, will help boost their resumes as they set out to seek jobs in the theatre industry.
"If we advanced to the National Festival, it would really help establish my confidence as an actor," says actress Nancy Nguyen. "Going national with an even bigger audience is nerve-wrecking, but it'd be amazing to be acknowledged for all the hard work and talent that we have to offer."