"The world is in your hands"
(December 11, 2018) - Family, friends, and guest packed the Clayton State University Athletics Center to celebrate a milestone achievement in the lives of hundreds of students.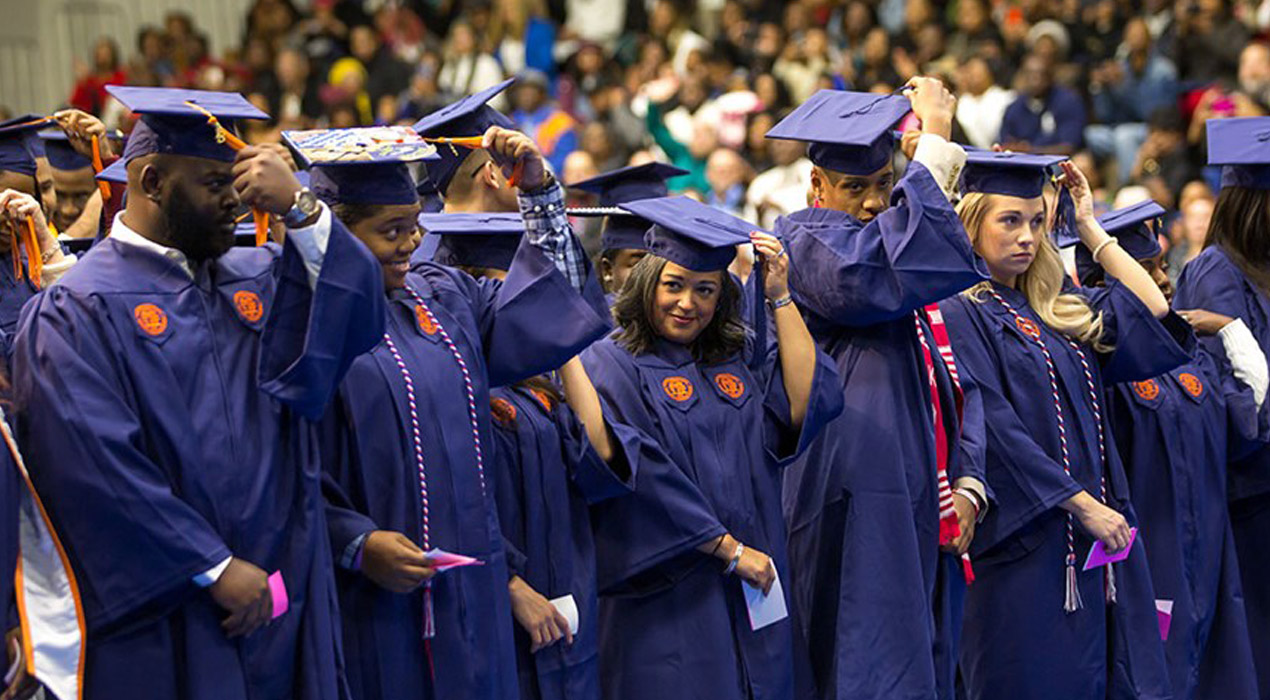 Students from the College of Arts and Sciences, College of Health, College of Information and Mathematical Sciences, and College of Business graduated during the fall 2018 undergraduate commencement on Saturday, Dec. 8.
"From here on out your name will be associated with Clayton State University and your accomplishments will build on the already formidable accomplishments of this university," Dr. Tim Hynes, president of Clayton State University.
State Rep. Calvin Smyre of Columbus gave a rousing speech to the morning graduates about the next steps in their professional careers as they set off to work and compete in a global economy.
"You represent the workforce that will carry Georgia into the next century," Smyre said.
Smyre reminded students that they did not achieve their academic goals on their own merit. It took the support of many to get them to graduation.
"You got here on the sweat, toil, prayers, dreams, and sacrifices of many—your parents, your extended family members, and many others," he said.
He challenged students to go far in the professional pursuits and do what's necessary to be the leaders of tomorrow.
"Never cheat yourself," Smyre said. "It's not how you drive, it's how you arrive."
The noon ceremony was welcomed with inspiring words from former Atlanta mayor and U.S. Ambassador Andrew Young. Young reflected on the day that he graduated from Howard University. He felt unsure at that time.
"I felt like I had wasted my time," Young said. "I thought that the rain was a sign of doom and gloom on my future life."
But in spite of his circumstances, Young said that he did go on to achieve many things in his life–working alongside Dr. Martin Luther King, Jr., getting elected to congress, serving as U.S. Ambassador, and helping former President Jimmy Carter ascend to the highest office in the nation.
"I could not have imagined with the limited resources I had expressed and developed in college, that I'd amount to anything at all," he said.
Young told graduates to understand and appreciate what their degree means, and that it, along with understanding the economic and political systems of the U.S., is central to being an active, well-educated citizen.
"Your education is only partial with this degree," Young said. "You've got it made. There's nothing you need to know that you can't find out."
Young said while the financial burdens and societal challenges of the world may be great, he told students to be steadfast in their desire to learn and to lead by serving.
"Fashion the kind of society that is profitable, that is representative, that is civil, and loving," Young said. "The world is in your hands, and the power of the spirit of the Creator is within you. Go enjoy life, love humanity, and make the world a place of peace. God has blessed you."
Commencement exercises were also highlighted by speeches from the graduates' peers. English major Nahtyka Jolly reflected on how Clayton State has shaped the students' lives and will continue to be a constant reminder to keep growing.
"Make sure that you aspire to be more influential and have a greater impact than the generation before us," she said.
Jordan Gibbs, a business management major, gave a rousing speech to graduates encouraging them to carry with them the same determined spirit they possessed in completing their degree as they begin their professional journeys.
"If you strong enough to complete your degree, then you are strong enough to complete your dream," Gibbs said. "There is no mountain that you cannot move, there is no water you can't walk on, and no dream that you cannot make real."