The Future Fairs Well
(March 21, 2023) -Clayton State students, faculty celebrate annual Career Fair.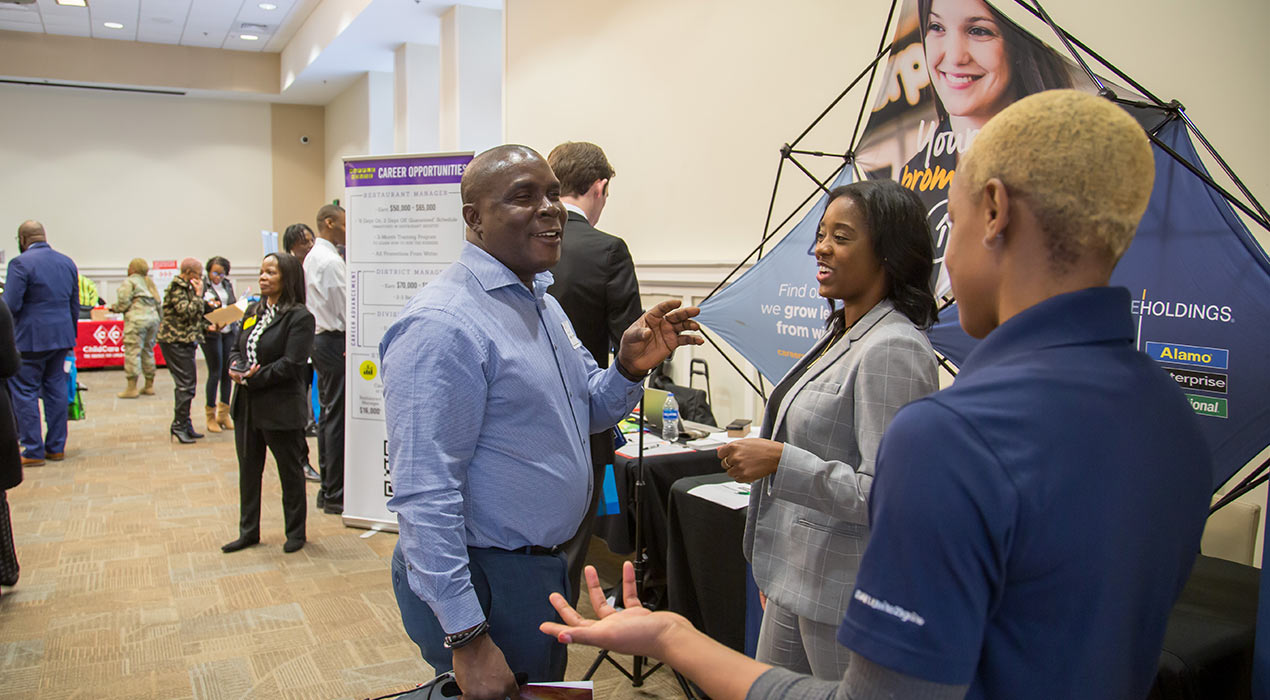 It's about 7:30 a.m. on Thursday, March 16, at Clayton State and Bridgette McDonald, the university's director of Career Services, is feeling somewhat nervous.
The university's annual Career Fair is set to begin at noon, and she knows plenty of employers will be there.
But she can't help but wonder … will there be enough students on site to complement employer enthusiasm for the afternoon?
"It's a nervous day when we do an in-person event because we never know if the students are going to show up," McDonald said.
Fortunately, for all parties involved, the event was well-attended and a complete success.
The ballrooms in Clayton State's Student Activities Center were packed with numerous organizations, such as Gwinnett County Police, Waffle House, and Georgia Lottery. Various government, nonprofit and state agencies were also on location, as well.
Each interacted with as many students as they could, discussing what a potential career may look like once their degree has been earned.
Numerous students spent their time talking with employers about what their first job could potentially look like once their academic journey at Clayton State has ended.
Or, in the case of grad student Reginald Starling, it was spent looking at how to advance further in the work force.
Starling earned his undergraduate degree back in 2003, 20 years ago, at Morris Brown College in Atlanta. Since then, he's worked for the Fulton County government and is currently pursuing an MBA in Supply Chain Management.
His goal at the career fair? Speak with employers and discover some of the most effective ways to "transition from public to private sector."
Starling was all smiles at the fair and called it "amazing," saying it would have been great to have attended a similar event back when he was an undergraduate student.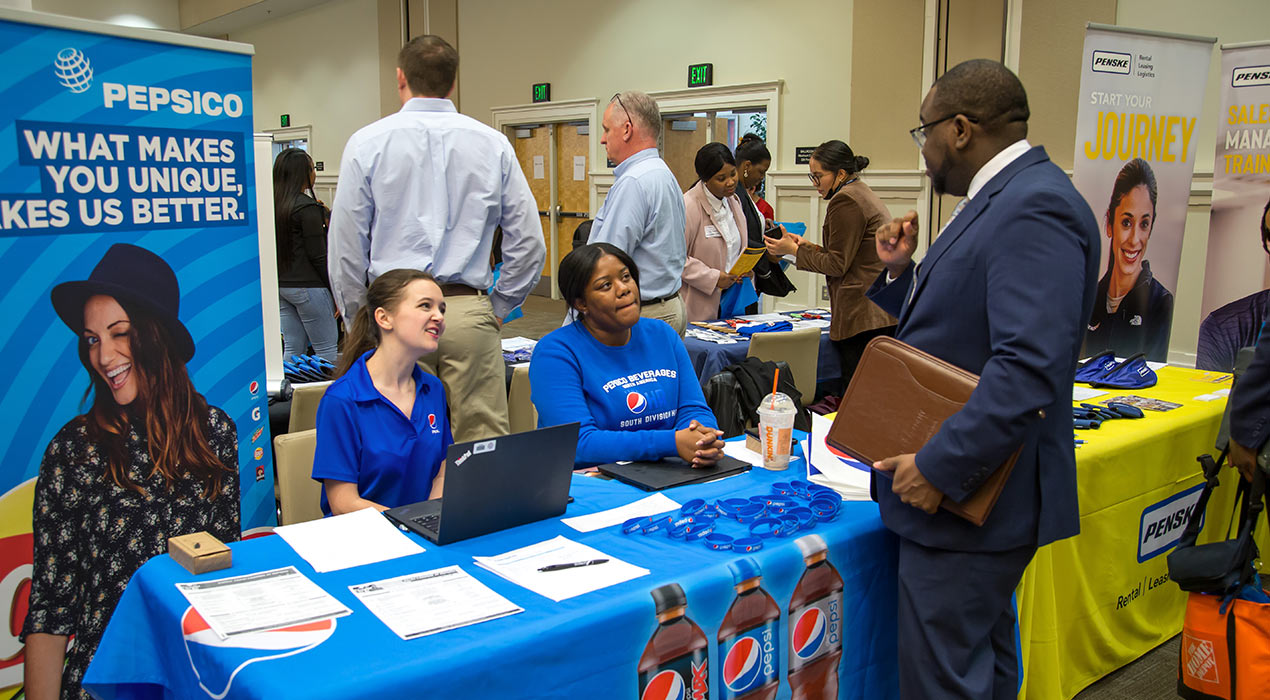 Clayton State Student, Reginald Starling
"I wish I had this opportunity to be able to learn and see what they're looking for," Starling said. "What skills and qualifications I would need to even apply for those positions, how to apply, how to dress – I think it's a great experience [overall]."
When asked if he believed the event was a confidence builder for Clayton State students, he answered "definitely."
"The agencies and companies that are represented here – they are really giving you that opportunity to get your foot in the door and the information you need to be successful," Starling said.
For McDonald, this was just the enthusiasm she was looking forward to when hosting the fair on campus.
Students from different academic paths were invited to attend, including undergraduate and graduate students, as well as students whose classes are strictly online.
"There are such awesome opportunities for students to get jobs," McDonald said. "We keep a tally on what [classifications] and majors are coming through. We've seen everyone from dual-enrolled students all the way through alumni."
McDonald said the university spent well over four weeks sending out emails to students to prepare them for the event. The director said that Clayton State did everything from "giving away suits" to conducting resume reviews and mock interviews, as well as helping with elevator pitches all in preparation for the fair.
For employers, she said, "it's the best three hours they can get for recruiting."
"For the staff and university, this is a very important day," McDonald said. "Employers come to Clayton State because of our brand. They know we have traditional students, non-traditional students [and] graduate students. This is a day for all our students to be able to come and participate."
For sophomore Jamira Sheffield, participating in the career fair was something that couldn't come soon enough.
While she still has a couple of years left with Laker Nation before earning her degree in legal studies, she believes what the university is doing is helpful for its students.
She also believes that, even if a job doesn't come immediately for applicants, the social skills one can gain from a career fair are invaluable.
"It helps me be able to actually talk to people," Sheffield said. "I get really nervous and go off subject. It helps me be able to talk to people and concentrate on what I'm trying to say and express what I'm trying to say."
Sheffield enjoyed her time speaking with employers in the ballroom and even said a few kept her resume for future internships.
She believes all students, including her friends, can benefit from future events.
Sheffield said that if she were to try getting them to come to the next career fair, showing off the free souvenirs she received and pictures she took would be her first step.
"This is the first time I [attended] and I got a lot of help out of it," Sheffield said. "Next time, if they can come, they [can] get a lot of help."
As she stood back and watched the event continue in its final hour, McDonald said she was pleased and "over the moon" by the number of students who showed up in-person on Thursday.
She called the event a "total university effort" and hopes more students continue taking advantage of future opportunities just like it.
"We have all worked together," McDonald said. "Partners from all over campus have stopped in to welcome employers – that's important. When employers leave and fill out an evaluation, they always talk about the customer service they received from the time they got out of their car to the time they leave. We welcome them, help them [set up], and we give them a great student turnout. It's just a win-win for everyone."