Students learn about public service at Clayton State Day at the Capitol
(January 17, 2019) - Students, faculty, and staff of Clayton State University kicked off the beginning of the new legislative session in Georgia with a visit to the Capitol in downtown Atlanta.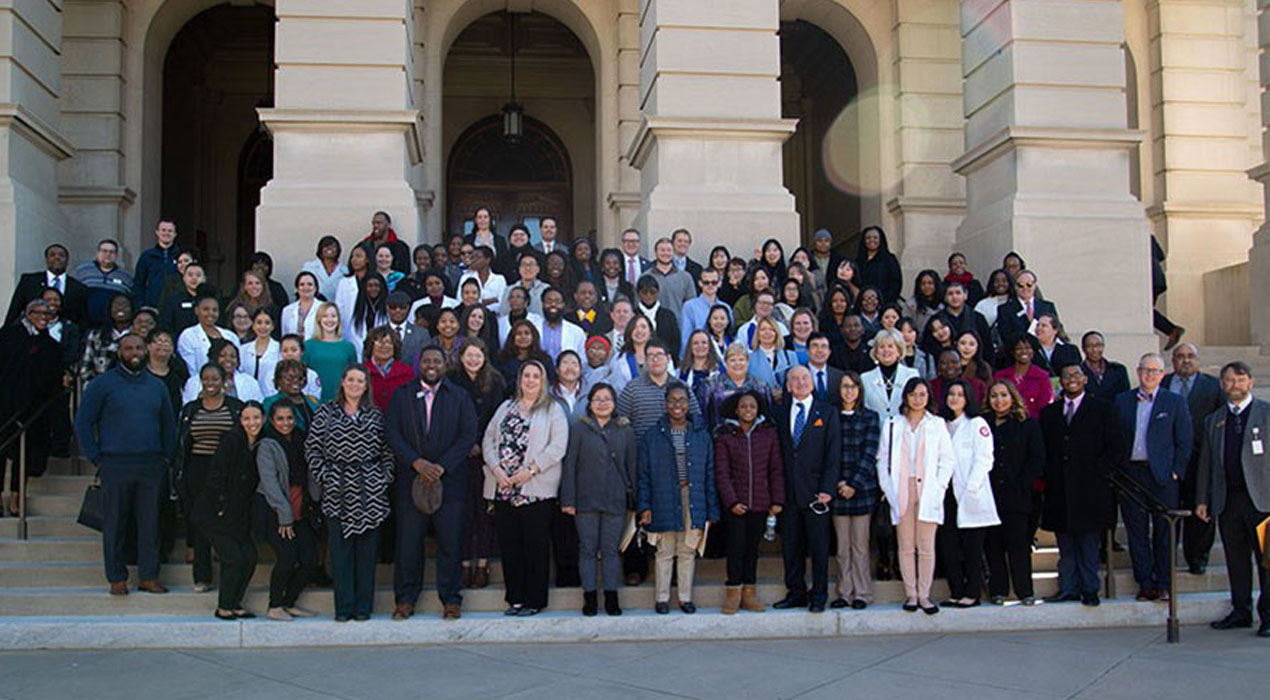 The University held its annual Clayton State Day at the Capitol on Jan. 14, giving students the chance to learn about state government and public service.
"Legislators really want to know what the folks in their district are thinking–what business or what the university in our area represented by students are thinking," said Dr. Tim Hynes, President of Clayton State University. "Your voice is far more powerful that you can imagine and preparation before you exercise that voice amplifies the influence you can have on the future of the state of Georgia."
Guests listened in as the Senate and House chambers read resolutions recognizing Clayton State's presence at the Capitol on Tuesday, as well as acknowledging its significance as a higher education institution serving the needs of constituents in south metro Atlanta.
A number of alumni and state representatives from Clayton, Henry, and Fayette counties spoke about students making their voice heard by being active participants in government.
Members of the House of Representatives including Sharon Cooper, Mike Glanton, Josh Bonner, Demetrius Douglas and Sandra Scott, as well as Senators Gail Davenport and Valencia Seay thanked the Clayton State community for its work in advancing education.
Rep. Valencia Stovall acknowledged the University's role in helping her push for a revitalization of the Atlanta State Farmer's Market in Forest Park. Clayton State MBA students developed a market analysis last year about the farmer's market.
Others shared their personal journeys into politics, including Rep. Derrick Jackson, a 22-year military veteran, and Rep. Kim Scofield, a concerned citizen who turned her passion for lupus awareness and advocacy into a career in public service.
"Public policy is your voice," Scofield said.
Earlier in the day, students heard from alumni including policy analyst Leonel Chancey, House intern/aide coordinator Michelle Sloan, political strategist Fred Hicks, and lobbyist Jeremy Betts about other jobs in politics that students can enter in after graduation.
Before parting for the day, students heard inspiring words from Rep. Calvin Smyre, elected the youngest member to the Georgia House of Representatives in 1974 and Clayton State's fall 2018 commencement speaker, who charged students to go for their dreams.
"Be the best," he said. "You'll land where you want to go."