Students earn top honors at annual management case competition
(October 3, 2019) - The Clayton State University chapter of the Society for the Advancement of Management earned several awards at the annual SAM business case competition in April.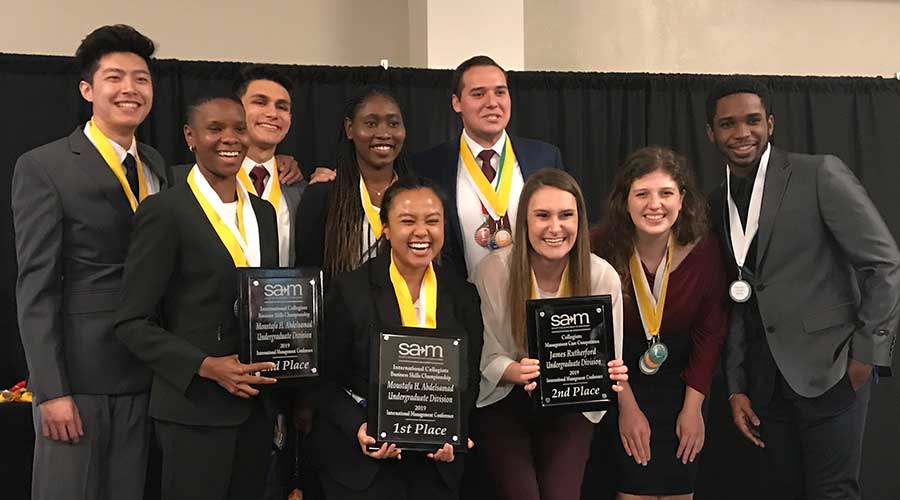 The five-person team placed second in the Business Knowledge Bowl Competition and also placed second in the overall International Collegiate Business Skills Championship, which is the most prestigious award of the competition. The championship award is named after the past president of SAM, Dr. Moustafa Abdelsamad, who led the organization for 25 years.
"I would like to thank our colleagues at the College of Business for encouraging their most talented students to participate in SAM case competition team and their words of encouragement for us throughout the past few years," said Dr. Reza Kheirandish, associate professor of economics. "Many thanks to all staff for their support as well, providing the team with all they needed. A special thanks to Dean Chacko for making the travel possible for the team."
The business students who attended the competition were Donovan Forbes, Khadijat Giwa, Kayla Obiekwe, Sophia Nguyen, Sy Tran. They were accompanied by new faculty advisor of SAM, Dr. Vinod Vincent.
The team worked prepared for the competition two months before and developed a financial and SWOT analysis that offered recommendations both in the short-run and long-run for the "Hard Rock Café" business case, according to Kheirandish. The team also participated in the Business Knowledge Bowl.
And two of the students, Obiekwe and Tran, participated in the speech competition where they were given a topic or problem and 30 minutes to prepare a five minute speech about the subject.
"I am very proud of this team specially because the difference between the first and the last team is not very much in this competition," Kheirandish stated.
The Clayton State chapter has been a consistently high performing team in the National SAM case competition since the university chapter joined the organization in 2001 and began participating in case competitions after 2002. They have placed first three times (2004, 2011, and 2012), second five times (2006, 2013, 2014, 2015, 2016) and third place two times (2008, 2009).