Schools' Partnership Builds Strong Connections
(August 9, 2022) - Consider this circle of educational impact. Instead of waiting for potential students to come to us, our faculty and student teachers come to them. Yes, Mohammed must go to the mountain. We bring our teaching and testing skills to one of many local Clayton County Public Schools. We are there to prepare students for Clayton State admission and our Dual Enrollment Program acclimates them, one step at a time. Now well equipped, the students develop into high-achieving freshmen. Here, they feel the supportive arms of our university wrapped around them – enough to stay. And they stay for the duration.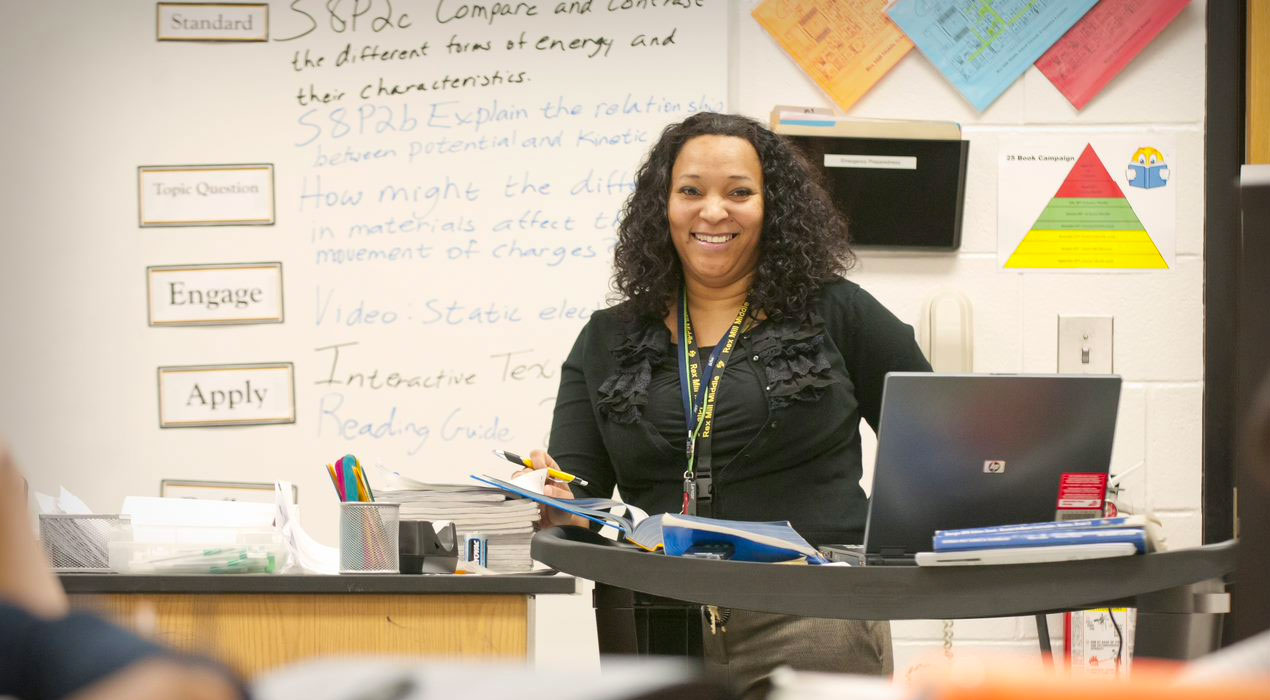 Steadily, they grow into promising seniors, with some anticipating a return to their communities to give back. Our education graduates then blossom and with solid partnership connections, they often return to teach at the same high schools where they first met us. Now as committed educators themselves, they remain in the school system to inspire and plant seeds of hope and aspiration into the minds of the next generation of future alums. Within this unique circle lives an intentional partnership between Clayton State and Clayton County Public Schools. We share a passion to meet students where they are, while supporting them to accomplish their dreams.
"Thanks to this partnership, CCPS students make the academic and social connections with the university that allow them to thrive as college students," said Dr. Eric Tack, interim vice president for Enrollment Management and Student Success. "It's about moving beyond the university campus and talking to our community about what they need, because the county is our community. The program lets students become more familiar with the university and breaks down any 'fear factor' about college. It has proven to be a natural fit between our two educational institutions."
The goal is to attract CCPS students to Clayton State without traditional socio-economic challenges and the Dual Enrollment Program is an important factor in positioning us as a leading institution of higher education in the region.
CCPS sees similar signs of success. "The program is working out really well and has yielded great results," said Dr. Alicia Dunn, director of counseling, Enrollment and Postsecondary Readiness. "It has had a positive impact on student success and provides a lot of good things for our kids."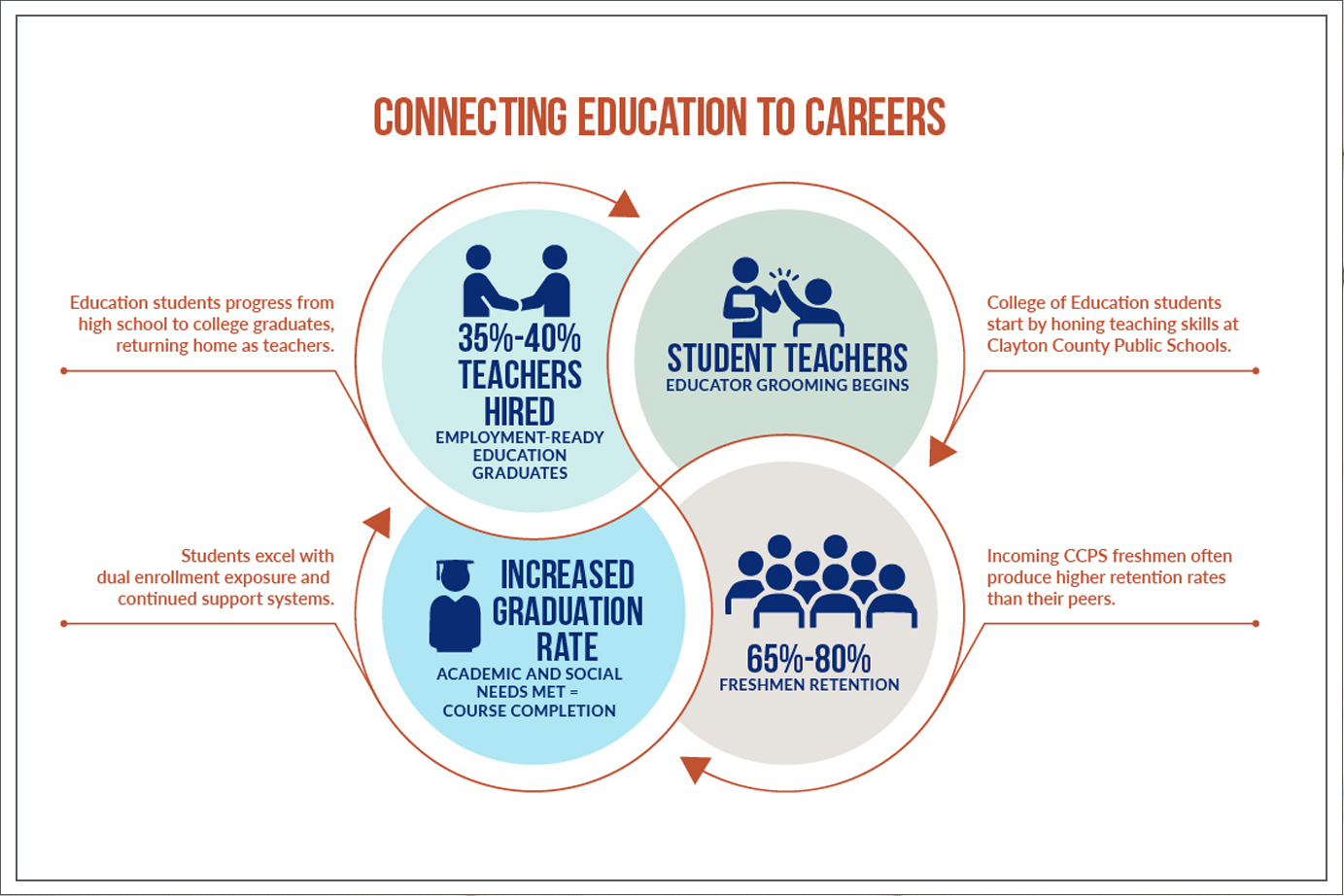 The partnership is proactive in helping students prepare for higher education. According to statistics going back to 2005, it has been a factor in gratifying retention rates for first-time full-time freshman students, as well as impressive graduation rates. "The students do exceptionally well at Clayton State," Tack said. "One reason we're so proud of this partnership is that it contradicts a myth. Our students from CCPS are succeeding as well as or better than their peers. Their retention and graduation rates are above the general student population, which is a credit to CCPS for preparing them for college-level coursework and our ability to meet their academic and social needs."
"Every time I am faced with a new (teaching) opportunity, I remember all of the faculty in the School of Education and Department of English at Clayton State."


– Madhave Clark, '20
Clayton is one of the largest counties in the state, with high schools located far apart, so Clayton State transportation for high school students to our Morrow campus can be a logistical and financial challenge. We have responded by sending our faculty to high schools to proctor tests for admissions and teach classes where students live and create online sections of some courses.
The program is also creating teachers: Many program participants go into the public schools for employment when they graduate from our university — including their high schools. "This is another positive aspect of the program that expands the relationship between CCPS and Clayton State," Dunn said. "It's the best of both worlds."
According to Alisha Albritten, director, CCCPS Human Resources, their annual IGNITE - Introducing and Grooming New Interns to Become Educator program hosts students from our College of Education for observation, practicum, student teaching, and internship experiences. She said our students are integrated into the culture not only at their assigned school sites but through IGNITE activities such as mixers, roundtable discussions, and sessions on the hiring process. When our student teachers express an interest in pursuing an employment opportunity with the local district, IGNITE program network connections support the employment process. As a result, our collaborative work firmly demonstrates successful outcomes for our students from college preparedness to employment access.
"An inspiring aspect of the partnership is that it is so deeply embedded in CCPS that students from the partnership have some of the highest retention rates among those at Clayton State," Tack said. "Perhaps even more rewarding is that statistics show that graduates with education degrees become CCPS teachers in their high schools, and also remain in the CCPS system longer than any other teachers in the University System of Georgia. We are creating an ongoing circle of generations of educators who are committed to their primary schools."
Dr. Morcease J. Beasley, CCPS superintendent/chief executive officer of schools, shares that perspective: "The partnership between CCPS and Clayton State is stronger than it's ever been as we continue to work together in educating the young people of this community," he said. "It is important to expose students to real-world opportunities that serve as building blocks to the foundation of success beyond their K–12 education. Dual Enrollment also pushes students a step further in the development of life skills, priority-setting and decision-making. We are glad to have such a large number of students making the decision to participate in this opportunity."
The partnership was integral to the former president's vision for Clayton State. "In our quest to serve the region and the state, we will continue to partner with Clayton County Public Schools to produce skilled professionals who are trained with the knowledge to address today's economic and development needs, and who are laser-focused on being prepared to handle what is to come for the South Metro Atlanta Region," past President T. Ramon Stuart said. "Higher education provides substantial benefits for regional growth and Georgia will continue to be the No. 1 state for business."