Remember My Name
(November 2, 2020) - The image of domestic violence spans all ages, backgrounds and identities. And it continues to affect many young people who are experiencing their very first relationships.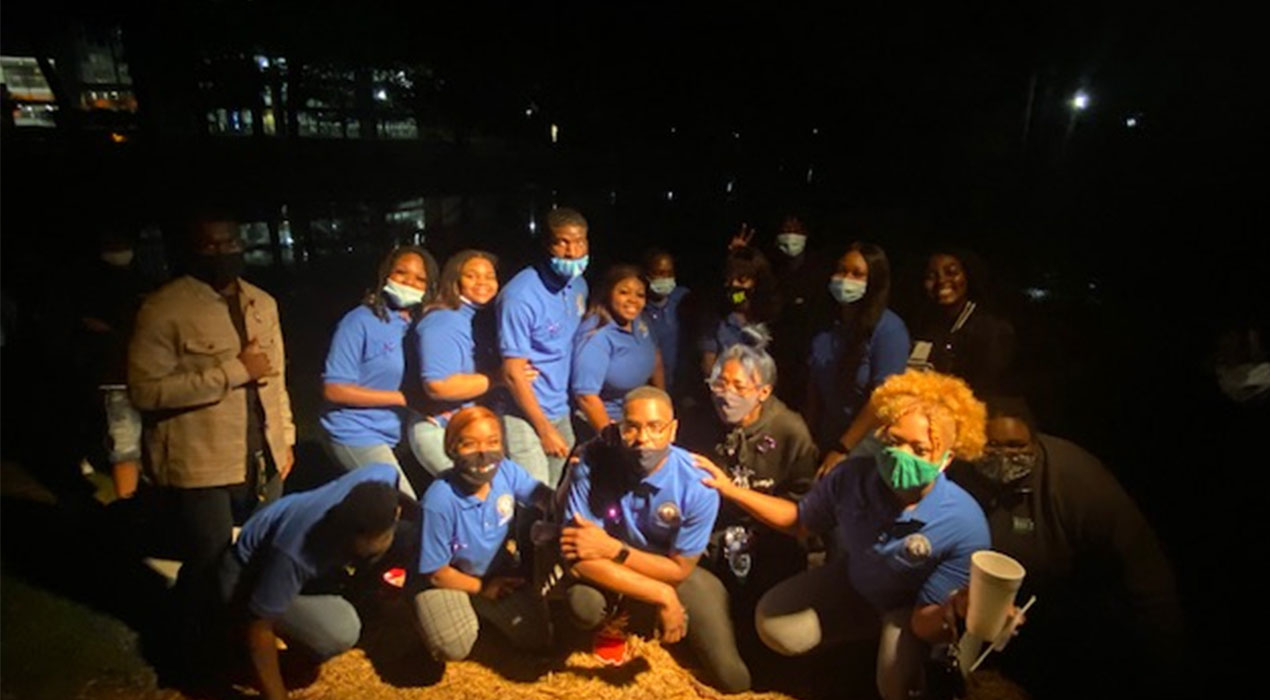 For Domestic Violence Awareness Month, Clayton State AmeriCorps program hosted their annual "Remember My Name" candlelight vigil in October to honor those who have lost their lives due to acts of domestic violence.
The program is held every year in an effort to focus on the hard facts of domestic violence, share real stories of survivors and non-survivors and offer resources for what anyone can do for a friend of family member in a similar situation.
"Even though AmeriCorps is a National Service Organization, we still hold the civil duty in serving our campus community by educating each other on issues like Domestic Violence," said AmeriCorps Program Coordinator Ashley Kekula. "You never know what someone is going through and it's up to us to bring light to the topic, instead of shying away from it. "
According to the National Center for Injury Prevention and Control, more than half of women (69.5%) and men (53.6%) who have been physically or sexually abused, or stalked by a dating partner, first experienced abuse between the ages of 11-24.
For anyone who has experienced domestic or intimate partner violence, the reasons why it happens vary.
"Some personal factors that may contribute to a partner being violent may be that they were raised witnessing violence in their families and homes, an abuser's own insecurities and low self-worth, and substance abuse," said Keisha Tanner, associate director and training coordinator for the university's Counseling and Psychological Services. "Domestic violence is complex, and this list in not exhaustive."
Tanner adds that globally, the culture of a patriarchal society coupled with the belief that males should be dominant and females subordinate, still persists.
"Although both males and females are victims of domestic violence, the percentage of women who are victims in higher, with one in four women being victims and one in nine men being victims," Tanner said. "The percentage is even higher for those in the LGBT community."
Furthermore, during times of crisis like COVID-19, Tanner notes, the risk of gender-based domestic violence may escalate.
"While domestic violence cases might not necessarily rise, domestic violence victims may be experiencing increased instances of abuse by their partners," Tanner said. "Factors contributing this include the lockdown and having to shelter in place, which reduces the time partners may traditionally have been away from one another, while at work or engaging in social activities."
For AmeriCorps members, it was necessary to engage students about domestic violence and ensure that students had knowledge and access to resources and organizations that work to prevent relationship abuse.
"It's important that we take time to acknowledge domestic violence because it is a real senseless act that some people may not understand," said AmeriCorps Service Leader and Service Cinema Team Lead Kayla Campbell.
Campbell led the committee in planning and orchestrating the event, and she also spoke during the vigil.
"A lot of time people question and wonder why they don't just leave, but we don't really know the situation at hand to judge," she said.
At the end of the program, an AmeriCorps member called out the numerous names of victims who have lost their lives to domestic violence, along with their age.
The audience repeated "remember my name" after each individual was called. Afterward, a moment of silence was held for all victims as candles were lit.
If someone is immediate danger, it is best to contact 911. If someone is being abused, there are domestic violence hotlines and shelters throughout the city, state and country. Here is a list of several local resources:
Securus House Crisis Line – (770) 961-SAFE (7233)
Partnership Against Domestic Violence – (404) 873-1766
National Domestic Violence Hotline – 1 (800) 799-SAFE (7233)