Public Safety holds first-ever Campus Safety Week
(September 11, 2019) - Clayton State University's public safety department will host its inaugural Campus Safety Week from Sept. 16-20. The week will be marked by events focused on self-defense, parking, campus carry and freedom of expression.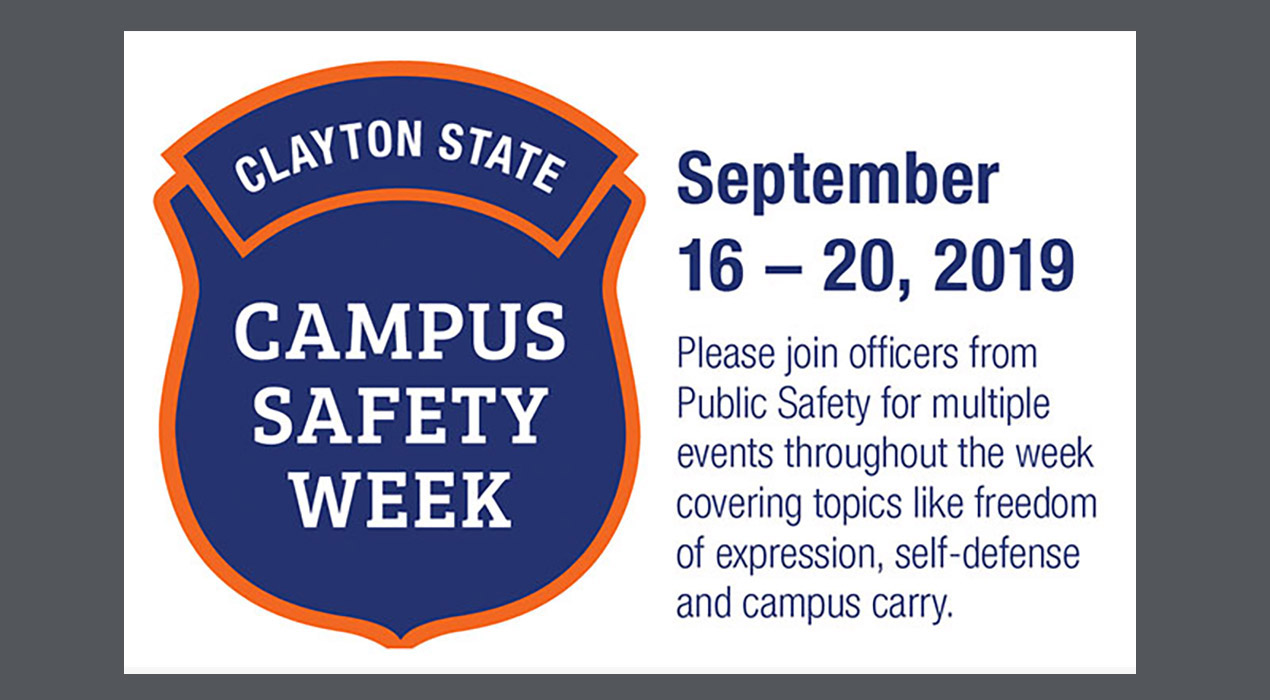 "We decided to hold our first annual Campus Safety week during this month to bring awareness and empowerment to our campus community," said Police Chief Antonio Long. "We wanted to make sure that our community is engaged in safety awareness and that we approach campus safety as a community issue and not just a police issue."
National Campus Safety Awareness Month was unanimously approved by Congress in 2008 to create a public conversation on safety issues at colleges and universities. Institutions focus outreach, prevention and awareness efforts around a theme each year. This year's theme is Bridging the Gap.
Monday, September 16, 2019
11:00am – Response to Active Shooter: What should you do in the case of an active shooter? – UC 268
5:00pm – Campus Carry: what to do in the case of an active shooter – Lecture Hall B-13
7:00pm – Tacos and Treats with Public Safety: Meet Public Safety Officers – Laker Hall
---
Tuesday, September 17, 2019
10:00am – Campus Carry: Informational session on campus carry law – Lecture Hall B-14
11:00am – Town hall – Let's talk Safety: Opportunity to meet with Public Safety officers and hear safety tips and ask questions – Arbor Hall Auditorium
1:00pm – Town Hall on Parking: Parking information and question session. – Arbor Hall Auditorium
4:00pm – 5:00pm – Self Defense Class: Learn basic defense tactics – Arbor Hall Suite 215
7:00pm – Response to Active Shooter: What should you do in the case of an active shooter? – G-127
---
Wednesday, September 18, 2019
10:00am – Freedom of Expression (Table top Exercise) – UC 260
1:00pm – Building Coordinators training: What to do as a Building Coordinator – Arbor Hall Suite 115
7:00pm - 9:00pm – Campus Safety Night Out – Main Street UC
---
Thursday, September 19, 2019
10:00am – Response Active Shooter: What should you do in the case of an active shooter? – Arbor Hall Auditorium
2:00pm – Training on Laker Alert/ let's talk Safety: Rave Guardian are you plugged in? – G-227
5:30pm – Town Hall Meeting: Questions Anyone? – Laker Village
---
Friday, September 20, 2019
10:00am – Coffee and donuts with the Chief – UC Main Street
1:00pm – Freedom of Expression Session: Say What? – UC 262
2:00pm – Meet the Crime Suppression Team – Lecture Hall B-11