Pres. Lewis discusses growth, optimism for future of Clayton State in university address
(August 8, 2023) - Clayton State faculty and staff flooded Spivey Hall Monday morning to listen in on university President Dr. Georj Lewis' first-ever State of the University address, which covered a multitude of past, present, and future institutional subjects.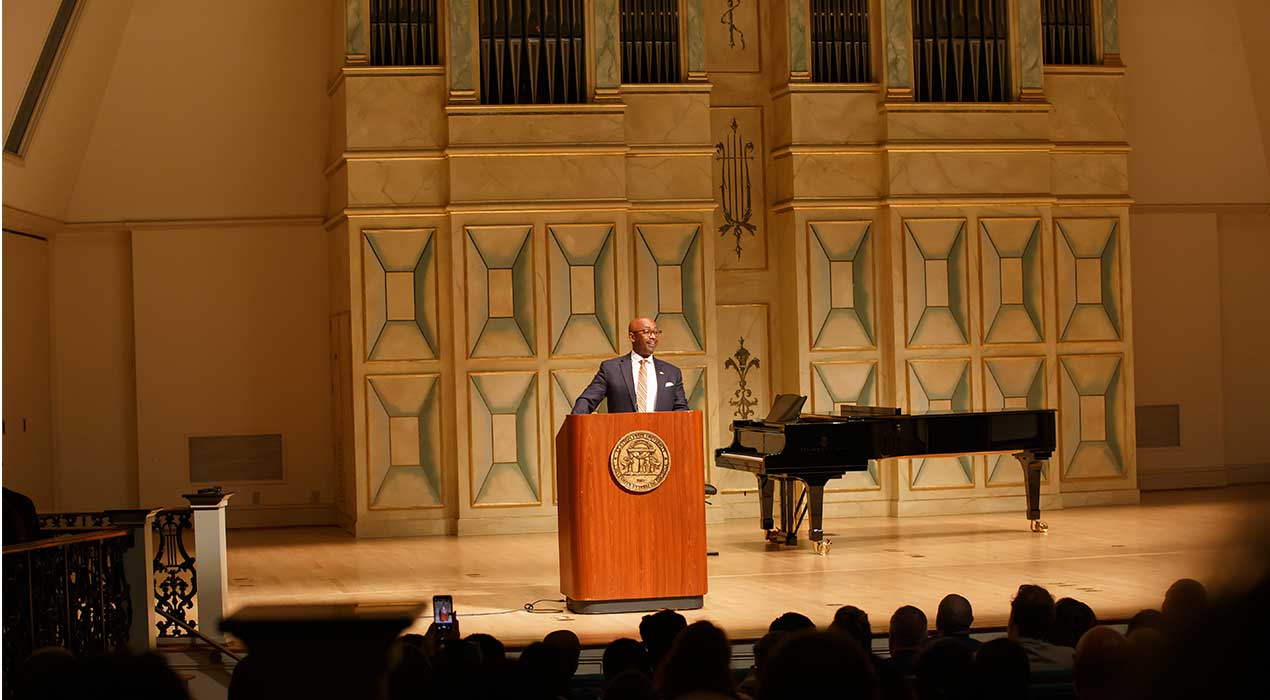 Some of which included student enrollment, recent summer accomplishments and goals set forth by the university heading into the upcoming academic year.
Opening the event was the newly appointed provost and vice president for Academic Affairs, Dr. Kimberly McLeod, who said the potential that the university holds today is strong.
"We have the opportunity to create the type of community environment for our faculty and staff to thrive, as well as take [the community we have] to levels that we can't even imagine exist," McLeod said.
Following a student performance on Spivey Hall's grand stage, more motivating comments were later given from Clayton State SGA President Lazarus Thompson and Staff Council Chair Spenser Emerson.
Both joined in on McLeod's enthusiasm and shared their goals for the new year, encouraging all in attendance to support each other in the university's growing drive to make sure Clayton State University is no longer a "well-kept secret" in metro Atlanta.
"As we gear up for the start of a new academic year, I've decided to implement Dr. Lewis' and my vision for the university, which includes increasing student engagement, increasing campus engagement and, most importantly, increasing student retention rates," Thompson said.
"Engagement is going to be one of our focuses, as well," Emerson said. "That will be staff-to-staff, staff-to-faculty, staff-to-leadership, staff-to-students. We will focus a social interaction that will provide campus-wide synergy."
And then, the much-anticipated moment arrived when Dr. Lewis took the podium to a collective standing ovation from all in attendance in Spivey.
To begin, Lewis opened by thanked all members of Laker Nation and spoke, as some did before him, on the focus to keep Clayton State students at the center of all the university does.
"It has been a whirlwind first six months for me as president," Lewis said. "I had the pleasure of presiding over three commencement ceremonies in the spring. Students that participated were part of 1,333 degrees that were conferred. We proudly welcomed those graduates into the ranks of nearly 30,000 Clayton State alumni."
As for the state of the university, Lewis called it "solid" and said that there is a "great amount of potential," but also added that "in order to grow, we have to consistently work to improve."
"Clayton State is poised for growth that can surpass what many think is impossible," Lewis said. "But as the late Nelson Mandela once said, 'It always seems impossible until it is done.' We will get it done."
Lewis than brought up the past few years at the university, recalling how Clayton State had recently been in a "state of constant transition," which created numerous concerns "about potential instability in operations, particularly in senior leadership."
Lewis then squashed any fears of that happening again, saying he isn't leaving any time soon.
"I plan to be here for the long haul," Lewis said. "Our new leadership team is charged up and ready to work hard, so now it is time to reaffirm who we are and how we contribute to the betterment of our community."
The president then spoke on recent accomplishments, such as 2,000-plus students actively engaging in workshops, resume reviews and internships, as well as the launching of multiple new minors and concentrations in university curriculum for both new and returning students.
As for student numbers, Lewis said Clayton State is still just short of 6,000 students, and currently has 5,721 enrolled for the upcoming year – only 279 short of Clayton State's goal. But with the university's One Stop Shop, online orientation, and its new mini-mester program called the "next wave," he believes the goal can be met.
He even called the new program a "prelude to what types of 'outside the box' thinking will be expected in the future" – a future he believes is very bright for a university looking to grow and make a strong impact in its community and beyond in the years to come.
"As the strategic plan tagline states, we are 'transforming today for tomorrow,'" Lewis said. "But we are not waiting for the strategic plan to be complete to do something and more forward."
Some of the leadership team's goals, he said, include developing robust enrollments to raise student outcomes related to retention, graduation and career attainment, generating resources such as fundraising, grants and research dollars to further support the university's mission, and sustaining and developing academic and student programming to meet the demands of business and industry.
Lewis closed by saying that "evidence of the progression" toward those goals "can already be seen."
"We serve a diverse student population at Clayton State," Lewis said. "Many are from under-represented and underserved populations. We are a reflection of the community around us and represent a means for that community to aspire for more to attain their goals. I believe that if we embrace who we are now, not only will we be the anchor in south metro Atlanta, we will begin to have that broader impact that many of you want to see in the future. Let's exemplify our commitment to this community every day. Let's continue to work to be the college of choice for metro Atlanta."