Clayton State Announces Partnership with Communities in Schools of Atlanta
(May 3, 2022) - Reports state that a significant percentage of high school students who grow up in underserved communities may never consider college as an option because of personal obligations, competing work schedules, or financial challenges. They are often the first in their homes to pursue higher education and require more supportive services to be successful, so student-centered provision and local collaboration are vital.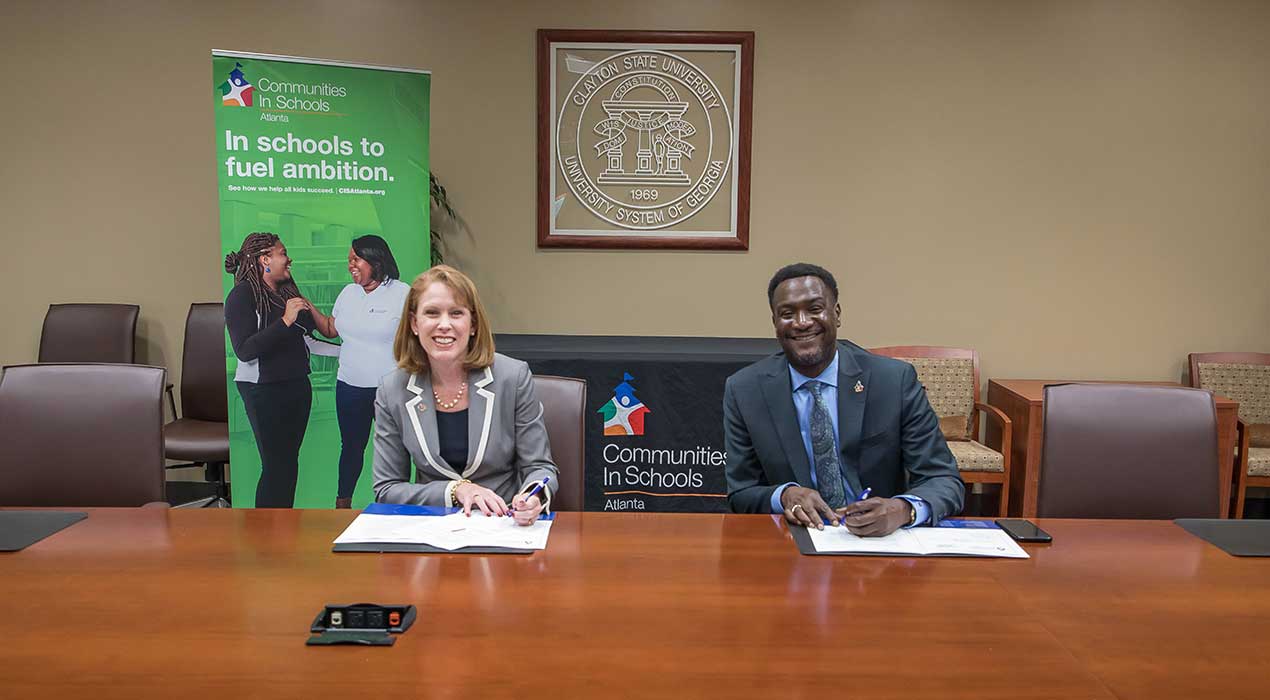 On April 22, we signed a memorandum of understanding forming a new partnership with Communities In Schools of Atlanta, a local affiliate of the nation's largest and most effective dropout prevention program. Communities In Schools of Atlanta is expanding throughout Clayton County and this strategic partnership will help us continue to fulfill our mission to inspire, empower, and educate our region for leadership and success.
"This has been a tremendous amount of work and I want to thank everyone who has been involved. Communities in Schools does an incredible job providing services that move students from graduation to careers," said Kerry L. Heyward, interim president. "We know that education is a transformational experience. It changes not only the individual's life but the lives of the families that they are part of. That's why it's so important. Clayton State provides the types of support that Communities in Schools does in the sense that we understand that we serve first-generation students who need the support and the systems to make them successful."
An initial conversation at a local college fair took place between Clayton State and Communities In Schools of Atlanta staff which unveiled an opportunity to service a shared audience. This collaboration will strengthen our shared goals to further bolster student success and quality of life.
Dr. Eric Tack, interim vice president of Enrollment Management and Student Success said, "This has been several years in the making. Communities in Schools of Atlanta is looking to expand its efforts and it is a recipe for success for post-secondary institutions. We are excited they chose us to be an official partner. Us coming together today at Clayton State University is not just for enrollment but helping support students through graduation where they will return to our communities."
Our work with Communities In Schools of Atlanta will empower and equip students to overcome the barriers that stand between them and an equitable path to education.
"Our mission is to surround students with a community of support, empowering them to stay in school and achieve in life. A high school diploma is not enough. Ninety-nine percent of the students we serve are Black and brown kids from low-income situations. They live in communities that have been hit hardest by inflation," said Frank Brown, chief executive officer, Communities In Schools of Atlanta. "We must be the innovators of a new model. That includes making sure our students graduate from college, if that is part of their plan. We hope to have students attending and graduating from Clayton State every year."
As Communities In Schools of Atlanta graduates become Clayton State graduates, these alumni will mentor new students and serve as a shoulder to lean on when days get tough. Despite the challenges some students face, quitting their studies at Clayton State should not be an option.
During the MOU signing, attendees heard from Sincere Perkins, a Clayton State freshman studying English to become a high school teacher. Perkins has been in state foster care services for two years and she described the support she has received from our university and Communities In Schools of Atlanta.
"Clayton State University has supported me in many ways from making sure that my tuition and fees are received timely from the Georgia Division of Family and Children Services to making sure that I have semester break housing, so I don't have to go into a foster placement," said Perkins. "Communities In Schools of Atlanta helps me by ensuring that I am supported consistently, and I always have someone to talk to. Some of the essential living needs that I have are because of their efforts."