Clayton State Narrows the Degree Divide with OneGoal
(March 15, 2022) - Our university realizes that potential and talent are equally distributed, but opportunity is not. According to data statistics, students from low- and high-income communities aspire to complete their postsecondary education at similar rates. But those from low-income communities, the majority of whom are students of color, face enormous systemic barriers to earn their degrees, an injustice made worse by COVID-19.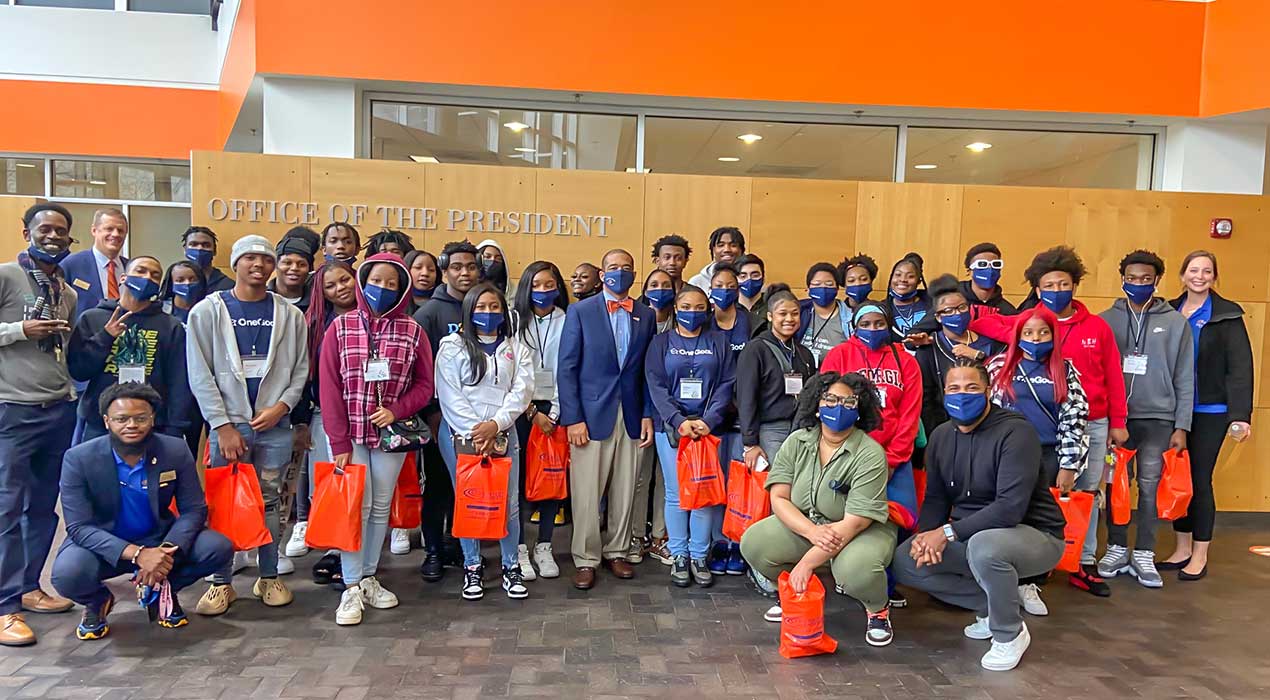 As a result, hundreds of thousands of young people transition to adulthood without the skills, experiences, and credentials needed to build careers and lives of their choosing. To make the college planning process more accessible, OneGoal organized a program to complement their work in the Atlanta Public Schools to explore academic, financial, and other critical opportunities seeking to encourage more students into attending a post-secondary institution. OneGoal and Clayton State collaborated along with several other organizations to host high school students on our campus for this first-ever event.
On March 9, we hosted the OneGoal: Metro Atlanta Student Summit for close to 400 high school juniors and seniors from Atlanta Public Schools to ensure college and postsecondary planning, preparation, and support aren't treated as extracurricular activities, but as integral components of the high school experience for under-resourced students.
Our Admissions team led 14 tour groups upon arrival and throughout the day students attended workshop sessions discussing college application timelines, student life, and funding options. A fun-filled Opportunity Fair provided an innovative way to learn more about our admissions processes, financial aid, Greek life, campus events, and AmeriCorps service opportunities. Special guests included scholarship organizations, post-secondary institutions, and other service organizations that support a successful pathway after graduation.
The high school students, known as Metro Atlanta Fellows, experienced a taste of our student life on the Main Street by exploring activities, posing inside our 360-photo booth, enjoying music, and winning prizes.
"This event highlighted the collective efforts of so many organizations and institutions committed to increasing post-secondary access of the Atlanta Public Schools students," said Dr. Stephen Schultheis, vice president for Enrollment Management and Student Success. "The Clayton State team was excited to be a part of this amazing event and collaboration with OneGoal."
By the day's end, Metro Atlanta Fellows learned how to workshop a plan, build tools to define their path and build connections with their OneGoal community – especially Clayton State University.