Alumni Spotlight: Nicholas Collins
(May 2, 2022) - Nicholas Collins '19 is a biology and chemistry teacher at Langston Hughes High School in Fulton County Schools. In just his third year of teaching, he was awarded the Teacher of the Year for the school. The alumni office recently spoke with Collins about his experiences at Clayton State and since graduating.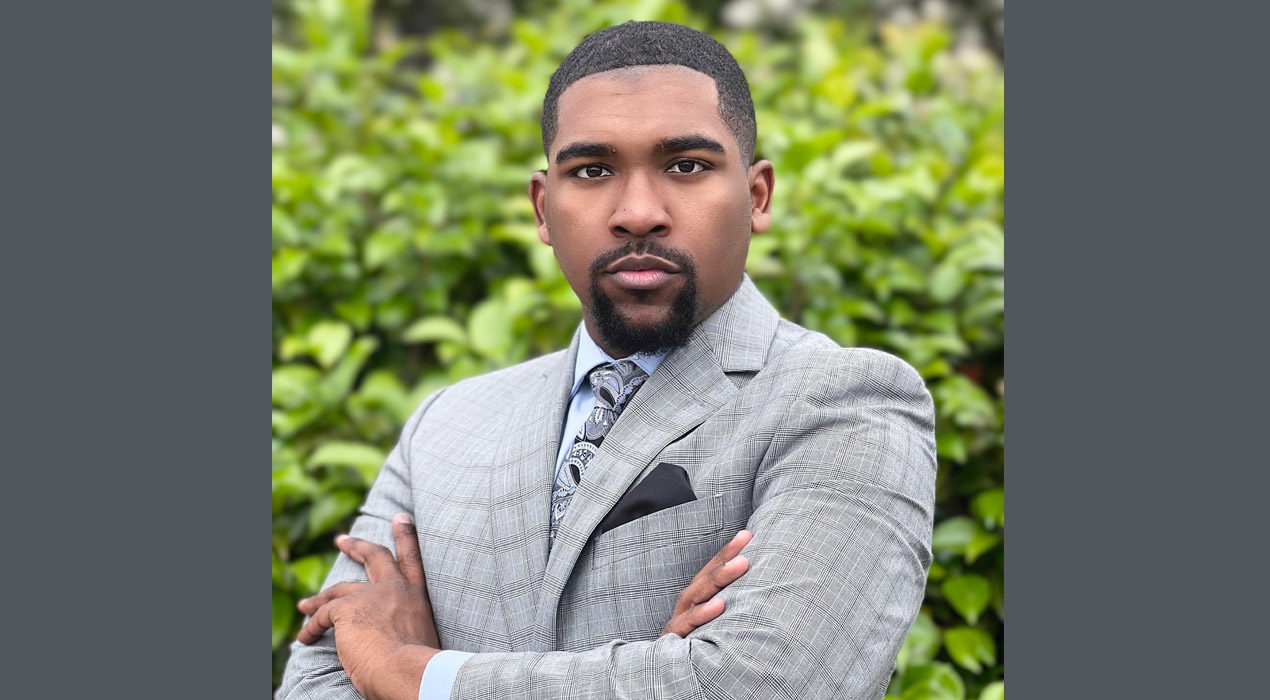 What made you choose to attend Clayton State?
As a first-generation college student, it was important for me to attend a university. I had one desire my senior year of high school, and that was to attend a college and not have to pay for it, as I did not want to place any financial strain on my mother. Clayton State offered me the opportunity of a lifetime – an undergraduate experience that would prepare me for my career field and not leave me tens to hundreds of thousand dollars in debt. There was no clearer choice, and to this day one of the best decisions I have made.
Can you tell me a little bit about your experience as a student at CSU, including activities and organizations in which you were involved?
My experiences at Clayton State University were dynamic in many facets. When I think back over my time at CSU, I consider myself a prolific student leader and voice amongst university faculty/staff and most important my peers. I developed strong relationships and had the opportunity to serve in various capacities. Most notably, I initiated as a member of Alpha Phi Alpha Fraternity, Inc. through the Tau Epsilon Chapter and rose to the highest seat of a college brother as a member of the General Board of Directors – Assistant Vice President for the Southern Region. I was also influential in many other aspects of the campus as the Team Lead for the Laker Orientation Leader, a member of both the Campus Events Council and Student Government Association and also the only student selected to serve on the National Search Committee for the Vice President for Student Affairs in 2018. My involvements were extensive and they all played a part in molding me into who I am today.
Were there any Clayton State professors that stuck out in a positive way for you?
The Biology Department was my home, and there were four individuals who wrapped their arms around me to ensure I stayed on track: Dr. Jacqueline Jordan, Dr. J. Yvette Gardner, Ms. Renee McFarlane, and Dr. Michelle Furlong. There were times when college got hard and I was not excelling at my full potential. There were times when I contemplated if I was in over my head and I needed to try something else. I could always turn and find them nearby, with a stern, yet encouraging word of support to meet the demands of the rigorous coursework, and genuine care and concern that every college student should feel from at least someone. They are the professors that helped me push through and FINISH!
Did you come to Clayton State knowing you wanted to be a teacher? If not, what was your original plan?
Teaching was the furthest thing from my mind when I became a Laker in 2014. My goal was to major in Biology and go on to become a research scientist. I soon found myself caught in the whirlwind of student activities and leadership and discovered the world of Higher Education and Student Affairs where I begin engulfing myself into everything Higher Education and Student Affairs. I worked in the Division of Student Affairs under the direct supervision of Dean Jeff Jacobs, where I later became a NASPA Undergraduate Fellow under the tutelage of Dr. Royal Baxter, and attended my first NASPA/SACSA Conference in Myrtle Beach, SC. This experience solidified my passion and genuine love for education and student development.
When did you know you wanted to become a teacher?
Life has a way of bringing back moments - since the 1st grade, I would decorate my room like a classroom and use my permanent markers to create my name sign outside of my door, use washable markers to write class content on the back of my door and erase it before my mother would come home to see it. It seemed like every year I had a new desire to teach a new grade (it just so happened to always be the grade I was in at the time). I tried to get away from teaching, but I am always reminded that it was something I have desired all my life.
Why did you originally decide on middle grades? Then what made you want to switch to high school?
Middle grades was a decision that was during a rocky transition in my life. I was figuring things out and trying to reach a place of stability for my career. My initial goal was to become a substitute teacher until I was accepted in a graduate studies program for Higher Education and Student Affairs. I reached out to Dr. Prince T. Bowie who offered me my first stint at teaching. I wanted assistance with becoming a substitute and he said, "So you need a job, huh?" The conversation led to him offering me a position. He placed me in an 8th Grade Physical Science classroom. I remember the conversation to this day. "Dr. Bowie, you know that's Physical Science and I was more so hoping to teach Biology, right?" He says, "Yes." I looked at him and said, "You know that's an End-of-Course test subject, right?" He looked at me with ease and said, "You'll be fine!" Well, he was right because I haven't looked back since that moment! After my first year, I was accepted into the National Science Foundation Robert Noyce Fellowship Program through Georgia State University, where I obtained my Master's degree, and this allowed me the opportunity to pivot. This pivot came with moving to high school because I knew that I was more passionate about transitioning high school students to college and being a part of that shift. I have discovered my niche and I am standing confidently in it.
What has it been like in the classroom for your first few years?
I consider my classroom an experience – it is a haven, a place of discovery, and most importantly, a place of enrichment. They say it takes three years before you really establish an identity as an educator, and I believe that wholeheartedly. These first few years have been uncertain because my first year was cut short by the pandemic that devastated educational institutions everywhere. I spent my second year yearning for a connection to my students in a new building, but my only option was teaching to a few students in a room and the majority of them on my computer screen. It was not until this third year that I felt like I had a sense of clarity and understanding about how my classroom should flow and what I needed to do to help my students succeed. I absolutely love teaching and this is something I say all the time because I mean it. There is no greater feeling than being in my classroom with my scholars when we are engaging in high-level instruction. There is the other side of the classroom that can often damper the enthusiasm and heighten stress – distractions, cell phones, emotional and mental stresses, high stakes testing, a lack of motivation or enthusiasm, and the list goes on. If we are honest, these things happen in many places to varying degrees, and they all can make teaching difficult if you let them. I choose daily to fight beyond those factors and continuously see the ability in my students and set high expectations for them to excel.
Are there any students in your first few years that have stuck out to you in a positive way? Can you tell us a little about them and how you feel like you were able to impact them?
My students mean a great deal to me, and I have truly had some characters in these first few years, which makes this question tough. I often refer my students as my "children," and while I am fully aware that they have parents of their own, they do not go home with me, and I do not have the responsibility to of caring for them beyond the school, I take their education, safety, and overall well-being very seriously. In line with that analogy, most parents would say that all their children are different and that is the case here.
What has been your favorite memory as a teacher so far?
It is a hard ask to choose a "favorite" memory because this journey has been incredible, but I just so happen to work at a school that is an athletic powerhouse. This year I had the opportunity to attend most football games and support our football team on their journey to competing at this year's Football State Championship. That was an experience like none other!
What advice would you have for current students interested in becoming a teacher?
Teaching is by no means easy, and often feels like a roller coaster ride. You will have highs and lows but always remember that your job is necessary, and you are planting a seed in each child's life that will someday bloom. There are some days you will question whether you are enough, and the answer is yes! When you accept the challenge of teaching, you accept purpose. Set high expectations for yourself and for those you teach: every child can do something amazing no matter how tough the task may be. Always remember that it is and should remain about the children. When you make teaching about anything other than what is best for the children, you have lost all together. When they remain your focus, no matter what happens, you will always win.