Alumni Spotlight: Lukeythia Bastardi
(May 9, 2022) - In celebrating National Nurses Week and what all our nurses and other frontline healthcare workers have meant to us during the COVID-19 pandemic, the Clayton State alumni office recently spoke with nursing alumna Lukeythia Bastardi '06 about her career and unique path to the profession.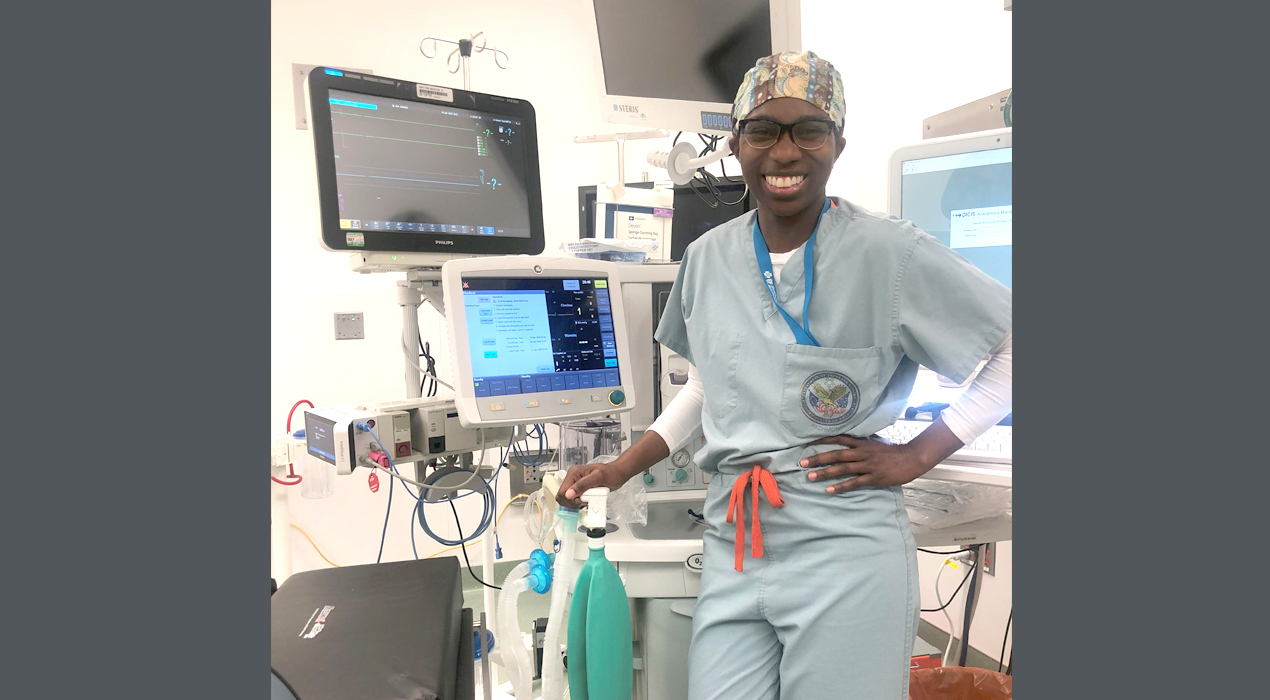 Where did you grow up and what was childhood like for you?
My father, and fellow Clayton State nursing alum and Navy veteran, was transferred to Dobbins Air Force base in Marietta, Georgia when I was about 6 years old. My family settled there and I grew up going to Cobb County Public Schools. My parents divorced shortly after we moved to Marietta, and I was raised by Mom. As the only child of a very hardworking single parent, I spent a lot of time alone growing up, but fortunately I wasn't always lonely. My Mom fostered my love of reading and I spent lots of time exploring the world through all kinds of books. Marietta is significantly more diverse racially and ethnically today than it was when I was growing up, and back then being only one of a few minority students was very isolating. Besides reading, I loved roller skating at Sparkles Roller Skating Rink in Smyrna, being the hula-hoop champion of my entire elementary school every year, and being in the library – any library.
You received your first undergraduate degree at Stanford University. What did you study and can you tell me a little about that experience?
One of my main goals with college was to get away from home and experience life in a new place. I couldn't get any further away from Georgia than northern California so that is where I went. I graduated with a degree in Psychology and African & African American Studies. My eyes were opened to far more possibilities of what I could be doing with my life while I was in college, and I made some lifelong friendships. One of those friendships became the love of my life and is now my husband. We met the first week of my freshman year in the gospel choir and we've now been married for over twenty years! Stanford is an amazing institution, and if I could have stayed there forever, I would still be there now.
What was your early career like before arriving at Clayton State? What made you decide to pursue a career in nursing?
After college, I initially worked as a research assistant in Psychiatry at Stanford's Medical School. It was there that I was first exposed to advanced practice nurses in the role of Psychiatric Mental-Health Nurse Practitioners. I really liked the more direct role they played in patient care as members of the research team and I decided I wanted to do what they were doing. Previously, I had been thinking that I would become a psychologist or professional counselor, but once I realized nurses do far more than hospital bedside or office-based clinic work I was hooked. After my husband and I made the decision to move to Atlanta from California, I got a job working for a church ministry while I completed nursing school prerequisites.
How did you decide to attend Clayton State?
Once my nursing prerequisites courses were complete, I applied to every nursing program within commuting distance from our home in northeast Atlanta. And by every program, I mean every single program whether BSN or ADN, public or private. Though I had been admitted to Emory University School of Nursing, which is where I initially wanted to go, Clayton College and State University new graduate nurses had a reputation for being able to hit the ground running as new nurses. Clayton State was also far cheaper than Emory even with the 50% tuition scholarship I had been awarded there. The commute from Spaghetti Junction to Clayton State was about 45 minutes, but the affordability and reputation were too great to pass up (I literally could have purchased a brand new car with the money I saved). After graduating from CSU, I landed my nursing job at Emory University Hospital in the Cardiovascular Surgical ICU (and I was selected for that job over some Emory nursing grads!).
Can you describe your experience as a student at Clayton State? Were there any professors who made an impact on you?
Dr. Lillian Parker (a former Clayton State University faculty member) and Dr. Victoria Foster (Director of Undergraduate Nursing) are two nursing professors who I looked up to as role models. They gave me an excellent foundation in didactic nursing fundamentals and they instilled in me strong clinical judgement, decision-making, and nursing practice skills that made me believe I could be successful in any nursing specialty that I chose. They also gave me a deep appreciation for geriatric patients who make up the bulk of the patients I care for today. Drs. Parker and Foster taught us to provide culturally competent care to patients of all racial, ethnic, religious, and gender backgrounds before the term "cultural competence" was even being used in healthcare. Though I've lost touch with Dr. Parker, Dr. Foster still instills in me a confidence that I can still reach new heights in nursing that I wouldn't otherwise have. For example, I'm a nursing faculty member today because of the example they have set for me, I'm working on a PhD in Nursing which is something both Drs. Parker and Foster were working towards while I was their student, and I'm working on my first professional national presentation with Dr. Foster's faith in me.
What went into your decision to extend your educational experience with a DNAP at Virginia Commonwealth University?
Deciding to become a certified registered nurse anesthetist (CRNA) is no small thing. The graduate programs are very rigorous and too time-consuming to allow for working while enrolled in one. Nurse Anesthesia Programs are also extremely competitive and are known for accepting only the best of the best critical care nurses. My goal, as a married parent to two children under two, was to attend a program that had clinical residency sites that were within one local area. I did not want to have to worry about moving all over a state every few months to gain the required residency experiences, and as much as possible I wanted to be able to treat school like a job that I came home from each evening. Virginia Commonwealth University (VCU) had all its clinical residency sites in and around Richmond, Virginia and it has been ranked the #1 program in the country for more than a decade. Being accepted there was a huge honor.
What does a day look like as a nurse anesthetist look like?
My clinical days go something like this: First, I arrive at the OR locker room and change from street clothes into scrubs. I'm usually the first team member in the operating room. There I check and setup my anesthesia machine, airway management equipment, draw up medications I'll be using or need immediately available for emergencies, and secure any other equipment that I'll be using with my patient. All of this is very much like going through a checklist like airline pilots do to ensure their airplane is ready to fly. Then, I go to the pre-op holding area where patients are awaiting surgery. There they are already in hospital gowns and resting on a stretcher. With the patient, I complete a preoperative assessment, discuss the anesthesia plan, go over what they can expect, answer any questions, and do my best to make them feel comfortable and safe. I confer with the surgeon to ensure that my patient care plan also works well with their needs. Once the circulator nurse from the operating room confirms that the room is ready, I often give the patient a light sedative to help them relax and then bring the patient back to the operating room and have them move over from the stretcher to the OR table. I place monitors on them and have them breathe oxygen from a mask for a few minutes before I give them IV medicine to anesthetize them deeply and quickly. I place their breathing tube, connect it to a ventilator and turn on anesthetic gas that will keep the patient deeply anesthetized. I administer other medications as indicated, and maintain the patient's comfort with careful positioning, keep them warm, and ensure their vital signs remain stable throughout the procedure. When the surgeon is finished, I begin to wake up the patient by turning off the anesthetic gas, administer medications to "reverse" the actions of anesthetizing medications, and I remove their breathing tube before they are fully awake. Once I'm confident that they are stable, usually just a few minutes, I take them to the recovery room and transfer their care to the post-anesthesia care unit registered nurse. One thing many people do not realize is that their nurse anesthetist is with them for their entire procedure from start to finish. We will never leave them alone.
You have been at the Hunter Holmes McGuire VAMC for almost a decade. What is it about working at the VA that keeps you there?
I have a big heart for our veterans and I have always enjoyed caring for them. They are the best patients ever. While I was a nursing student at Clayton State, I worked at the Atlanta VA Hospital in their nursing student VALOR program. They were so kind and patient with me when I was a student in training and today it gives me great joy to be able to provide excellent care for them and teach others to do the same. When an opening became available at the VA hospital here in Richmond, Virginia, it felt like I was coming "home" back to the VA.
Can you describe what it has been like as a nurse during COVID-19?
Stressful! As a nurse anesthetist, I am an expert in airway management and ventilation strategies so my skills were put to use at our hospital intubating Covid-19 patients so they could be placed on ventilators. I felt fearful of catching Covid-19 not because I was afraid for myself, but because I was afraid I could spread the illness to others who might not be strong enough to fight it off. Now that I, and my entire family, have been vaccinated and boostered I am more comfortable that those I love most will be safe, but I continue to wear a high-quality N95 mask in public, in-door settings to protect my patients. Many veterans are in the high-risk category for Covid-19 hospitalization and death and I want to do my best to make sure they don't get Covid-19 when they come to the hospital to get treatment for other things. Today, except for the mask-wearing in all areas of the hospital except the cafeteria, things seem mostly back to normal.
What made you want to recently start teaching?
I have always enjoyed teaching in the clinical setting. Moving to teaching in the academic setting was always a dream of mine, but I did not feel well equipped or understand the pathway to teaching in academia. When a friend who was already teaching at a university asked me to apply for an opening, I jumped at the chance. Now here I am, still learning the unique aspects of teaching in academia as I go, but able to express my love and passion for the practice of anesthesia through teaching the next generation of CRNAs.
What advice would you have for any Clayton State student considering a career in nursing?
For any CSU student interested in nursing, know that you are already in a great place to do that! Take a good look at the courses required to apply to the nursing program and make your plan to take them and do well in them. Do some research into the various career paths that registered nurses can take. Having ideas for what you want to do with your nursing degree will keep you motivated and moving towards your goal. An amazing thing about nursing is that you do not have to do the same work for your entire career, so pick a place to start and see where it takes you. Stop by the nursing department and check out the resources they have available to help you decide if nursing is for you and how you can become a nurse.