Lakers pitch profound professionalism
(October 24, 2023) - They came, they spoke, they definitely delivered.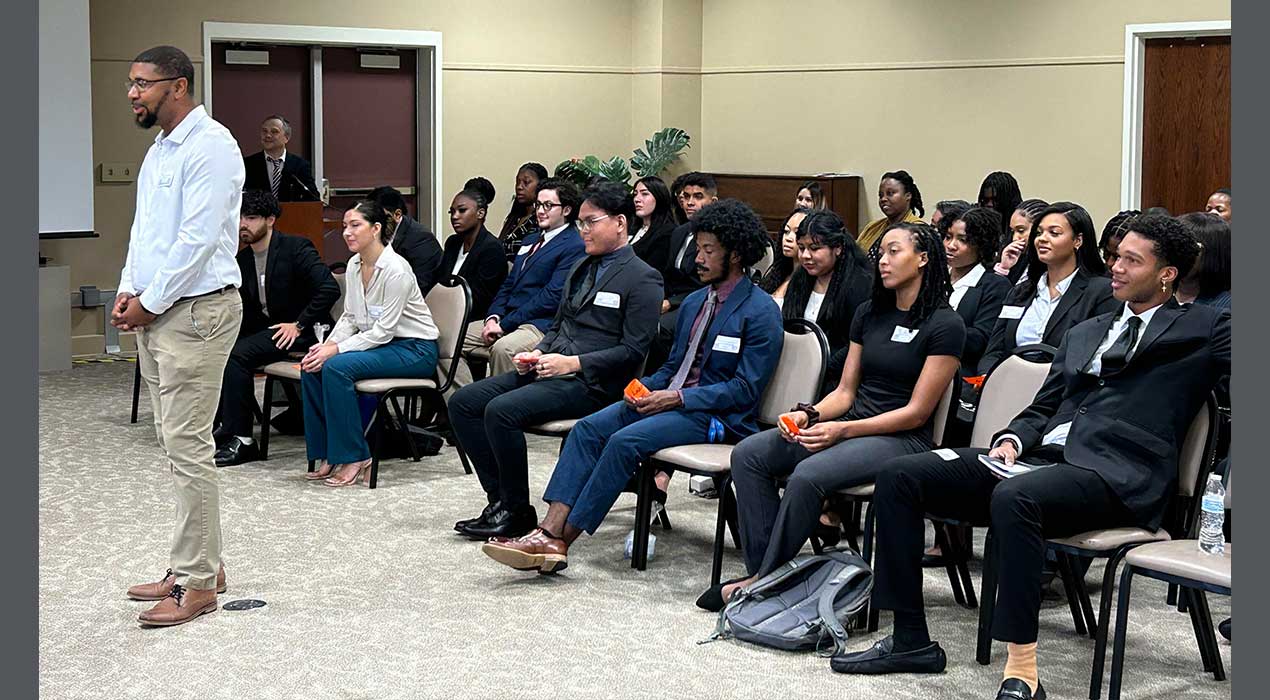 Numerous Lakers took the floor, dressed to the nines, and boldly represented the next generation of Clayton State students, all with a prize and expert feedback to be gained, at the university's annual Personal Elevator Pitch Competition on Thursday, October 19.
Hosted by both the College of Business and the Career Services department, representatives from several companies all gathered to listen to Lakers present their elevator pitches – brief, and typically unexpected, explanations of how one can benefit a potential employer.
In a flurry of personal accomplishments, work experience, business card distribution, and other unique traits, many judges from the respective companies were impressed with how numerous Clayton State students presented themselves.
However, only three could take home cash prizes.
SGA President Miles "Lazarus" Thompson most impressed the judges and took home the grand prize of a $500 check for his efforts.
Second place, for the second year in a row, went to Calvin Smith – a senior majoring in management – while Jinia Dix took home $100 in third place.
In an interview prior to the event, Smith said that he's come a long way as a student and professional from initially hearing about the competition during his freshman year.
"I just remember [thinking], 'I'm not going to do it,'" Smith said. "Fast forward to last year, I saw the email and that there was a prize for the winners. I thought it would be a good opportunity just to get the prize, but the elevator pitch is always a useful thing to have and practice. I know that public speaking is a big fear of the majority of people here."
During last year's pitch contest, Smith said the experience was well worth it.
He, like many, took home a free professional headshot photo, free food, as well as invaluable experience and feedback.
"I had a script memorized," Smith said. "When I got up to present to the judges, I was a little weak in the knees. I felt a little nervous because there was a big crowd, as well. But I delivered the pitch. I stumbled a little but over my words, but saw it through."
Dr. Jacob Chacko, the dean of Clayton State's College of Business, was proud of all students who chose to participate, saying everyone who attended was already a winner just for showing up, battling their fears, and putting their best foot forward.
He further added that the experience and feedback to be gained was beneficial, noting that practicing in front of the judges was much more preferable than practicing in an "actual interview."
Chacko also told students that he hoped the advice and feedback received would help better prepare them professionally for their future careers and endeavors.
"The reason we do this is because employers have told us time and time again that it's not that people don't know the content, they just don't know how to present themselves," Chacko said. "We really take pride in the fact that we organize these things to get our students to be the best in the marketplace."
Bridgette McDonald, the director of Clayton State Career Services, was also beaming with pride when she saw the way every student was dressed.
After Chacko said everyone looked "magnificent," she mirrored his remarks and said everyone looked "amazing," grateful that so many took advantage of donated professional attire from Career Services' Professional Clothing Closet and arrived dressed professionally for the event.
"We get these suits from our faculty, staff, and the community, and we give them to you as a way to say, 'we don't want any barriers to your success,'" McDonald said.
With another check in tow, Smith said the event should be circled on the collective calendar for Clayton State students.
Having earned an internship with PNC Bank last summer, he called the practice for refining one's public speaking skills "beneficial" and said it's imperative to be confident when speaking to a potential future employer.
"I would encourage anyone to give it a shot – even if you're not in the College of Business, even if you feel you'll never use an elevator pitch," Smith said. "When you do it, my advice is to have something in your head to go off of. But it's most important to speak clearly, loudly, take deep breaths, and be calm."