Lakers leave impact overseas through study abroad programs
(June 22, 2023) - It was that time of year again for Lakers to cross the ocean.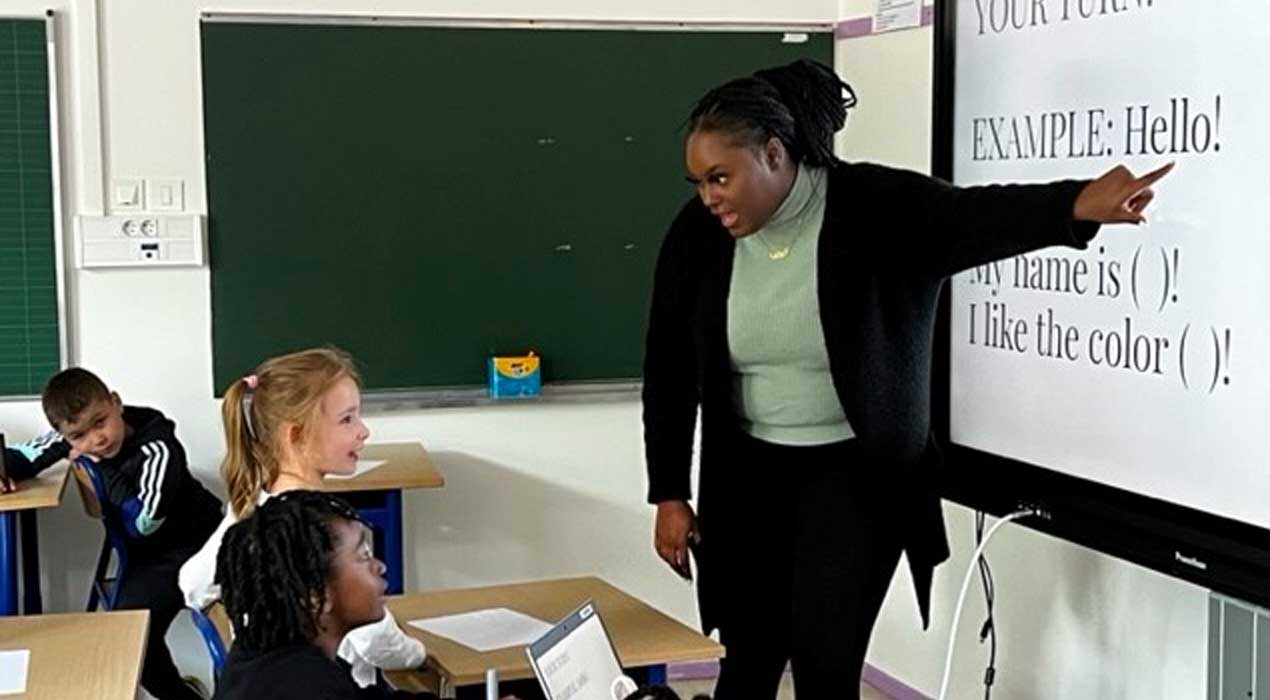 In the Spring of 2023, more than twenty Clayton State students took to the skies and touched down in France and Costa Rica for this year's pair of summer abroad programs offered by the university.
In the beautiful, scenic city of Paris, six Lakers spent their time helping educate future generations of European scholars, while in Costa Rica, 15 students journeyed through the country's tropical climate studying its ecology and environment.
Sasha Cokuslu, the university's study abroad manager and international programs advisor, was incredibly proud of the students' collective success, stating that since 2011, Clayton State students have collectedly visited 25 countries in previously offered summer abroad programs.
She added further that since 2011, Clayton State students who have opted to study abroad at some point in their academic careers, 87% have gone on to graduate.
"I think it [showcases] what you've been learning in the classroom so far and applying that to the real world on a global scale," Cokuslu said. "It's giving students that opportunity to see that a lot of our issues aren't just local – they're global."
Cokuslu understands that prices may seem a bit high for some students, but assures that the trips are well-worth it. Round-trip airfare, lodging, transportation, emergency medical services, and more were included in the collective prices of both programs.
"One of the things we really highlight about Study Abroad and we want to always remind [others of] is that we're a high-impact, service-learning component for students," Cokuslu said. "I tell them to look at this as a mini-internship or something to highlight on your professional development goals."
"Professional" is exactly how Drs. Paul Melvin and Aubrey Dyer described their students and their excavations through Costa Rica this past May.
"I can say with confidence that I've never had an issue with any of our students … ever," Melvin said. "That's not true when I talk to faculty members at other places. They always talk about different 'adventures' their students have gone on … maybe unsanctioned 'adventures.' The students we have here are great. Every time we take them, they take it very seriously. They're in it to learn."
Melvin said that while this was not the first trip Clayton State has taken to Costa Rica, this summer's trip was the first time the experience was offered as an interdisciplinary program between the university's biology and chemistry departments.
For Dyer, the mix of field studies became a seemingly perfect marriage to study overseas.
"Environmental science is a very interdisciplinary field across several different disciplines," Dyer said. "With me being a chemist and [Paul] being a biologist, we thought that was a good intersection. He mentioned previously that they had done rain forest ecology and land use – we still did that [while] also looking at water quality issues and how land use impacts water quality in the area."
Studying water quality is something that Chemistry Major Ghadeer Al Chbenawi is all but used to in Clayton County.
But getting the opportunity to do it overseas in a foreign country's ecosystem while further studying both other subjects and the country, itself, was something she deemed priceless.
"Going out and experiencing what it's like to live and see other countries made me appreciative of what we have," Al Chbenawi said. "For example, I know their water is free and 99% spring water … but at the same time, none of it is clean water. We went to the Monteverde Institute. Some speakers came out and spoke about their water quality issues and how companies and farmers try to take the water and leave the [surrounding] community with little to not much of the water they need. It made me realize it's a good thing we're implementing our laws here. It was eye-opening."
In addition to studying, Al Chbenawi said she accomplished a couple of personal feats while enrolled in the program, as well.
It was her first time traveling outside of the country since moving to America from the Middle East when she was younger.
She also went white-water rafting with some friends in Costa Rica … even though she can't swim and even faced her fear of bugs in her studies.
Al Chbenawi said she fearlessly stared down the venomous bullet ant and lived to tell the tale.
For Melvin and Dyer, it's precisely this sense of intellect and adventure that they enjoy when studying with students overseas.
Dyer further deemed the program as a success, not just for breaking intellectual barriers, but also relationship barriers.
She says it will be great to speak with some of Clayton State's biology students on campus in the fall in a way she couldn't before the Maymester began.
In Costa Rica, Dyer said that she and Melvin ate breakfast, lunch and dinner with their students, went to the pool with them, and rode the bus with them across the country all 10 days.
Both she and Melvin believe the "casual and relaxed atmosphere" available for the students is great for both student-to-teacher relationships, as well as student-to-student relationships.
"You're talking [about] 15 students who would probably never hang out together on campus or even socially off campus that are suddenly put in a position where they are," Melvin said. "A sociologist would love it because you can just tell, in the beginning, these two students know each other, and these three students know each other. By the end, everybody is mixing and talking, asking each other questions. It's a really good community building exercise that gets brought back to campus."
Meanwhile, more than 5,500 miles away in Paris, Dr. Erica Dotson said student success was also well on display.
Dotson said that, to her, some of the highlights of the trip include watching many students become non-native speakers for the first time, and even becoming outsiders to better develop empathy for their neighbors and future students who may be non-native speakers.
She also said that both in and out of the classroom, they just liked to have fun.
"We travelled for just under two weeks to study language, immigration, religion, culture, and [to] make comparisons between the French educational system and the U.S. educational system," Dotson said. "The students also had the opportunity to do some service learning in French schools where they went in and created lessons [in English] based on requests from French students."
Dotson said that while on the trip, many students had to learn to step outside of their comfort zone and grow as professionals, noting that this helped develop their flexibility while facing challenges in the unknown.
Upon reflection of the trip, Dotson said watching her students transform from "tourists to travelers" over their 12 days in France was beyond special.
"I was very proud and wished my colleagues from the School of Education could have also been there to see just how strong, [thoughtful and smart] our teacher candidates are," Dotson said. "They were able to collaborate and focused on cultural responsiveness in their lessons – hallmarks of our school and conceptual framework. Being able to watch students do that while abroad was really gratifying."
Education Major Antoinette Neil, one of the six students Dotson oversaw in France, had never been to Paris prior to Clayton State's study abroad program.
She was slated to go last year during the 2022 program, but it was eventually cancelled due to travel complications amidst the pandemic.
There were nerves mixed in with everyone's enthusiasm, she said, for both sets of students – those teaching English and those learning it. However, Neil said that didn't stop anyone from taking full advantage of the opportunities in front of them.
"Just like we were nervous, they were nervous too because they didn't know our language," Neil said. "My favorite [educational] experience was the elementary school because I do want to teach elementary one day. The most interesting thing was the fact that they didn't have any internet in the entire building. we went in, you planned a powerpoint, but we had to use our hotspots … that was different. A lot of it was paper, pencil, chalkboards – very old school."
Neil also said that the kids she worked with were incredibly optimistic and that the experience "opened her mind" regarding how she wants to teach.
The incoming senior said she worked with students from Turkey, Guadalupe, the United Kingdom, and Guinea while in Paris. In France, she learned, many students can start learning English as a second language as early as six years old.
"Overall, I believe my classmates and I left a huge impact overseas," Neil said. "We worked extremely hard each day to plan our lessons every night and ensured that our lessons were interactive and meaningful to the students we encountered. Our hard work never went unnoticed, and each school we attended, the students and teachers continuously gave us compliments. I also remember the students hugging us tightly and begging us to come back and teach their class tomorrow. It was truly a heartwarming experience and I believe we left a lasting impression on everyone we encountered."
And just like in Costa Rica, there were also opportunities for Lakers in Paris to take some time away from the classrooms and simply enjoy the new environment around them.
Naturally, the Eiffel Tower and several local restaurants and cafes were visited.
However, Neil said that one particular attraction in Paris stands out above the rest.
"We went to Disney Land in Paris because one of my friends had never been to Disney, even in America," Neil said. "We wanted to make that experience very special for her."
Upon the return home for the numerous Clayton State students and faculty, many have agreed on one thing – there are some things that just can't be learned in a classroom.
Sometimes, one needs to step out of their comfort zone to learn something exciting, new, and invaluable for their education.
After resting up and feeling comfortable at home once again, many who travelled abroad in 2023 agreed – they will never forget the experience they gained first-hand … and they highly encourage those who haven't journeyed abroad quite yet to find the courage to do so.
"To go into a place and hear a different language, see people who live a different way, have questions about it and be curious … it just broadens a student's worldview," Dotson said. "You can't get that from a book – you have those kinds of experiences from immersion. It also helps you to ask questions about yourself and who you want to be in the world – what your legacy will be. Students do not come back the same person [as when] they left, for the better."
"You're never going to be able to really broaden your experiences until you get out of your comfort zone," Melvin said. "When you go to some place like Costa Rica … you can drop yourself into a street corner and know immediately that you're not in the United States. You can't replicate that anywhere, except by going and doing it. Getting out of the comfort zone, experiencing different things, trying different foods … we ate things and I didn't even know what we ate! We just did it!"
"After college, you would never have another opportunity like this to go somewhere abroad with peers and someone guiding you that you can get college credit for," Dyer said. "For 10 days, what they got out of that … they wouldn't be able to replicate that on their own."
"They come back and say, 'it's changed my perspective on how I'm going to teach,'" Cokuslu said. "I think that is what's really exciting and important for students. Maybe that one personal experience … it's going to change how you look at things or even your field of study because you had that real-world experience."
"A big thing in the education program is being culturally responsive," Neil said. "So being able to teach students from different backgrounds and cultures … we read about it, but never really have gotten to put [that experience] into play. Going to a different country, experiencing a new culture, [learning] how to respond to them and adapt … that was something that I'll take with me for the rest of my life."
"You definitely have to go because you don't know what's there outside for you," Al Chbenawi said. "As humans, we tend to put ourselves in a circle – our comfort zone. We normally try not to get out of it because we don't know what the outside world looks like. You don't know what's waiting for you out there if you don't give it a try. You've got to do it, for sure. It was probably the best decision I've ever made, honestly."