#Give4Dreams brings in more than $160,000 in gifts in 24-hours
(March 19, 2019) - Clayton State University is poised to give more students greater opportunity to achieve their dreams. A total of $161,007 in gifts were raised during the University's fourth-annual 24-hour day of giving, #Give4Dreams.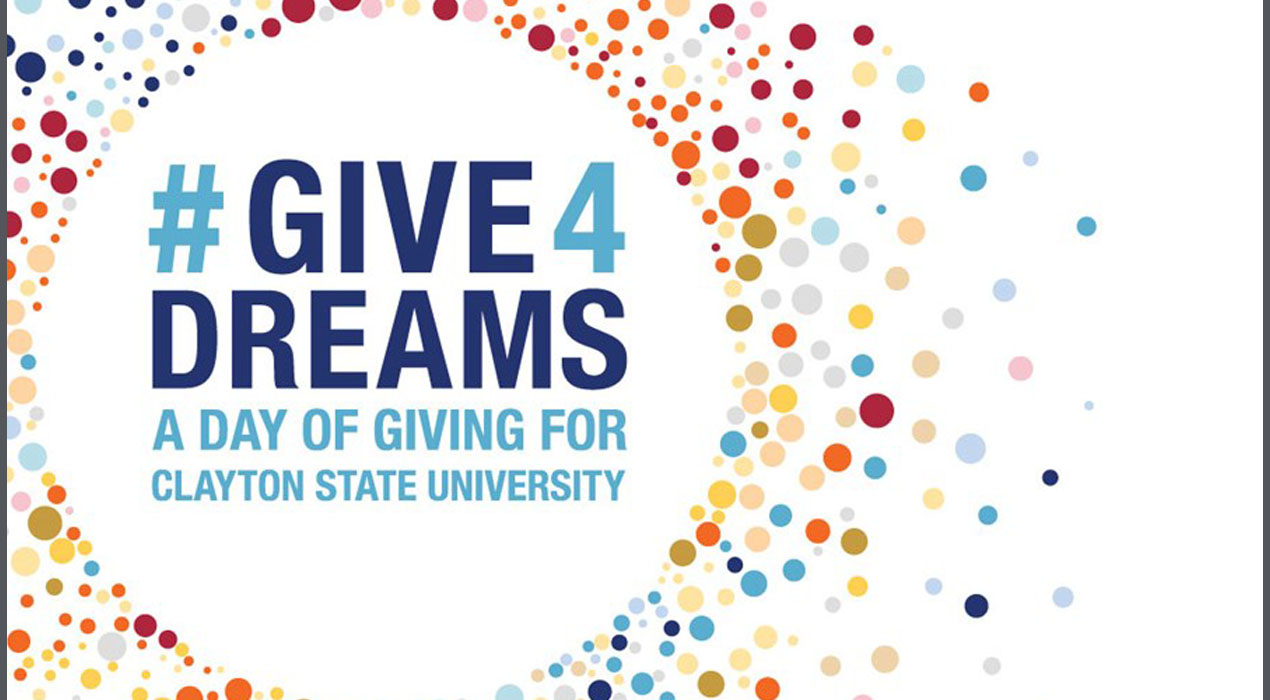 From March 14 to March 15, 377 donors gave to support thirteen projects including student travel, academic research, national competitions, and scholarships.
"The outpouring of support for #Give4Dreams from scores of groups and individuals was amazing," said Dr. Tim Hynes, president of Clayton State University. "We exceeded one day support goals in virtually every planned category of giving."
#Give4Dreams started off strong at 8 a.m. on Thursday with email marketing company Mailchimp contributing $27,000 to the College of Information and Mathematical Sciences for scholarships and student leadership development.
By 1:15 p.m. that day, Clayton State had met 56 percent of its goal with $84,650 in gifts. All total, the University surpassed its initial goal by 101 percent.
"#Give4Dreams has become one of Clayton State University's signature days of not only fundraising but storytelling," says Chase Moore, Vice-president of University Advancement and External Affairs. "This year we focused on telling our friends–alumni, parents, and donors–how their support has impacted student success at the University. We are so grateful for all those who gave in support of making dreams real for Clayton State Students."
Sutherlands Foodservice, the Clayton State University Foundation, and the Clayton State University President's Cabinet provided an additional $4,000 in incentives that projects could win.
"From emergency funds for students with unforeseen immediate needs to support for area school children to visit Spivey Hall for music; from support for professional conference travel for students in all of our academic colleges to more than $50,000 raised this one day for general student scholarships; for all of these, we say thanks to a generous and supporting community," Dr. Hynes said. "In so many ways, this one day exemplified the generosity of friends to support everyday our university efforts to make dreams real."
#Give4Dreams Fundraising Facts
Projects with the highest donation amount: Scholarships ($50,867), Dream of Your Choice ($35,675), Athletics Program ($24,015), Excellence Funds ($16,550), and College of Business ($12,911).
Incentive challenge winners:

Early Bird Incentive- Student Affairs
Lunch Time Incentive- Spivey Hall
Afternoon Stretch Incentive- Athletics
More information about Give 4 Dreams including a link to the 3 1/2-hour live broadcast can be found on the Clayton State YouTube page.