Georgia Gwinnett and Clayton State agreement allows business grads to transition to graduate study
(February 22, 2021) -A new agreement between Georgia Gwinnett College (GGC) and Clayton State University (CSU) will pave the way for GGC's business school graduates to further their education in a growing and well-paying field.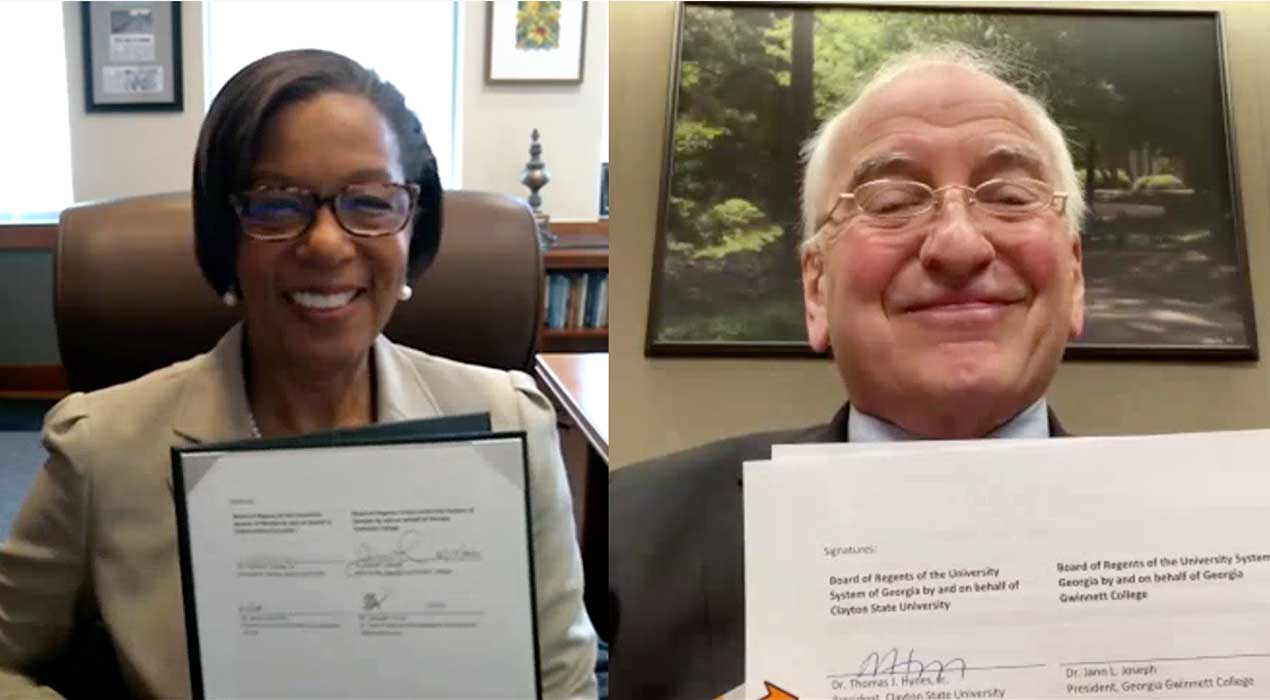 The agreement, signed today, by GGC president, Dr. Jann L. Joseph and CSU president, Dr. Thomas J. Hynes, Jr., will offer a seamless transition for GGC Bachelor of Business Administration graduates to enter Clayton State's Master of Science in supply chain analytics program.
"GGC business graduates have a strong foundation, thanks to the efforts of our faculty in GGC's accredited business school," said Joseph. "We're very proud to partner with Clayton State University to prepare them for successful careers in the business sector."
"This articulation agreement is another example of ways that well-designed collaborations can benefit many. For students, it will offer a pathway to an advanced degree that is clear and effective. For both academic communities, it will provide new expertise in supply chain management, whose importance has been highlighted time and again during this pandemic," Hynes said. "And for our faculties, it will provide opportunities for informal collaborations, inevitably producing chances for new learning for faculty and students alike. I am grateful to the academic leaders of both institutions for making this possible."
The agreement between GGC and Clayton State allows the institutions to work together to avoid loss of credit hours and course duplication. The institutions will guide students who meet program admissions criteria through the application processes, course selection and progression.
Supply chain managers use analytics to make data-driven decisions to improve the efficiency of activities throughout the supply chain, including sourcing, manufacturing, distribution and logistics.
Supply chain managers make a median base salary of $82,007, according to a 2020 report by the Association for Supply Chain Management. Those with a graduate degree or higher, according to the report, earned a median income of $95,750.