"She is Clayton State." Dr. Victoria Foster elected as new president of GANE
(March 31, 2023) - On a wet, gloomy, early start to a new week at Clayton State University, Dr. Victoria Foster finds herself full of and discussing energy – not potential energy, not kinetic, just people energy … and apparently, we all need more of it.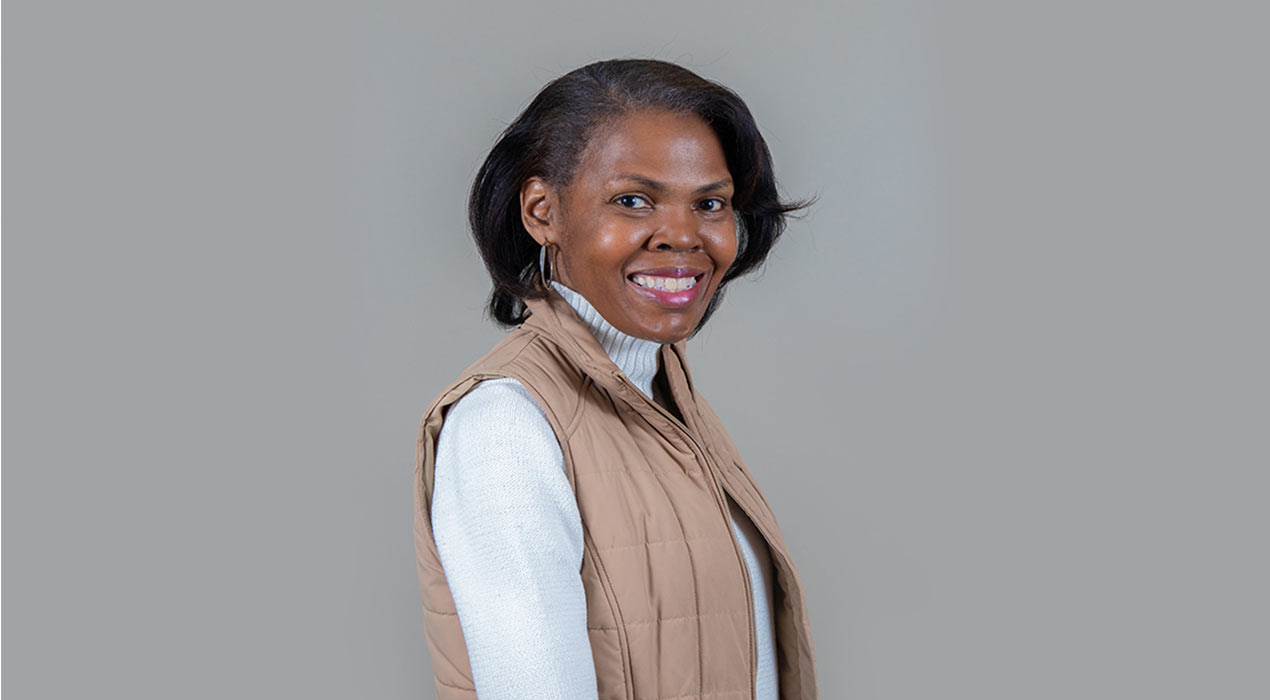 "It's Monday," Foster said. "It's a rainy Monday morning, lightning all through the night. Anywhere in life when [we're] on the stage of 'Monday-ness,' we just have to bring Friday energy and that's what I try to do."
It's precisely this attitude Foster has for both her career and everyday life that her colleagues at the university say is just a microcosm of the person she is.
It's also another reason why so many of them are thrilled that she was recently voted in as the newest president of GANE – the Georgia Association for Nursing Education.
Additionally, she's also the first African American to ever hold the position – something both she and the School of Nursing see as "extremely special."
"Someone told me that I was the first one and I was, like, 'oh, that's pretty cool,'" Foster said. "I thought about it and said, 'that's a little bit of extra pressure.' I think that will push me just a bit further as far as staying on track and getting the job done."
In her new role with GANE, Foster said that her goal is "to promote excellence among Georgia nursing faculty and other nurses."
As for how she got in that role, she and Clayton State Nursing assistant professor, Dr. Elicia Collins, both shared a quick laugh about her nomination.
When she saw the opening for the president's role, Collins said she submitted Foster's name for nomination then later called and asked for an up-to-date picture.
Naturally, Collins didn't tell Foster why.
Soon, Foster's name was under the nomination for president of GANE … the only name under nomination for president of GANE.
"I thought, 'this would be great!'" Collins said. "'We're all members of GANE, so why not?' When the ballot did come out, she was the only one. At first, she was, like, 'oh my gosh, can I do this?' I said, 'yes, you can absolutely do this!' Now, she's in full swing."
In the eyes of the School of Nursing's graduate programs director, Dr. Michelle Nelson, Foster has always been in full swing. When she first got to speak with Foster in the late 2000s at neighboring Georgia State University, she remembered first knowing of her as "the Victoria Foster at Clayton State."
Before long, the two would both be impacting students in Morrow.
"Coming over here, becoming colleagues, and seeing [her] work ethic – it is insane," Nelson said. "I don't really know of many other people who will work tirelessly on behalf of their students – particularly not the students that are doing great, but the students who are not doing well. It's taking that level of time to be able to engage with them to make sure they're doing well. That is very important and she's a person that is able to deliver that hands down."
One of the many former students Foster has influenced is Dr. Lukeythia Alice Bastardi – a Laker alumna who graduated with a BSN from the School of Nursing back in 2006.
Since leaving Clayton State 17 years ago, Bastardi has become a doctor of nursing practice as well as a certified registered nurse anesthetist. She's even a part-time faculty member in the Nurse Anesthesia Program at Johns Hopkins University.
In her incredible journey since graduating from Clayton State, Bastardi says there's one person who she's modeled her career after more than any other – Dr. Foster, herself.
Upon hearing that she was voted in as the new president of GANE, Bastardi was beyond excited.
"I cannot understate the impact that Dr. Foster has had on the trajectory of my nursing career and how very proud I am to be one of her graduates," Bastardi said. "I'm in a PhD program, while I'm teaching, just like Dr. Foster was doing when I was her student! I know that I can do it, because this is the example that [she] laid out for me."
As Bastardi said, Foster has her full support.
And she isn't alone.
Collins said that Foster has the full support of not just her fellow staff members at Clayton State, but also the support from numerous nursing educators all throughout the Peach State.
She said the approach to bettering nursing education state-wide includes efficient research, assessing the needs of Georgia's nurses and reviewing the healthcare needs of Georgia residents. To help her settle comfortably into her new role, former GANE president Kelly Dyar has stayed on the board to provide feedback and advice.
Foster said that, currently, she doesn't feel overwhelmed from her new responsibilities.
Dr. Rebecca Morgan, an associate professor in Clayton State's School of Nursing, also avidly supports Foster and believes that her new presidency role in GANE "definitely" shines a light not just on Foster's knowledge and leadership, but on the university as a whole.
"There [are] a lot of schools involved," Morgan said. "More people will talk about you and know, 'Oh, Clayton State – that's the president!' A lot of students [and] faculty see that, and they'll know that you're more involved in the education arena. It really does put your name out there."
For Nelson, seeing Foster progress to this next chapter in her career is not even faintly surprising.
For years, she said she's watched her friend encourage community service and engage in scholarships with her students. She added that Foster has also made sure her students understand what nursing is – something Nelson says is more than just waiting at someone's bedside.
Nelson said that Foster has molded so many students into future academicians, clinicians and entrepreneurs in the workforce, which she says they both believe is vital for those currently in the major.
To Nelson, she described Foster simply with four bold words – "She is Clayton State."
"I have no other way to put it other than it seems that Clayton State is part of every fiber of her being," Nelson said. "She embodies the Clayton State faculty, students, administration [and] community. Dr. Foster is the glue, nuts and bolts, heart [and] heartbeat of the School of Nursing. A lot of the great successes of the school – we owe it to her."
Upon hearing Nelson's remarks, Collins took it one step further when describing her colleague.
"She is nursing," Collins said. "She is so dedicated to the students and the overall success of the program. She's always saying, 'we've got to do this to improve the program, to help the students.' To me, with her 22 years here, she is nursing. That's the way I see her – the driving force behind what we do in the program for the students."
Foster's workload is immense as she begins the next chapter of her professional career as GANE's newest president.
On a wet, gray, rainy Monday morning, and while discussing the many responsibilities she now holds, she happened to mention that there are only seven years left until she retires, laughing after she did.
But although GANE will keep her busy, she is still set on dedicating the remainder of her professional career to Clayton State University – the school and community she still loves after more than two decades of teaching and community service.
"It's been a great place to work," Foster said. "I wouldn't have stayed here 22 years if it wasn't. We have such a great team. I think as long as we stay student-focused, because it's all about the students, I think we'll continue to be successful as a school and as a university."