Clayton State University, Dalton State College partner to expand access to advanced business education
(January 27, 2021) -Undergraduate students at Dalton State College Wright School of Business now have a new pathway to earning a master's degree in business thanks to a new partnership between the College and Clayton State University.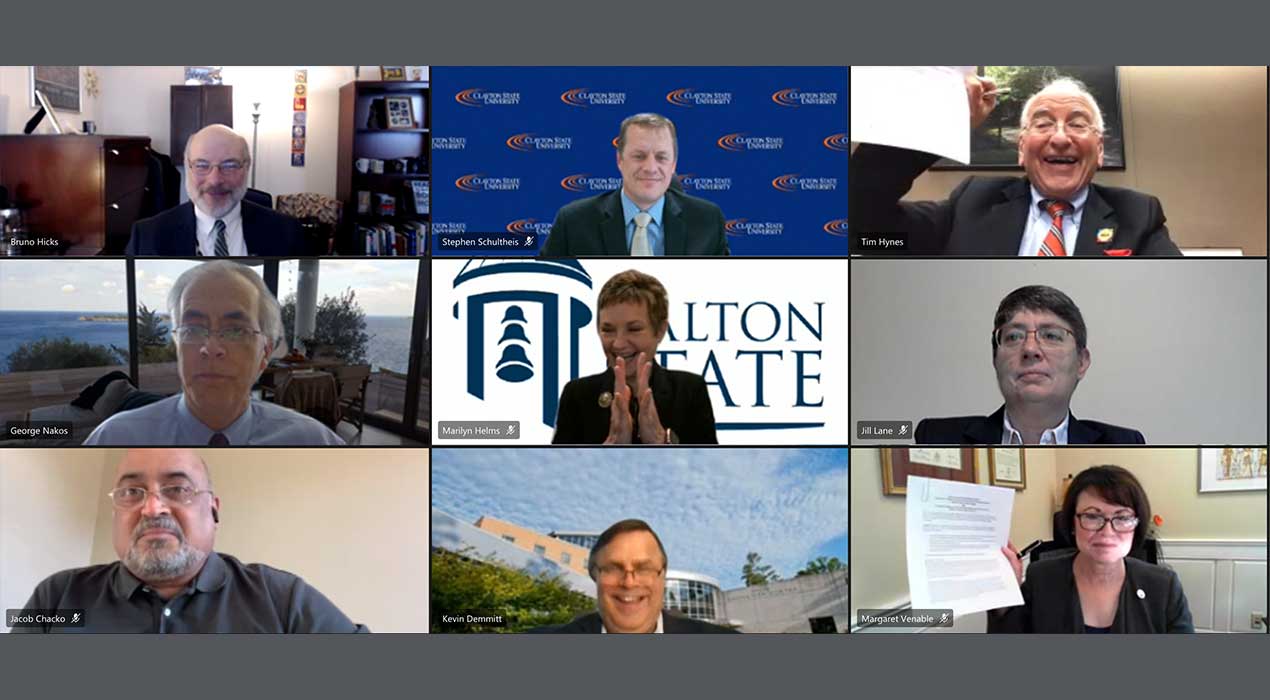 Under this new agreement, Dalton State College students who have earned a bachelor's degree in business will be eligible to be admitted to Clayton State to earn one of three master's degrees in business administration, strategic leadership development or supply chain analytics.
Students must meet minimum admissions criteria for their chosen degree program. Prior to admittance, students will be offered enrollment and advising support to complete their application and develop a course plan to meet the degree requirements.
The degree programs are offered online providing convenience and easy access to course curriculum to Dalton State College students.
The presidents of both institutions signed an articulation agreement on Tuesday, January 26, 2021.
"While our undergraduate curriculum provides a strong foundation for our students, we know some students will need a graduate degree to pursue their chosen careers," said Dr. Margaret Venable, president of Dalton State. "This partnership is a seamless opportunity for our graduates to continue their education without leaving our community. We want to do all we can to support our students even after they graduate from Dalton State."
In the last few years, Clayton State University's College of Business has taken steps to prepare its graduates for Georgia's thriving economy. The AACSB-accredited College launched master's programs in strategic leadership development and supply chain analytics in 2019 and has earned rankings for it's online curriculum and affordability.
"The agreements for the MBA, Leadership and Supply Chain Analytics programs are great examples of the collaborative efforts that Georgia colleges and universities are undertaking to provide advanced business degrees to students from parts of Georgia that may not have access to such specialized curricula," said Dr. George Nakos, marketing professor and chair of Clayton State University's Management, Supply Chain Management and Marketing department. "The rigorous undergraduate curriculum that Dalton State College students take will help them succeed in a demanding graduate program. Faculty and administrators from both campuses worked diligently to create these programs that will better serve the citizens of Georgia."