Clayton State now home to a "Little Free Library"
(May 28, 2020) -A Clayton State student's mission to share his love for reading was made real with the unveiling of a Little Free Library during a dedication ceremony on Feb. 12.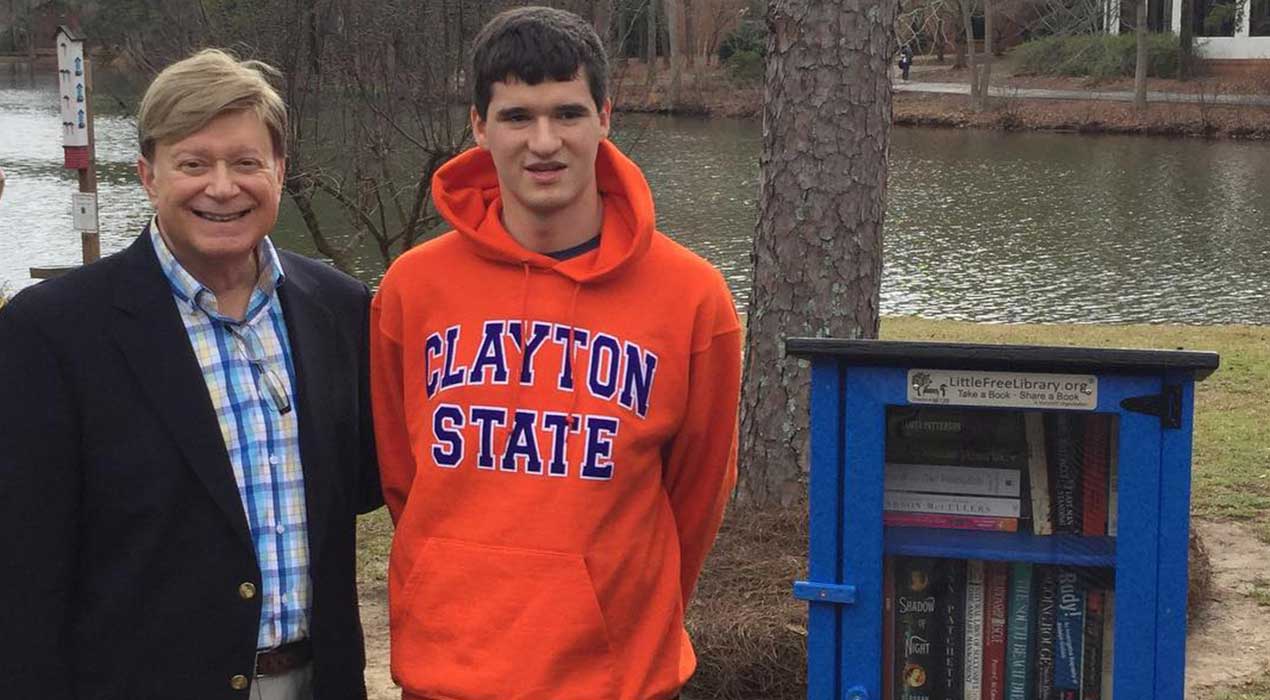 Little Free Library is a non-profit organization with a mission to improve global literacy by increasing access to books in the communities through book-sharing boxes. Clayton State's Little Free Library is located near the university Retirees Association's Butterfly Garden, which offers a beautiful view of the lake.
"Access to libraries is not just something that is for the elite, it's not just something for the literary, but is something for all of us," said Dr. Tim Hynes, president of Clayton State University.
Clayton State student Kirk Lawton came up with the idea for the Little Free Library after he completed a persuasive speech highlighting the benefits of a Little Free Library on campus in a public speaking class.
Inspired by his speech, Lawton presented the idea to the Clayton State library staff who helped secure the resources and support from the Retiree's Association to get the blue-hued book-sharing box placed on campus.
The Little Free Library is fully stocked with books donated from the Lawton family, the Clayton State Library, and the Little Free Library organization. Readers can find a wide variety of titles including "Shadow of the Night," "The South Beach Diet," "The 10 Natural Laws of Successful Time and Life Management" and "Bullfrog."
Lawton hopes that the library will stimulate an interest in reading, eliminate library anxiety, foster a friendly environment on campus and provide a "home" for library donations unsuitable for circulation.
"Clayton State is such an important part of [Morrow], I felt that the university would be a good place for a Little Free Library," he said.
The first Little Free Library book-sharing box was built in 2009 in Hudson, Wisconsin.
Since then, more than 90,000 Little Free Libraries have been built in all fifty states and more than ninety countries.