Leave a Legacy: Clayton State Men's Soccer ready for NCAA Playoffs
(November 16, 2023) - One may think that hoisting two trophies to cap off a dominant regular season and conference playoff run would be enough.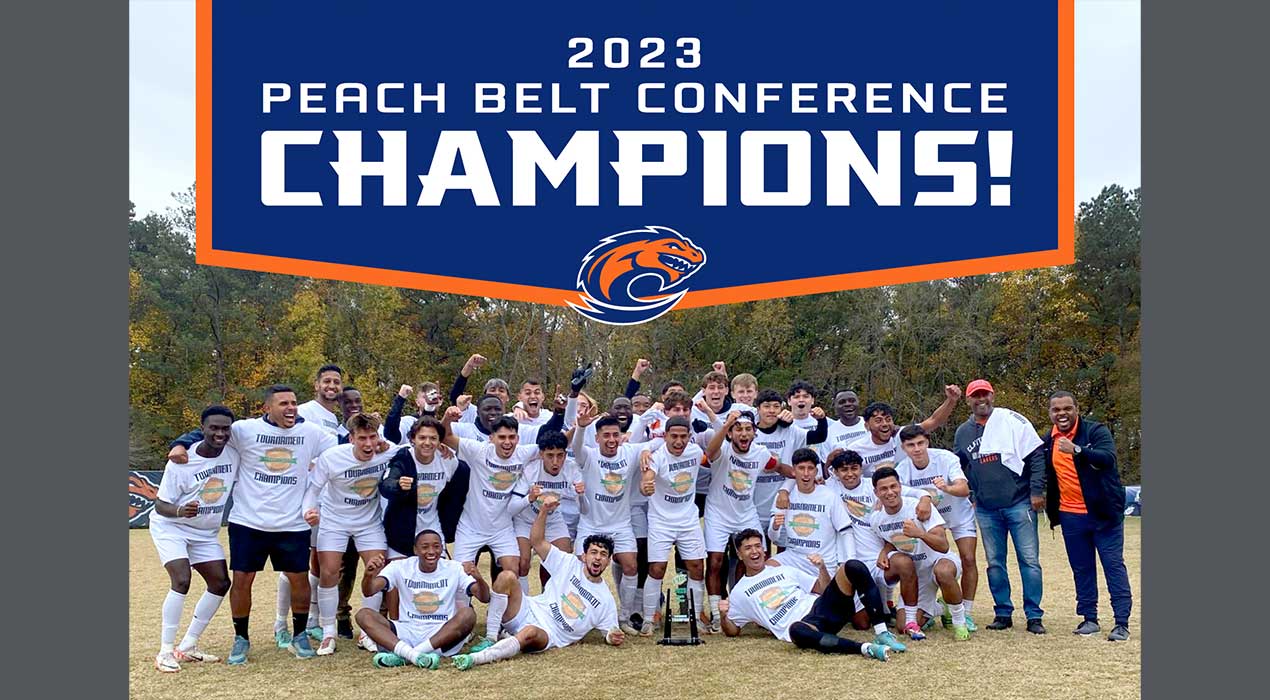 But if one did, they wouldn't be in the locker room of the Clayton State Men's Soccer team, which is collectively geared up and ready for their first upcoming match in the NCAA Division II Playoffs on Thursday, November 16 vs. the ninth-ranked Lenoir-Rhyne Bears.
It's a moment that team captain and Clayton State graduate student Geo Rios has been waiting for since he first suited up for the Lakers back in 2019 – just one year after he saw Clayton State Men's Soccer in a completely different state of play in 2018.
"I know they didn't have a very good year," Rios said. "I think they went 6-14, or something like that. Coming in as a freshman, I didn't want to redshirt. I wanted to get straight into playing."
In just his first year with the club, Rios said the Lakers flipped their script from the year before, finishing the season with a 14-6 record while he individually earned second team All-Conference honors.
Over the course of his career on the field for the Lakers, Rios has won PBC Player of the Year three times, as well as All-Conference honors all five years he's played.
But while the Lawrenceville native said that the individual awards and victories kept coming, the team's playoff victories didn't.
And that's all he really cares about.
In his final season with the team, his goal is to earn the ultimate hardware and win the NCAA Div. II Playoffs.
"One of the biggest things we always talk about is leaving a legacy and doing something that's bigger than ourselves," Rios said. "So, for me, and I believe for the team, it's just about trying to do something that that leaves a mark, makes people want to come to Clayton."
The desire to leave a lasting legacy on the university's soccer program also runs deep for center midfielder Hector Fuentes, who transferred to Clayton State from Georgia Gwinnett College for the Lakers' condensed 2020 season.
Also a grad student, all Fuentes wants in his final collegiate playing days is to leave all he has left on the field for his both his school and his team – a group of men that he said has truly become a family.
"Everyone's excited where we are," Fuentes said. "But we're not satisfied ... we're all still hungry. Even at practice, you wouldn't think, like, 'these guys just won the championship,' because it's not joking around or messing around. When we're practicing, we're serious. But obviously when we're in the locker room, it's just good vibes. We all want this. We want to go as far as we possibly can."
The Lakers Men's Soccer family will look to repeat their recent championship-winning performance versus rival Lander and take their first crack at leaving their legacy when eighth-ranked Clayton State (15-3-0) squares off against the #9 Lenoir-Rhyne Bears (7-5-5).
The match is scheduled to begin at 6 p.m. on Thursday, November 16, and will be hosted at Saints Field at Limestone University in Gaffney, South Carolina.
For those who cannot make the drive to the Palmetto State for tonight's match, no worries!
The entire playoff bracket will be available to stream online for free on the NCAA website.
For Rios and Fuentes both, a combined seven years of sporting blue and Georgia clay all comes down to this.
Both want to go pro after grad school, and both obviously want to raise a trophy.
But before they try to accomplish both feats, they first want to ensure that all current and future Lakers remember the 2023 Clayton State Men's Soccer team.
The two brothers believe that the best chance to lay down that groundwork stands right in front of them with winning the national tournament.
And they're ready to fight for it.
"We want to be remembered," Fuentes said. "We just want to represent the school as best as we can and make the biggest impact that we can."
"We were blessed to already bring two trophies in," Rios said. "That hasn't been done in 16 years, which is a long time. It would just be something that would fill us with joy. We would definitely go down in the history books forever."
As the student athletes prepare for the opening match of the tournament, Clayton State University President Dr. Georj L. Lewis also expressed his excitement for the team, wishing all involved nothing but success moving forward in the days to come.
"I am beyond proud of the collective talent, dedication, and commitment demonstrated by our young men in their championship win," Lewis said. "Athletics is a glue that binds together all Lakers and motivates us all to work harder to bring out the best of ourselves. I cannot wait to see how our team fares in the upcoming playoffs and wish them the best of luck in the days to come."