Clayton State to host Atlanta Braves Home Plate Project
(August 21, 2023) - For the first time in campus history, Laker Nation will play host to Braves Country.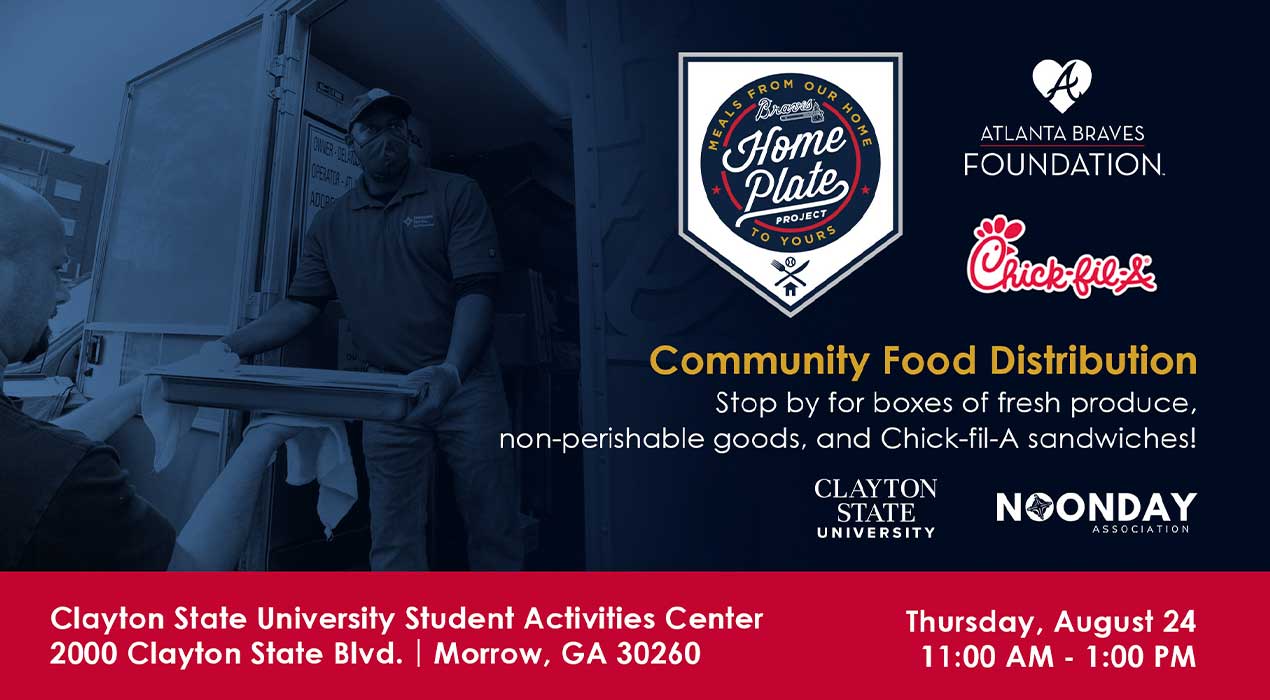 On Thursday, August 24, the Atlanta Braves Home Plate Project will host its first-ever food distribution in Clayton County on the campus of Clayton State University for all students, staff, and faculty, as well as their families and the entire Clayton County community.
The event will be hosted in Parking Lot L of Clayton State's Student Activities Center from 11:00 a.m. to 1 p.m.
Both "drive-thru" and "walk-up" stations will be on hand for participants to utilize.
Non-perishable items and fresh produce will be distributed, as well as free Chick-fil-A sandwiches for all while supplies last.
At least 20 student volunteers from the Clayton State chapter of Alpha Phi Omega will be on hand, as well as faculty from the university's Food and Housing Insecurity Advisory Committee.
Several departments of the university will also set up tents for community outreach, such as Athletics, Admissions, and Recruiting.
"Clayton State University is not only a college; we consider ourselves a member of this community," said Sarah Ray, the university's Student Life director. "From students, employees, and community members, rising living costs have affected everyone in some way. By coming to Clayton County, this initiative will assist individuals and families in combating food insecurity."
The Home Plate Project was created by the Atlanta Braves shortly after the start of the pandemic in 2020 as a means to provide hundreds of meals to those fighting COVID-19 on the frontlines at hospitals in Georgia, Tennessee, and Alabama, while also serving its neighbors impacted by tornadoes, joblessness, and homelessness.
In 2022, the Atlanta Braves and Chick-fil-A teamed up to continue to care for Braves Country communities while fighting food insecurity. So far, they have distributed 45,000 pounds of fresh produce and 2,100 hot Chick-fil-A meals to families across Metro Atlanta.
"We are excited about partnering with the Atlanta Braves and Chick-Fil-A on the Home Plate Project," Ray said.