Clayton State Comes Together for Alice J. Smith Awards
(April 27, 2023) - Hundreds of Clayton State University faculty and staff flooded the ballrooms at the campus' Student Activities Center Tuesday afternoon to celebrate their peers in the 2022-2023 Alice J. Smith Service & Academic Awards Ceremony.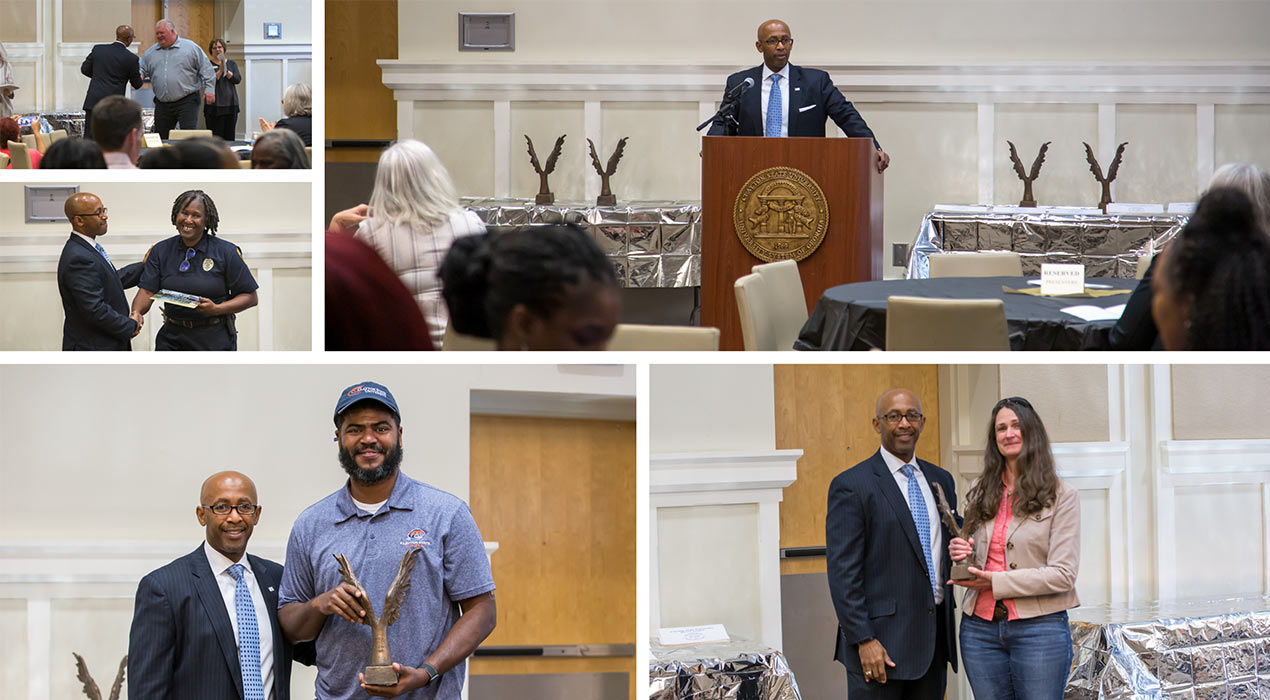 President Dr. Georj Lewis opened the ceremony by saying how amazing it felt to have everyone celebrating faculty and staff accomplishments together again under one roof.
"I've been informed that we haven't been able to do this together in a while," Lewis said. "It definitely is good to see everyone."
Dr. Jill Lane then joined Pres. Lewis to present awards on the afternoon, beginning with the 2023 Chancellor's Academic Achievement Award, which was awarded to Kathryn E. Patrick from Clayton State's College of Arts & Sciences.
Patrick was recently recognized by the University System of Georgia Board of Regents but could not attend the award ceremony Tuesday due to working with her students in this year's Georgia Milestone exams.
Dr. Lewis said Patrick's work ethic "represents who our students are."
Service Awards were then presented to the 34 faculty and staff who have worked for five years at Clayton State, the 21 persons who have worked for 10 years, and the 16 who have worked for 15 years.
Awards for 20 years of service were then presented Virginia Bonner, Renee McFarlane, and Alan Xie from the College of Arts & Sciences, as well as Billy Evans from Admissions.
Additionally, Laura Herndon from Library Services, Darren Thomas from Facilities Management, and Dawn Krieger and Terri Kulesa from ITS all celebrated 25 years of service.
Four staff and faculty members were then called up to be recognized for an astounding 30 years of service for the university.
Byron Stone from the Office of Public Safety, Christy Hicks from the College of Health, and Heidi V. Benford and Heather Walls from Library Services all received rousing applause for their three decades of service to Clayton State University.
13 retirees from 2022-2023 were also honored by their peers.
While all received applause, only three attended the event in person – Angela Evans from the Office of Public Safety, Deborah Gritzmacher from the College of Health, and Mike Mead from Clayton State Athletics.
And finally, the event concluded with the 2023 Alice J. Smith Staff and Faculty Award presentations – five staff were nominated for the former, five faculty for the latter.
This year, James Kaiser from Facilities Management received the staff award while Dr. Jere Boudell won the faculty award.
On behalf of Clayton State University, congratulations to all award winners and nominees!