Arts & Sciences Honors Convocation
(April 20, 2023) -With spring commencement right around the corner, Clayton State University's College of Arts and Sciences held its annual Academic Honors Convocation at the Crescent Theatre on Wednesday, April 19.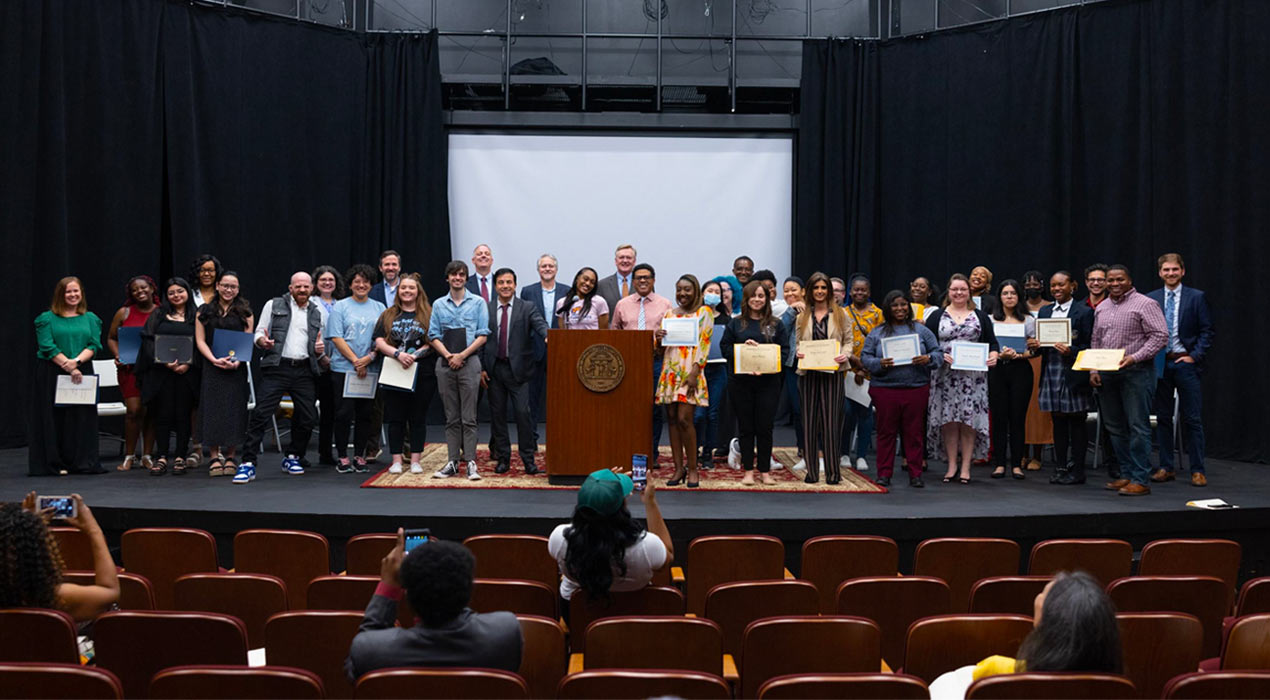 Dr. Nasser Momayezi, the dean of the College of Arts and Sciences, welcomed numerous students, congratulating everyone for their accomplishments from the past school year.
"These students are shining examples of what can be achieved through dedication, perseverance, exceptional talent, intelligence, and a passion for learning," Momayezi said. "Congratulations, each and every one of you."
Momayezi also thanked the parents who were in attendance for "instilling values of hard work, perseverance and dedication" in their children.
While every award is an accomplishment, there were some particularly notable achievements announced from the various department chairs on Wednesday.
Diana Nguyen was the only student from the Department of Biology to receive an award.
Dr. Paul Melvin said Nguyen carried a GPA of 3.97 and received her award for her "superior achievement, research, and participation."
Two Clayton State student veterans, Ryan Green from the Department of Psychology and Taylor Donoghue from the School of Education, were also awarded and received applause from the crowd for their service to our nation.
Green was awarded the Donna W. McCarty Psychology & Human Services Award while Donoghue was awarded the Outstanding ELEM Teacher Education Student Award.
Keenan Kade from the Department of Visual and Performing Arts was the first person ever to win the inaugural Marilyn Engelhardt Robinson Memorial Scholarship.
And finally, there were two Clayton State students who each won two awards Wednesday afternoon.
Senior Benjamin Shatto received the Department of Humanities' History Achievement Award as well as the School of Education's Doris Fisher Award for Excellence in the Teaching of History/Social Sciences.
Kelly Cook, also a senior in the School of Education, took home the Debra Durden Award for Excellence in English Education and the Outstanding Teacher Education Student Award.
The complete list of awards and scholarships presented from the event are listed below:
Department of Biology
Diana Nguyen — O.C. Lam, III Award for Excellence in the Biological Sciences
Department of Chemistry and Physics
Aivy Hoang Nguyen — CRC Freshman Chemistry Achievement Award
Trinh Nguyen — James Braun Excellence in Chemistry Award
Department of English
Anayah Fray — Sharon Sellers First-Year Writing Award, ENGL 1101
Jenifer Mendoza Godinez — Sharon Sellers First-Year Writing Award, ENGL 1102
Adam Salathe — Goldberg Scholarly Essay Award
Kristen Primm — Stanley Cyrus Award, Poetry
Islah Rahmann — Cygnet Award (1st Prize)
Garnet Pope — Cygnet Award, Poetry (2nd Prize)
Michelo Iselo — Cygnet Award, Fiction
Angel Hunter — Bill Pasch Senior English Award
Department of Humanities
Benjamin Shatto — History Achievement Award
Courtney Thomas — Top Senior Thesis Award
Nicole Bagley — Award for Excellence in the Study of History
Department of Interdisciplinary Studies
Yanelys Amaro — Outstanding Student, Bachelor of Applied Science
Nyasia Green — Outstanding Student, Integrative Studies
Catherine Tavares — Outstanding Student, Liberal Studies
Ginger Cantrell — Outstanding Student, African American Studies minor
Marjorie Woodhurst-Kersey — Outstanding Student, Master of Arts in Liberal Studies
Department of Psychology
Ryan Green — Donna W. McCarty Psychology & Human Services Award
Dalene Hammond — Donna W. McCarty Psychology & Human Services Award
Shanika Clendinen — Psychology Ambassador
Kamari Harris — Psychology Ambassador
Hailee-Jo Lillard — Psychology Ambassador
Aimee Malino — Psychology Ambassador
Gloria Martinez-Osornio — Psychology Ambassador
Mariah Shorter — Psychology Ambassador
Department of Social Sciences
Mandy Akyea-Mensah — Outstanding Student in Criminal Justice Award
Phoung Nguyen — Outstanding Student in Legal Studies Award
Gary Williams — Outstanding Student in Political Science Award
Lizet Avitia — Outstanding Student in Sociology Award
Department of Visual and Performing Arts
Antania Bivens — Tommy Daughtry Art Prize
Neyssa Aimee — Excellence in Communication and Media Studies Award
Mikayla Murphy — Excellence in Music Award
Sarah Marchant — Guyton McLendon Memorial Music Scholarship
Temisan Nicholl — Guyton McLendon Memorial Music Scholarship
Cindora Starr Tillman — Outstanding Achievement in Theatre Award
Maria Isabel Morales-Perez — Outstanding Achievement in Film Award
Keenan Kade — Marilyn Engelhardt Robinson Memorial Scholarship
School of Education
Katelyn Wucher — Outstanding MAT Teacher Education Student Award
Sheila Corona — Outstanding Secondary Teacher Education Student Award
Heather Turpin — Outstanding MLE Teacher Education Student Award
Taylor Donoghue — Outstanding ELEM Teacher Education Student Award
Benjamin Shatto — Doris Fisher Award for Excellence in the Teaching of History/Social Sciences
Heather Turpin — Hal Banke Award for Excellence in the Teaching of Science
Kelly Cook — Debra Durden Award for Excellence in the English Education, Outstanding Teacher Education Student Award
Natural Science students in the Coca-Cola Scholarship, Women in STEM cohort
Biology: Akouavi Amouzou, Emily Dobles, Kalkidan Hawkins, Nhu Nguyen, Abrianicka McGrowder, Porshuana Draines, and Khaaliyah Taylor
Chemistry: Ghadeer Alchbenawi, Marja Dacosta, Nyla Gilmore, Devon Kennedy, Tran Nguyen, Trinh Nguyen, Kelise Reddish, Vineisha Stephens, Raven Yeado, and Tiffany Zimmerman