An uncle's lesson inspires Britney Maddox to seek a career helping others
(May 7, 2019) - As early as 10-years-old, Britney Maddox realized she had a passion for helping people. She had started a tutoring and babysitting service to help others in her community. Fast track eleven years later, the Mathematics major has spent her college years at Clayton State University empowering her peers to be there best as a campus leader.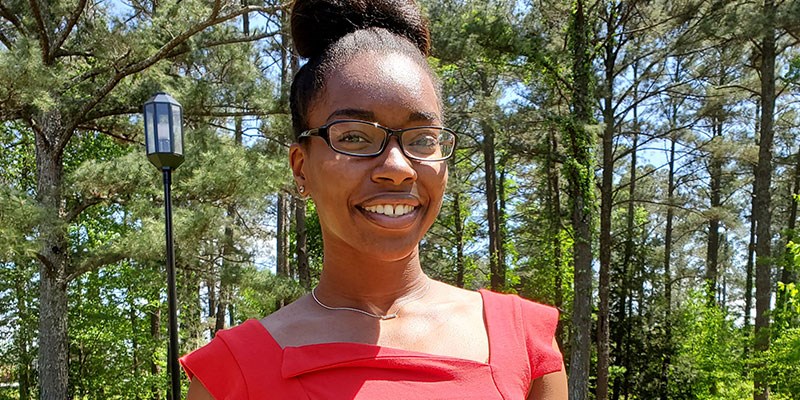 "Clayton state has helped me open up and find who I am as a person," Maddox, 21, says when thinking back to her time at Clayton State.
Just out of high school in 2015, Maddox was selected as a Gates Millennium Scholar. Funded by the Bill & Melinda Gates Foundation, the scholarship provides funding to students of color who are pursuing computer science, education, engineering, library science, mathematics, public health or science.
Maddox could have gone anywhere in the U.S., but she was attracted to Clayton State.
"I chose Clayton State University because I had heard wonderful reviews from people who previously attended, and now, they are doing great things," she says.
Pursuing a degree in mathematics piqued her curiosity for discovery.
"I chose to major in Mathematics because I enjoy learning new ways to look at the world and how to apply the complexities of math to everyday items," Maddox remembers. "I also wanted a rigorous major that would hone my analytical skills for whatever career I may choose in the future."
At clayton State, Maddox quickly made a mark in both academics and extracurriculars. Not only had she been on the Dean's list since Spring of 2016, she also served as a member of Beauty and Brains, Campus Events Council, the Student Veteran's Association, the Math club, Freshman Leadership Involvement Program and Baptist Collegiate Ministry, among many student organizations.
Tapping into her love for helping other succeed in the classroom, Maddox worked as a peer tutor in the Center for Academic Success and as a teacher's assistant at the YWCA of greater Atlanta. She also served as a mentor for Teen Girls in Technology, which encourages young girls to become interested in tech.
"The teens that were there, a majority were African American," she says. "It was great to see their faces brighten up when they found something, they're interested in. The world isn't just for men; women need to get out there and have own hand in technology."
For all of her accomplishments, Maddox was awarded this spring with the Catherine Cowan Aust Award that recognizes a College of Information and Mathematical Sciences student who demonstrates the best all-around performance academically.
Maddox also earned the prestigious Chancellor Academic Recognition presented by the University System of Georgia. She represented Clayton State University as a student who has had exceptional academic achievement and engagement on campus.
"To be a leader is to have drive and determination, and to take everyone's needs into consideration," she says.
Maddox's future plan is to open a learning center that offers daycare for ages six months to five years, after-school care for ages 5 to 15, and a tutoring center for all grade levels.
Inspired by her uncle, who was an educator, entrepreneur, and mentor to kids in his community at the age of 21, she hopes to inspire others.
"Unfortunately, when I was in fifth grade, he lost his life," she says. "I want to continue his legacy. He taught me to always care and never treat somebody different than somebody else."