Alfred Runs: Clayton State senior and Jonesboro Councilman ready to earn degree, leave impact
(August 7, 2023) - In many ways, Alfred Dixon is just like any Clayton State student athlete.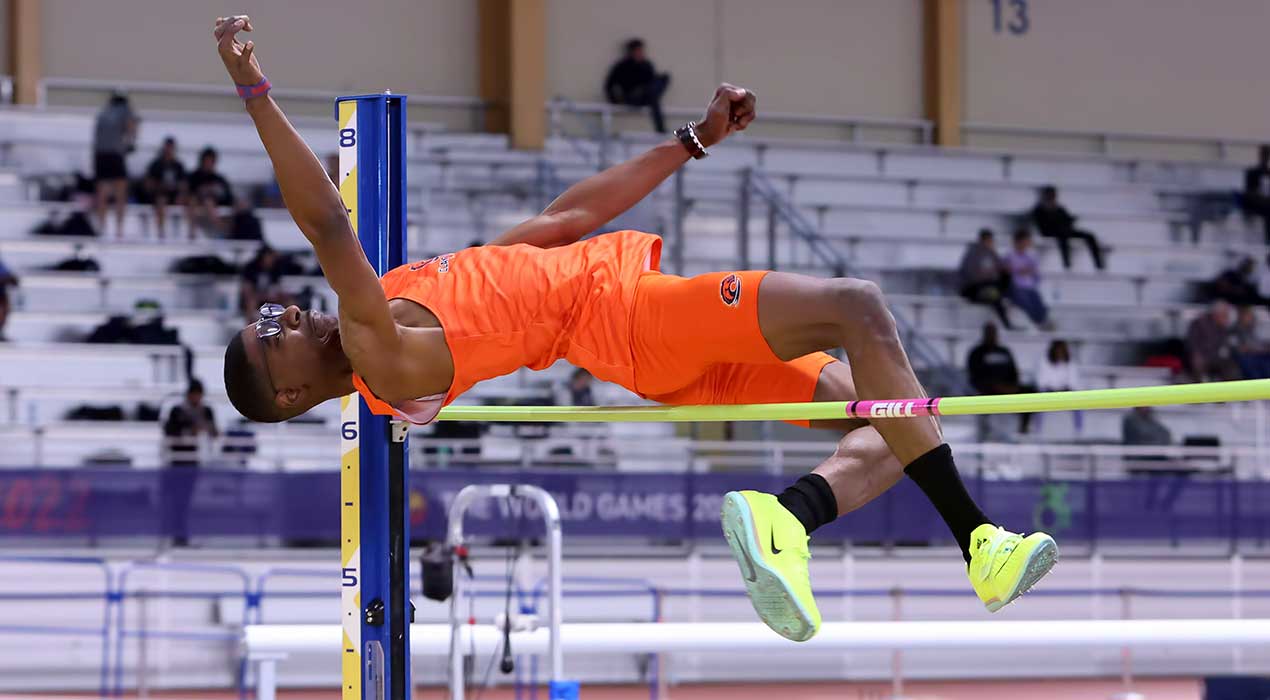 Photo Credit: Michael Wade
He's found a way to balance his academics and social life, as well as high jump and track.
Unlike most student athletes, however, Dixon is 35 years old.
He's entering his final semester at Clayton State nearly two decades after his initial enrollment in 2005.
And he also works a full-time job … in local government.
Dixon was recently re-elected this past March into his second term of service as a city councilman in Jonesboro, Georgia.
"I work 50 hours a week – a crazy schedule," said Dixon during his Spring 2023 semester. "Overnights, mornings, evenings, five classes now, six last semester, and city council."
When asked what he does in his free time … if he even has such a luxury, Dixon said he gets maybe four hours of sleep in his car while studying and doing homework during the school year.
For the young politician, all that he's achieved both then and now is something he said he'd never have envisioned when he first came to Clayton County 20 years ago.
"I moved here in 2003 from Myrtle Beach, South Carolina," Dixon said. "Clayton State was the first college I'd seen in Georgia – period. I was introduced by my high school track coach and did the high jump. Coach [Mike] Mead welcomed me with open arms, gave me a scholarship. We kicked it off from there."
This past season, 18 years later, Coach Mead still served as his coach and as a mentor.
Mead recalled his team's 2006 season when Dixon put the team on his back after it suddenly, inconveniently didn't have many runners available.
"The previous year, we won the conference and went to nationals," Mead said. "But then I had two or three guys graduate and some academic casualties. In the Fall of '06, he helped me fill a spot on the cross-country team to get through the season. He set our indoor record early on and showed a lot of promise that first year, primarily as a high jumper."
But while Dixon was finding success out of the classroom at Clayton State in the mid-2000s, in the classroom was a different story entirely.
In 2007, Dixon dropped out of school to run Ground Zero Entertainment – a business he started while in college.
He would often go public and even interned with local radio stations to promote events Ground Zero was hosting. He said this exposure further "opened doors" for both him and the company in the local industry.
"We started throwing different events and getting more involved on campus," Dixon said. "That's what drew me from my academics and eventually from track and field. Two years [later], I started throwing events at different venues in the city that the student body could participate in. It just grew from there."
As the years passed, Dixon grew closer to the community in Clayton County and its surrounding neighbors. But those students he had originally thrown parties for were getting their degrees, finding jobs, and starting families.
This meant that in many cases … the party was over.
In 2012, five years after leaving Clayton State, Dixon began working as a clerk at QuikTrip and soon faced complications with local authorities.
"I failed to appear in court," Dixon said. "I was driving, my license was suspended … you have to go to jail."
But Dixon turned his sentence into an opportunity that would forever change his life.
"Having to do community service was my introduction into serving the community," Dixon said. "I went over to an elementary school in Decatur and was serving lunch and reading stories. That just opened up, like, 'Do I want to own a club or do I want to have a Boys and Girls Club?' That evolved to doing whatever I could to be part of anybody's life."
After serving his sentence, Dixon soon began focusing his attention on hosting a good time for local families and Clayton County kids rather than Clayton State kids.
This change soon introduced Dixon to more people in his community than he'd ever known before, and he soon started hearing various neighborhood complaints that concerned him.
"One day while working at QuikTrip, they were deciding to go up to the basketball courts," Dixon said. "There was a sign that said, 'The courts will remain closed due to excessive trash.' I called City Hall and asked, 'Who's responsible for closing the courts?' They told me the mayor and [city] council were responsible."
Dixon immediately visited the Jonesboro City Council website, getting his first-ever look at the city's then-mayor and council members, surprised to see the vast majority were older – possibly in their 60s and 70s.
In 2015, after speaking personally with several residents of Jonesboro and Clayton County, Dixon wanted to make a difference.
"One of them told me there was an election coming up about two months away," Dixon said. "He was, like, 'You can actually still qualify.' So, I went to qualify."
In his first bid for office, Dixon received a grand total of only 40 votes at the polls and said the loss felt devastating.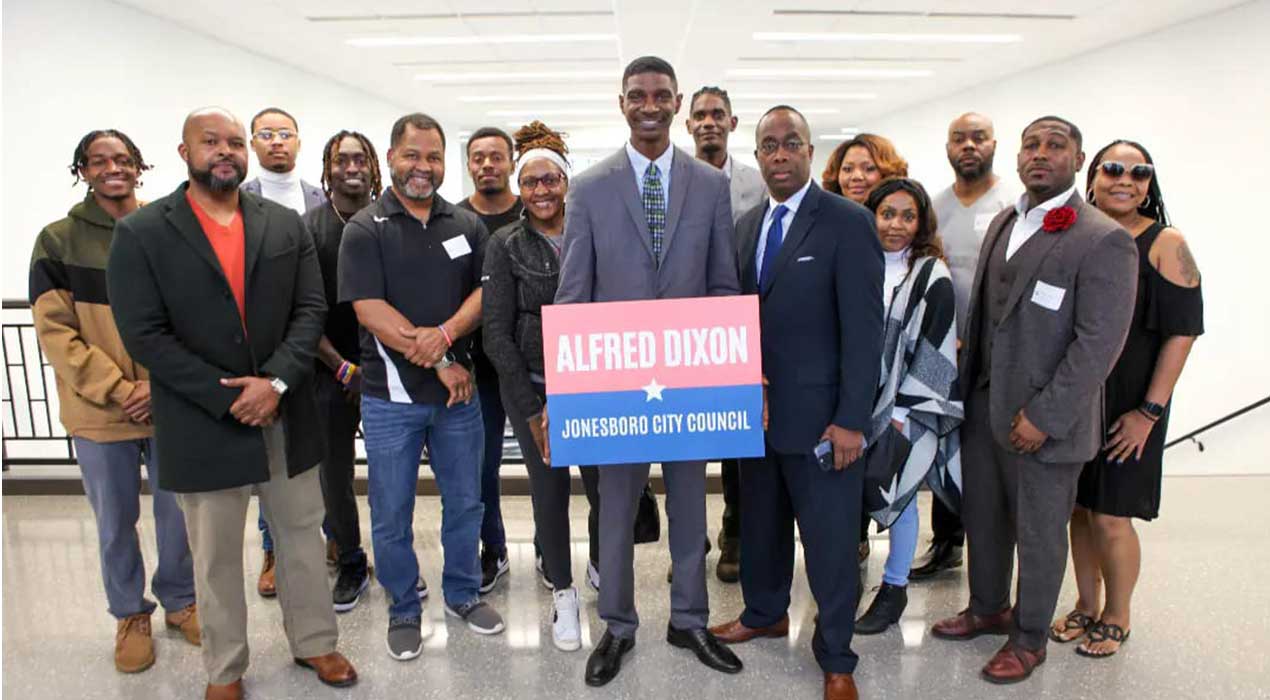 However, despite going through a personal tragedy, Jonesboro's City Council endured one of their own not long after, as one of its city councilmen passed away shortly after election season had wrapped up.
While the opportunity was created out of the loss of a life, it was still an opportunity for Dixon to win a special election.
At the close of the polls in 2016, he was successful.
"40 votes to 340-something votes," Dixon said. "It was a life-changing experience. It was overwhelming. It took a minute for me to really understand that people actually entrusted me with their livelihoods … their whole lives."
From 2016 to 2019, Dixon said his lifestyle changed completely.
He quit his job at QuikTrip, where he made about $40,000 a year in the mid-2010s. His new title in Jonesboro's City Council earned him just $700 a month – $8,400 annually – just a little more than 20% what he made year-round as a clerk at QT.
Despite the new financial challenges, he said his mission to serve was undeterred.
"I had to reevaluate how I was doing things, understanding that not only was it just my brother that was always looking up to me – it was high school kids, people in the community my age and older, seeking some type of guidance," Dixon said. "It was just a certain level of expectation that I wanted to rise up to."
During his first term in office, the then-rookie politician said he had a "tightknit village" of support surrounding him, composed of his mom, his brother, and many more in his city and county. And as that support grew, so did his ambitions.
With the new decade approaching, Dixon turned his sights on an even bolder role in Jonesboro – City Mayor.
Unfortunately for him, he was disqualified from the 2019 mayoral election, leaving him unable to serve again as a city council member through early 2023.
Down but not out, a "heartbroken" Dixon soon turned his attention back to his education, but didn't know where to begin.
After pouring all that he had into a failed mayoral campaign, he had no money to start over … until he received help from a friend.
"Charles Brooks was the [Clayton County] solicitor general," Dixon said. "He told me go back to school and fronted me the money to go back. He was, like, 'send me whatever you need' and he paid for it. That led me to a world full of opportunities that is still opening up today."
At 32 years old, Dixon returned as a student to Clayton State University and started getting into a "groove" in class during Fall 2020.
Nearly one year later, he was soon excelling in his studies when he discovered the story of former Cleveland Cavalier and NBA Champion, J.R. Smith.
"That's when I read about him going to college for the first time," Dixon said. "As a freshman, he's playing golf, getting a 4.0 [GPA] at 36 years old. I'm, like, that sounds like me."
Inspired, Dixon ran to Mead's office while taking summer classes and asked if he had any eligibility left to compete for the Lakers.
After doing some research and making a quick call, Mead informed his former track star that he was eligible to return to track.
"He asked, 'do you still have it?'" Dixon said. "I said, 'I've definitely still got it.'"
Just as he was 15 years prior, Dixon was a full-time student athlete at Laker Nation once again.
And this time, there were no distractions.
Dixon had run for local office and won, he'd run for Lakers Track and won, and now … he's in the final lap to earn his degree.
"I think there are some people that need a few more years of maturing and life experiences to get what this college experience is all about," Mead said. "I always have admiration for somebody like him that has endured hardships and succeeded."
Those Dixon has both competed and served with agree with Mead.
Abijah Wilcox, a recent Clayton State Class of 2023 graduate, ran track with Dixon this past season.
When asked if the "old man" still has it, he just laughed and said, "he's still up there."
"You can see the age a little bit, but I think he's still got something in him," Wilcox said. "The first time I saw him jump over the bar … it's just natural to him. I think he had an injury after our first outdoor meet and that took him out for a couple of meets. But he came back that last week at PBC a couple months later and got third place. I think the talent is still there as a 35-year-old."
Additionally, Jeffrey E. Turner – Chairman of the Clayton County Board of Commissioners – described Dixon as "a forward-thinking young man," as well as unique, inquisitive, and incredibly hard-working and caring for his community.
"He wants to be effective, number one," Turner said. "If you're a politician, you should want to be effective. You want to be able to take care of your community and do as much as you can to enhance the quality of life for the people who you serve. They don't serve you … you serve them. He's fully cognizant of that. Every chance he gets to be out in the community, he's out there."
In March of 2023, following yet another campaign for Jonesboro City Councilman, Dixon was re-elected to his previous role.
He is also set to graduate from Clayton State in December 2023 and earn two undergraduate degrees – a major in political science and a minor in either supply chain management or criminal justice.
His daily schedule will be packed to the brim with work, he will endure seemingly endless nights working, and he will look to lace up and compete for Clayton State for one last semester.
He just needs to give one final push. And he's ready to do it.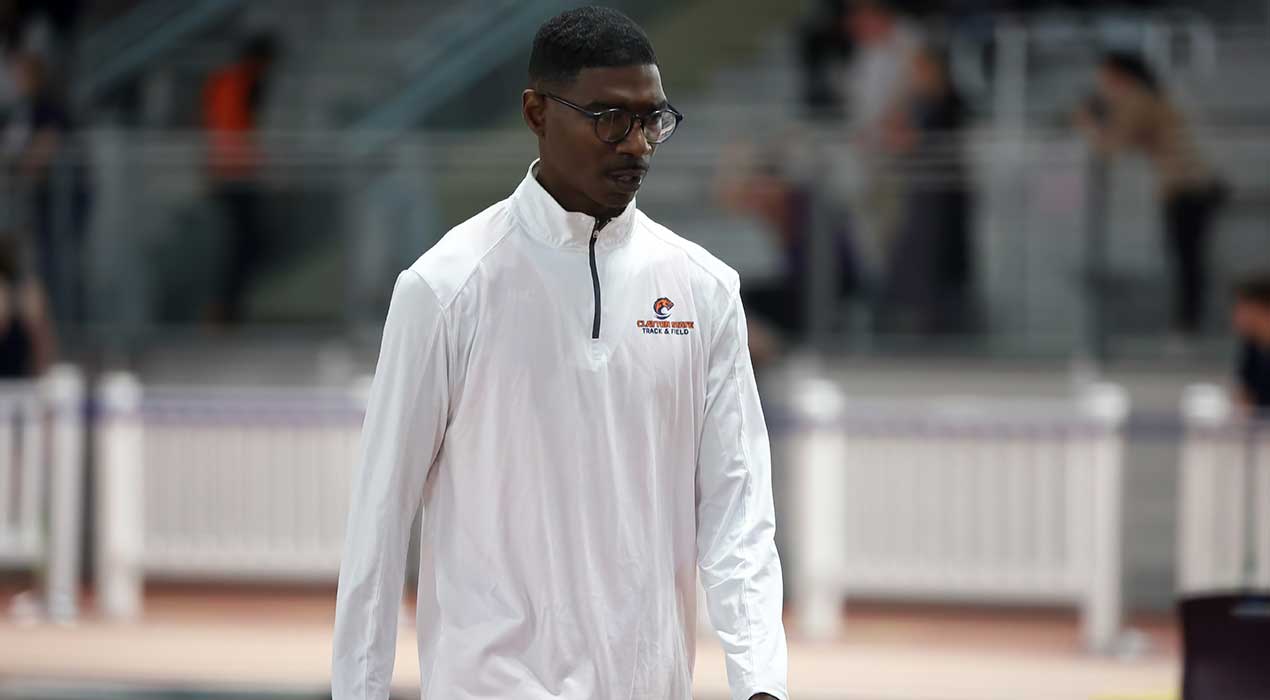 Photo Credit: Michael Wade
He said that upon returning to the council in 2023, his education at Clayton State has given him "more knowledge, more leadership ability, an even bigger desire to serve."
That desire, he said, is all because of his mother.
"'Get something that nobody can take away from you' is what she instilled in me," Dixon said. "Her response to everything the past three years has been 'how is school?' – that's it. That's just tough love to push me to prove something to myself. I'm just so thankful. If she didn't continue to just ask me about school, none of these opportunities would be available."