Adia Meyers: Code Woman
(December 4, 2018) - Computing is no longer a man's world. More and more we are seeing women increasingly enter occupations related to computers, engineering, technology, science, and math. The National Center for Women & Information Technology reports that 26 percent of professional computing jobs are held by women in 2017. In the same year, 17 percent of Fortune 500 Chief Information Officer (CIO) positions were held by women.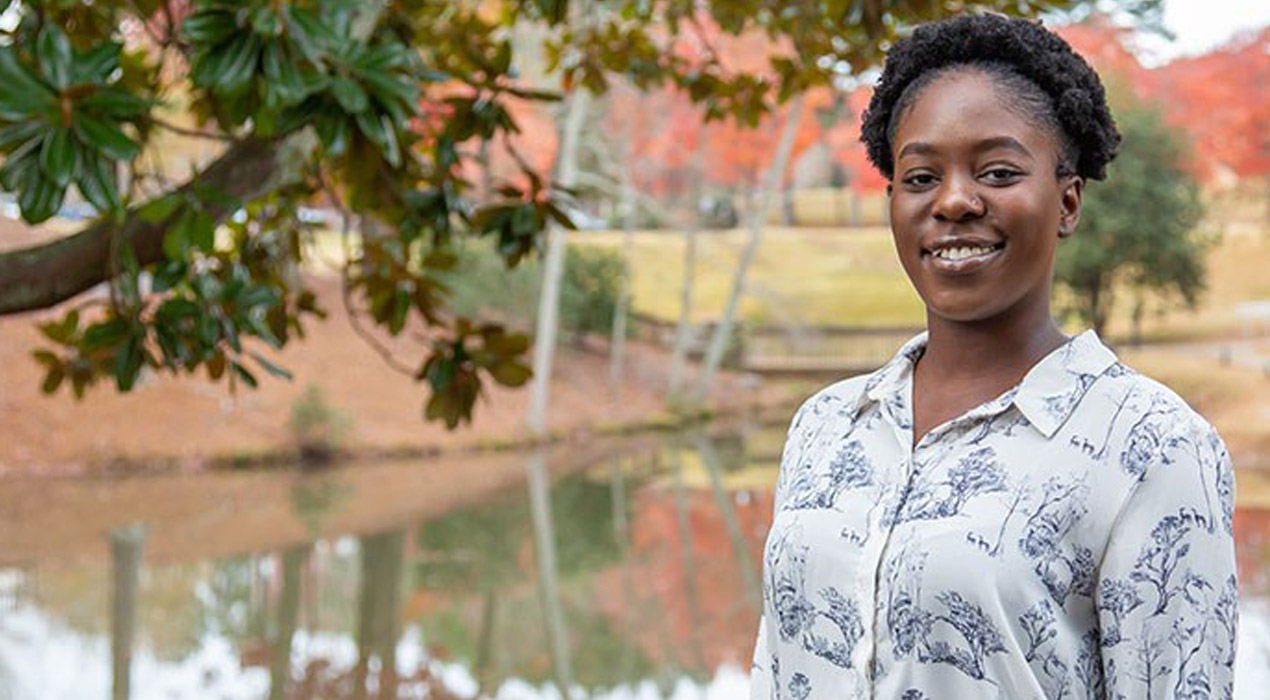 For graduating senior Adia Meyers, it's prime opportunity to be a woman in tech.
"Society is moving towards more fintech based solutions. Basically, lots of companies want to use technology to their increase revenue, user experience and more. There is lack of women in technological roles, and what this means is that we are missing out on a ton of varied perspectives, creative solutions, and new ideas," Adia says. "Technology is always changing, so in order to keep up, we have to bring people from different backgrounds and cultures together or else all of our ideas will become stale stagnant."
Adia said her interest in coding began when she was just a junior in high schools. She saw a YouTube video with celebrities encouraging people to participate in HourOfCode, a national event held each year during Computer Science Education Week in December to demystify "code" and show that anyone can learn the basics of code.
Computer Science Education Week, which occurs Dec. 3-9, also celebrates computing pioneer Admiral Grace Murray Hopper.
"I watched the video and I ended up trying out the coding challenge that they gave, and I enjoyed it and from there I began learning HTML & CSS on my own," she remembers.
Coding, Adia says, is quite simple, but the creative processes necessary to write code can be hard to create. It was important to her, to find a university that offered a collaborative and supportive environment. She found that at Clayton State.
"When it was time to apply to schools, I knew that I wanted to attend a university where the staff and students collaborate and guide each other towards better solutions for the problems and uncertainties we encounter when learning computer science," Adia says. "I can say that I have a close connection to my teachers and when in class, they make sure that my voice is heard. This is one of the main reasons I decided to not only attend clayton state, but actually finish out my degree here."
And her professors have played a major role in furthering her career. From meaningful lectures on programming languages and concepts, to offering Meyers recommendations and advice on technical interviews, Adia says her professors have always been willing to help.
Adia says she is looking forward to a career where she can focus on artificial intelligence and how AI can be applied in daily life.
"Through AI, I am able to see how my work can affect people in positive way, or just make their lives a little easier. AI is unique in our society because it allows us to make predictions and it helps make our daily lives easier," she says.
As a young woman of color, Adia says it can sometimes be intimidating to start new projects because of the assumptions made about minorities or underrepresented groups about their skillset. Yet, she looks forward to the opportunity to be welcomed to a team where her diverse perspectives will be acknowledged.
For Adia, achieving one's dreams is as much about the goals as it is about the journey and finding new paths to success.
"Anyone who is trying to achieve a dream should always remember what the goal is and enjoy journey…do not give up," she says.