A third chance to go to school gave Christina Day the momentum to achieve her dreams
(May 7, 2019) - Christina Day would tell you that the third time really is the charm. That's how many tries it took for her to achieve her dream of earning a degree. But it took more than charm to finally have the chance to step across the stage and accept her diploma.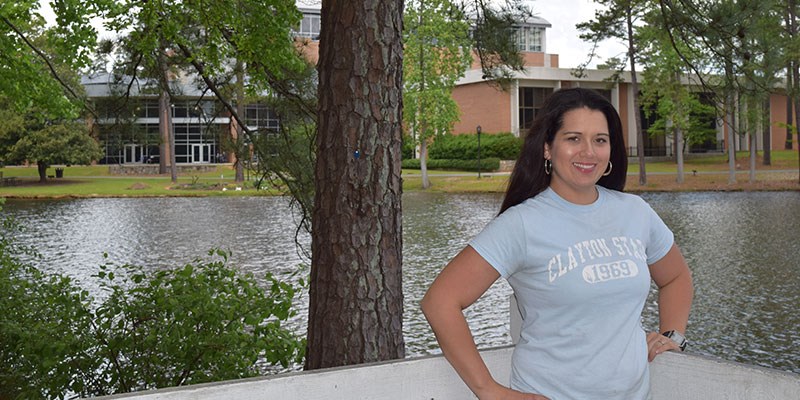 It took perseverance, support, and the will to succeed in spite of her personal setbacks.
The 31-year-old McDonough native did like most young people out of high school–prepared for the first chapter of her adult life by enrolling in college. But it was challenging being young and out on her own.
"I goofed off and did not take it as seriously as I should," she recalls.
Eager to get back on track she decided to pursue school two more times but hit roadblocks as she focused on being a newlywed and supported her military husband when they relocated.
Two children later, Day settled into working full-time and being a mother while her husband attended Clayton State to earn his bachelor's in nursing. When he graduated in May of 2016, Day realized she wanted more in life.
"I enjoyed the flexibility I had at my job to still be a mother because being a mom to my two boys is my no. 1 job," she says. But I was unhappy there, there was no room for growth which I desperately wanted to grow and do more. I wanted to live a life where I made a difference."
By spring of the following year, Day decided to start school again and pursue a degree in Health and Fitness Management. Her own personal health and wellbeing drove her to study fitness.
"After having my second child I found myself a mother of two, overweight, physically deconditioned, and unable to play with my kids," Day remembers. "I got involved in fitness to improve my life and the life of my family, and from that I grew a passion to help others improve their health through education and the promotion of long-term habit-forming fitness activities and routines."
For Day, the desire to promote a healthy diet and exercise among people can create bonds, experiences, and happiness about one's overall fitness and health.
"I have felt a calling to help as many people as I can and improve not only people's physical fitness, but their entire lives," she says. "This calling has driven my interest toward research dealing with populations, communities, and improving fitness with familial units."
Completing her degree proved challenging at times for Day. She suffered two health setbacks during the course of her studies––being diagnosed with two rare auto immune diseases that caused her to seek hospital treatment.
Still, her professors worked with her so she could finish her assignments, and her family–including her husband and mother-in-law–offered much needed support with taking care of the children and giving her the time to go to class.
"Going through sickness is not easy while going to school full time while being a full-time wife & mom, Day says. "My family has always been my motivation to push through the tough times because being able to have my boys watch me walk across that stage to receive my diploma will be worth it!"
Day will spend her summer presenting the research she completed through the University's Partnering Academics with Community Engagement program. She and her classmates partnered with the Riverdale Fire Department to improve the health and fitness level of the firefighters.
Day says attending Clayton State solidified for her that she made the right choice to dedicate her time to going back to school and finish what she started.
"I have achieved more and participated in more this third time coming back to college than I have ever imagined and will always be grateful for the connections I have made during my time at Clayton State," she says.