Class of 2023 graduates, celebrates commencement
(May 9, 2023) - It took perseverance, willpower, grit, commitment and heart. But they finally did it.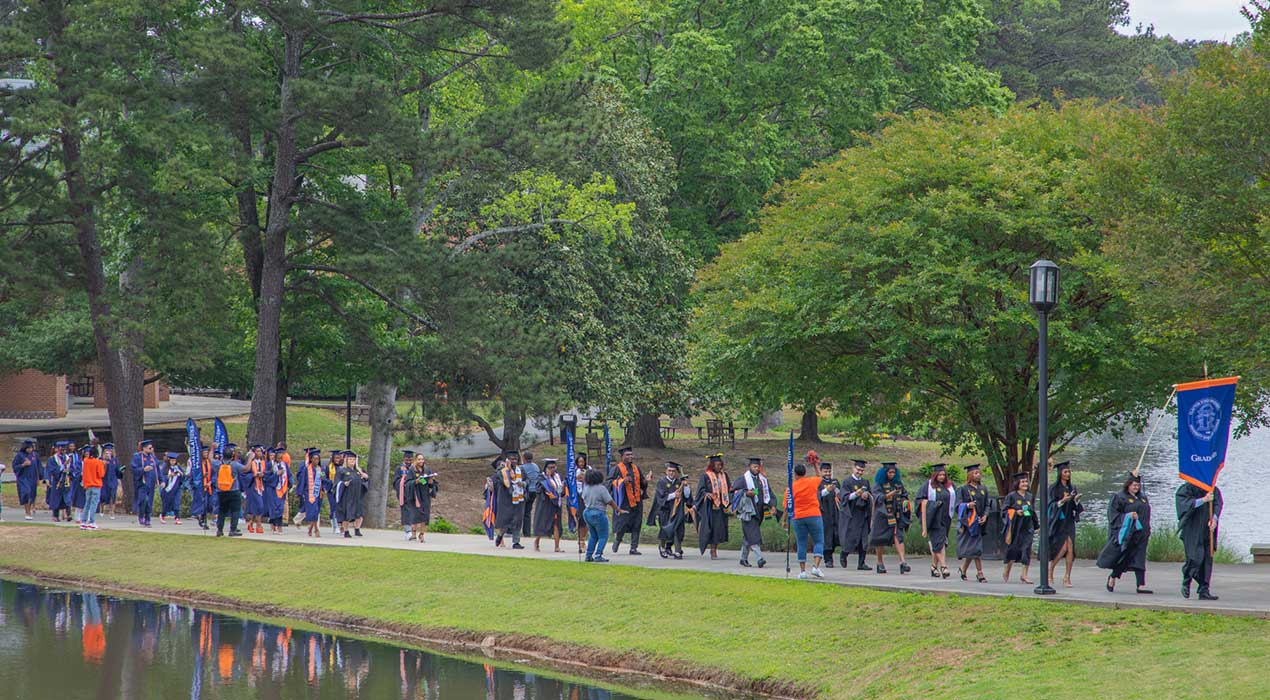 Clayton State University's Class of 2023 celebrated its well-earned graduation this weekend with hundreds of friends and family cheering them on in a passionate and celebratory atmosphere at the school's Athletic Center.
Applause rained down from the bleachers, cheers of "that's my baby," from proud parents were repeatedly shouted, and smiles beamed on the faces of those in their caps and gowns as the students took over the venue to celebrate their collective achievement.
"This is truly a day to celebrate the accomplishments of these graduates," said Dr. Jill Lane. "For some of you, that journey may have [begun] as a high school student taking classes for dual enrollment. Your path to Clayton State may have gone through another college or university. For some, Clayton State is where you started and completed your degree. Each of your journeys has been different … but through hard work and determination, you made it."
Throughout the university's three commencement ceremonies, the students who spoke at the podium on behalf of their peers and fellow graduating classmates did so seemingly with fire engulfing their spirits – evident motivation and hope for the future laced into the speeches they had prepared.
Undergraduate seniors Princess Carter and Yulianny Matias Medina, as well as graduate students Kaila Thompson and Jessica Deshon Williams, all spoke passionately about the dedication their classes showcased during their academic tenures at Clayton State.
To their fellow graduates, the four spoke about embracing fear and being brave in their respective next chapters, relying on faith through the good and bad, becoming an inspiration for others through their perseverance, and more.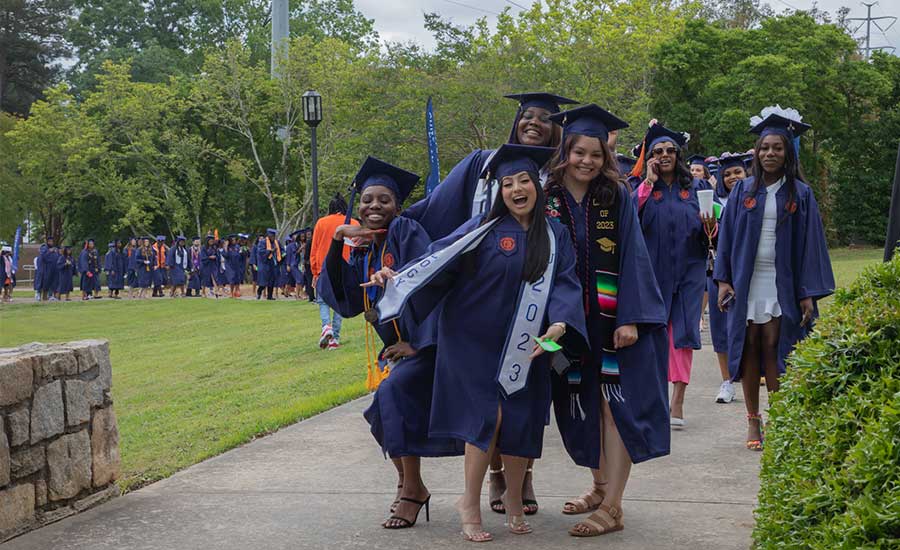 Additionally, Clayton State University also welcomed three guest speakers who each addressed the Class of 2023, providing further advice while sharing some of their personal experiences since entering the workforce, themselves.
"In this journey of life, remember you should always have one hand up and one hand down," said Gayle Cabrera, director of Small Business Direct and senior vice president for Truist. "One hand up – surround yourself with people who are advocating for you and supporting you. No one gets to where they are today without the help of someone else. One hand down – give back and lift up. Remember that as you move up, there is always someone else waiting to be pulled up and given the opportunity that you have. When you do this, I promise you the rewards you receive will be more than you ever could have imagined. Be kind, be smart, and be you."
"During times of weakness, your light that shines will become good and perfect," said Regina Lewis-Ward, state representative of GA District 115 and Clayton State Class of 2017 alumna. "When your light shines, everyone will see your good work – all things work together for good. But if you only settle for a good job, good relationships or a good life, that will kill your reality of becoming more. Make every effort to confirm your calling. I know you can break the mold."
"Keep at your core the human tenants of kindness, respect and human decency," said Christopher Williams, Sr., area manager for the Georgia Power Company. "As future leaders and game changers in all fields of human endeavor, you have a chance to help us get there. My parents told me a long time ago, 'it's not what people call or think of you, it's what you answer and respond to.' If you are not valued, do not be angry – it means you are in the wrong place. Those who know your value are those who appreciate you. Never stay in a place where no one sees your value."
And finally, before everyone left the Athletics Center to begin their next steps, Clayton State President Dr. Georj Lewis wished all graduating Lakers the best of luck moving forward.
He also left them with the hopes that they find the urge to serve their communities, both now and in the future.
"As the saying goes, 'no one is an island,' and although you may be able to get far on your own, collectively, we can go even farther if we help each other along the way," Lewis said. "My hope is that as Clayton State alumni, you all see the value in being of service to others...Be great, be bold, and be blessed as you continue to be a blessing to others."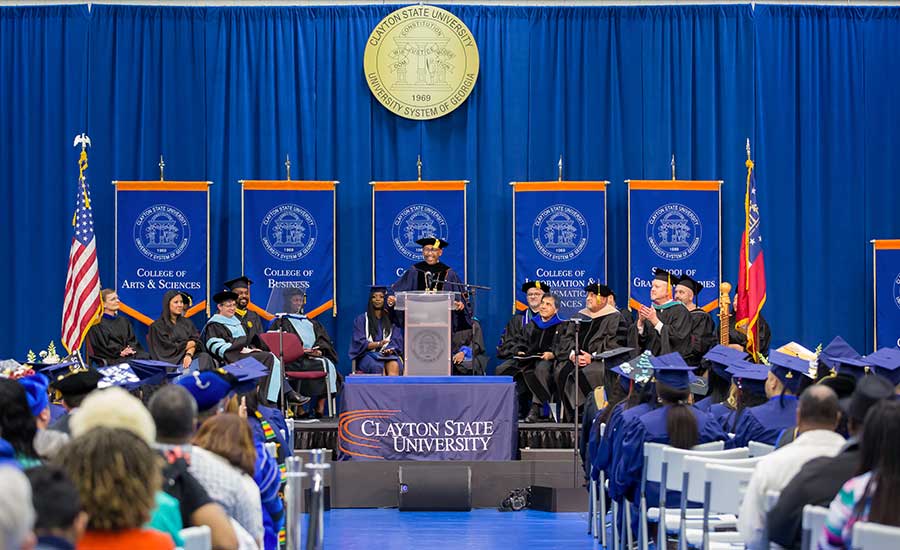 Once again, on behalf of Clayton State University, we would like to wish all the graduating seniors from the Class of 2023 the best of luck moving forward in their future academic and professional careers.
Congratulations and GO LAKERS!