Innovator. Doer. Dreamer.
Alumna Dr. Lateshia Woodley not only transforms schools, but the lives of young students
Having received four degrees and certificates from Clayton State University, as well as three degrees from other universities, few in education are able to talk to students about the importance of lifelong learning as Dr. Lateshia Woodley '03. While her passion for making a difference in the lives of students is laser-focused and without question, her path to becoming an educator has been more of a winding journey.
Growing up in the small town of Eufaula, Alabama on the border of Georgia was not easy for Woodley. She was raised in the projects by her grandmother with boys sleeping in one room and girls in another.
"I actually slept in the bed with my grandmother until I was 12 years old because there weren't enough beds, so it was a very interesting childhood," Dr. Woodley recalls.
However, she was always encouraged to go to school and get an education – to be the trailblazer of the family. But dreams of college were halted when she became pregnant as a teenager. Both her grandmother and mother had been teenage mothers and she felt she was continuing the cycle.
"Now what am I going to do?" she asked herself.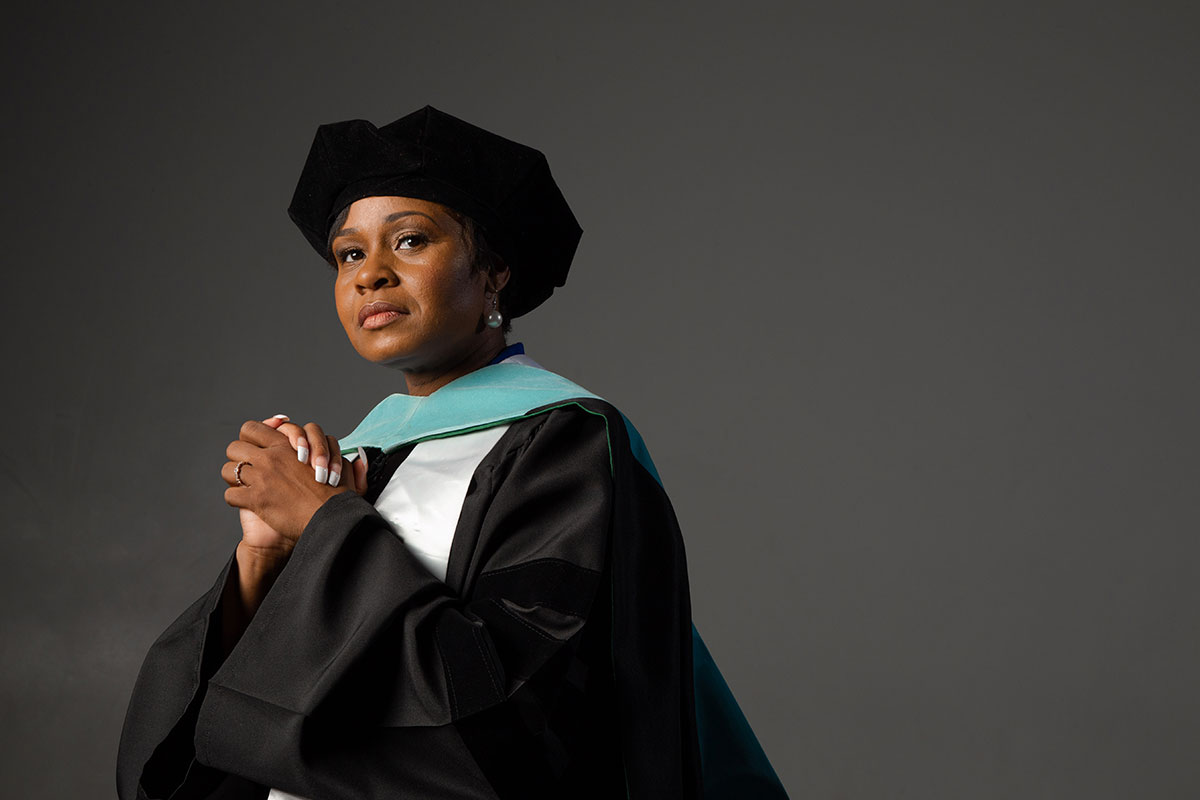 She decided to move to Atlanta and found Frank McClarin Academy, which had a daycare and where she planned to finish high school a year early. After a couple of setbacks, though, she began to rebel and stopped going to class. Woodley felt her efforts would not be fruitful and decided against working hard toward her goal.
Things did not turn around until her child's father told her that he was not going to raise a child with someone who did not finish high school.
"I did not want to be anybody's dummy," she says.
Since then, Dr. Woodley has never left school behind, instead making education a central part of her life and career.
After graduating from high school, she visited Clayton State, inspired by the beautiful, welcoming campus. Though initially considering a major in psychology to become a counselor, she began her academic journey as a medical assistant student with the thought that this would be able to give her an immediate job to provide for her and her son. After completing the one-year program, she landed a job in the office of an ear, nose, and throat physician.
For several years, Dr. Woodley returned to Clayton State a number of times racking up several degrees, including associate degrees in medical office administration and paralegal studies.
An attorney she worked for offered her a chance to go to law school, but Woodley quickly realized that in spite of her education and experience, she needed a bachelor's degree to get into law school.
So, she set her sights back on Clayton State for one more degree.
"I came back over [to Clayton State] and said, 'Listen, I've got all these degrees. What is the fastest bachelor's degree I can get based on all these credits I have?'" Dr. Woodley recalls.
Told that would be a degree in business, she received her bachelor's degree from Clayton State in 2003.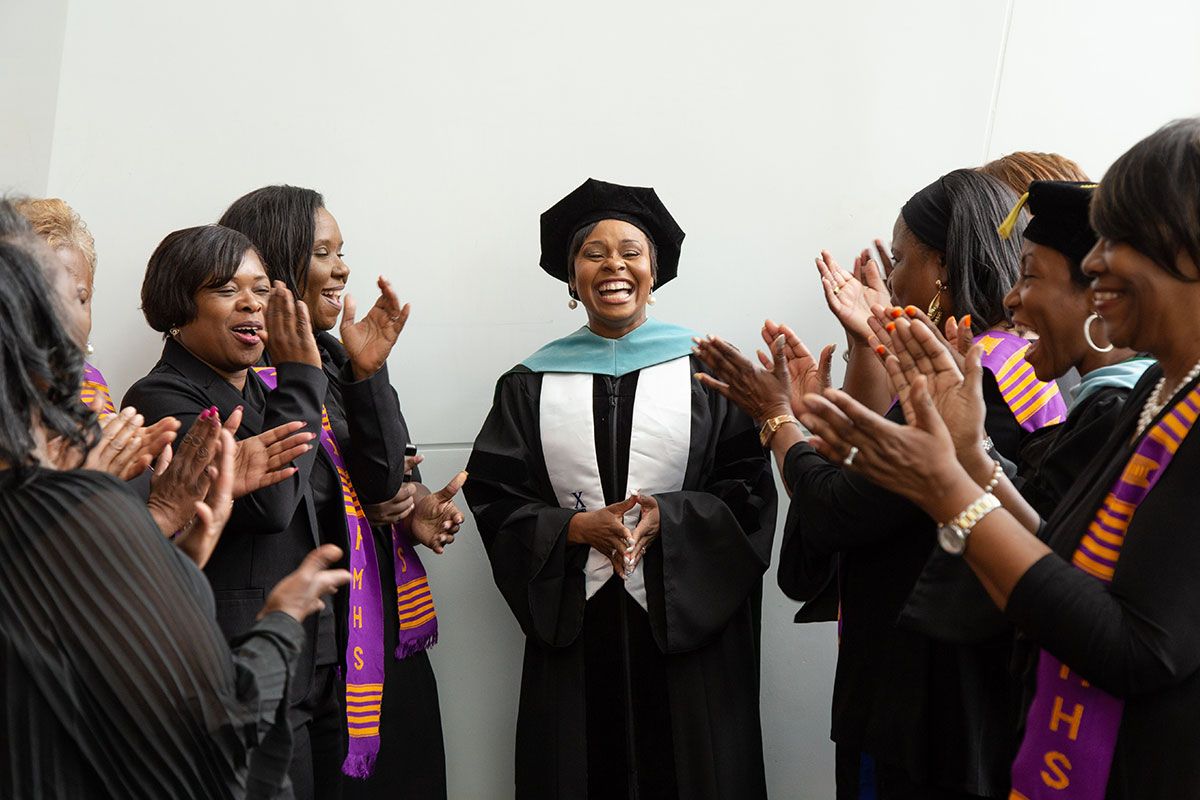 While still working in the attorney's office as a paralegal, she was sitting in a courtroom during a death penalty case representing a 16-year-old. It struck her to see that the teen on trial could not even spell the word "shot" in his written confession.
During the trial, she quickly realized that she was living someone else's dream by going to law school and it was time for her to go after her own dream.
"At that moment, I sat in that courtroom, and I said, 'You know what, I wanted to get a degree in counseling and psychology and make a difference in the lives of kids.'"
She decided to get her master's degree in counseling psychology from Troy University and began her career in education at a local private academy as a counselor. While there, she completed her doctorate in Counseling Psychology.
Three years later, she decided to become a principal in the Atlanta Public Schools (APS) system.
In her new position, she helped lead and oversee a tremendous amount of successful transitions. Her first school saw the graduation rate increase from 40 to 90 percent in under three years. Asked to move to another school in APS, Dr. Woodley helped transform that school from a "dropout factory" to one recognized as a Model Alternative School for Georgia, as well as receiving accolades from the U.S. Department of Education.
These awards allowed Dr. Woodley to travel the state talking about the transformation efforts at her schools. While at a conference, she was approached by an administrator in Fulton County Schools who asked her if she would be interested in working in their school system.
Noting she was happy in APS, the administrator made her an offer she was not able to refuse–join Fulton County Schools as the principal of Frank McClarin Academy.
Her life had come full circle. She was being asked to transform the school from which she graduated and change the lives of students walking down the same halls she had as a teenager.
While principal at McClarin, Woodley oversaw the graduation rate improve from 19 to 75 percent.
"We try to become the type of school the students need instead of the school students have to conform to," she says.
Working to create an environment that adapts to the needs of the students, McClarin is open to students from 8:00 a.m. to 7:00 p.m., as well as on Saturdays. There is a daycare open the same hours, and there are a number of online classes provided for students. Furthermore, there are backpack programs for homeless students, as well as medical and dental services available at the school.
"I stay awake thinking about that there are homeless students that have nowhere to go. There are teen parents going from home to home and students sleeping at MARTA stations."
The innovator and doer that she is, she found a community partner who purchased a nearby apartment complex to make sure students had a place to stay rent-free while they were in high school.
After almost five years spent transforming her high school alma mater, Woodley accepted a job at Kansas City Public Schools to serve as an assistant superintendent.
In addition to her career as an educator, Dr. Woodley has her own counseling practice, Dynamic Achievement Solutions and has authored three books—Why Did You Choose to Get Pregnant?, Issues of the Heart, and Transforming Alternative Education.
"It takes a lot of sleepless nights," she says, thinking about how she is able to balance being a parent, educator, counselor, author, and speaker. "I get up at 4:00 a.m. each morning, and I am committed to do the work I do. I love what I do and get up excited each morning excited to go to work."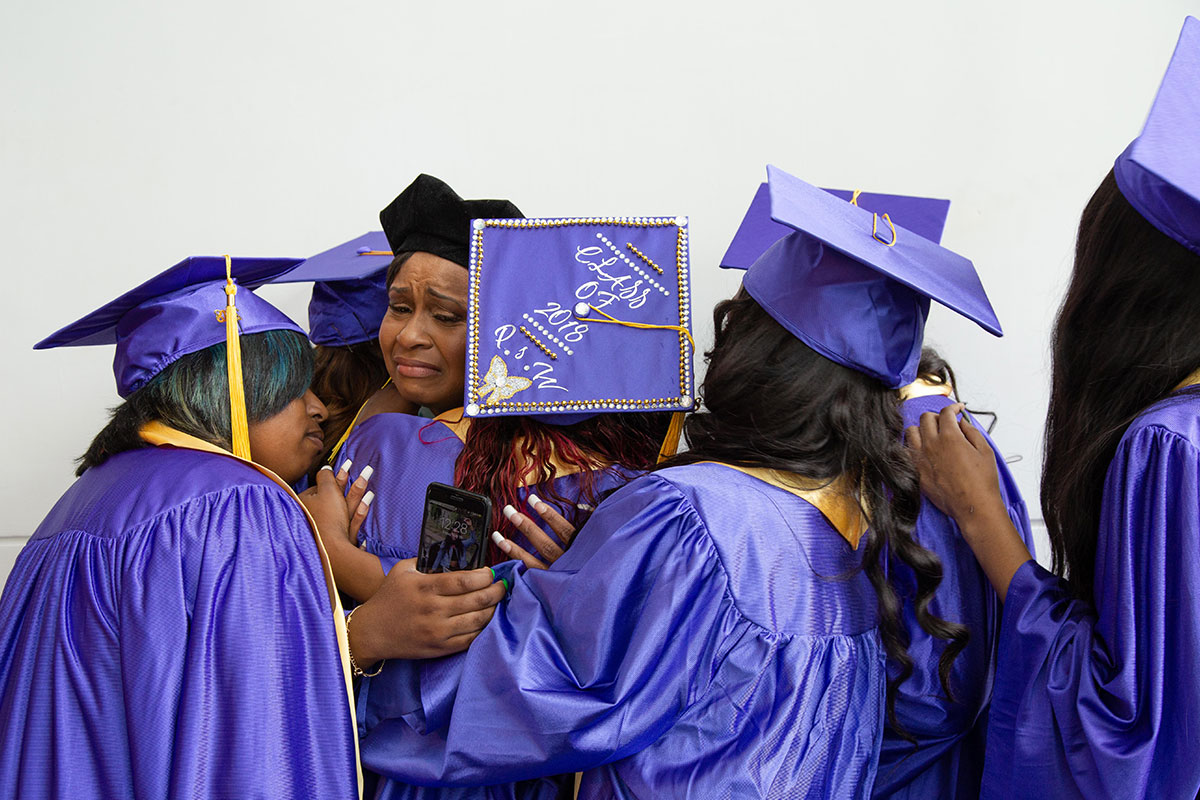 Having won numerous awards, including Outstanding Women in Education Award, National Dropout Prevention Center Crystal Star Award, and Indie Author Legacy Awards Author of the Year for Education, her most treasured award came from her students this past year.
"In recognition of Black History Month, my students gave me their SHERO Award, and that meant the world to me that my students felt that much love for me," she says.
While Dr. Woodley continues to climb the ladder of success in education, she continues to be motivated by her own story to transform not only schools but the lives of the students who need the push she got to achieve their dreams.
Read more stories from this issue